In New Jersey this week, a heavy number of the students in districts across the state refused to take the Common Core testing, and Julia Rubin's seventh-grade daughter Raisa was one of them.
Rubin told TheBlaze her daughter likes math and reading, but not the PARCC exam, short for Partnership for Assessment of Readiness for College and Careers.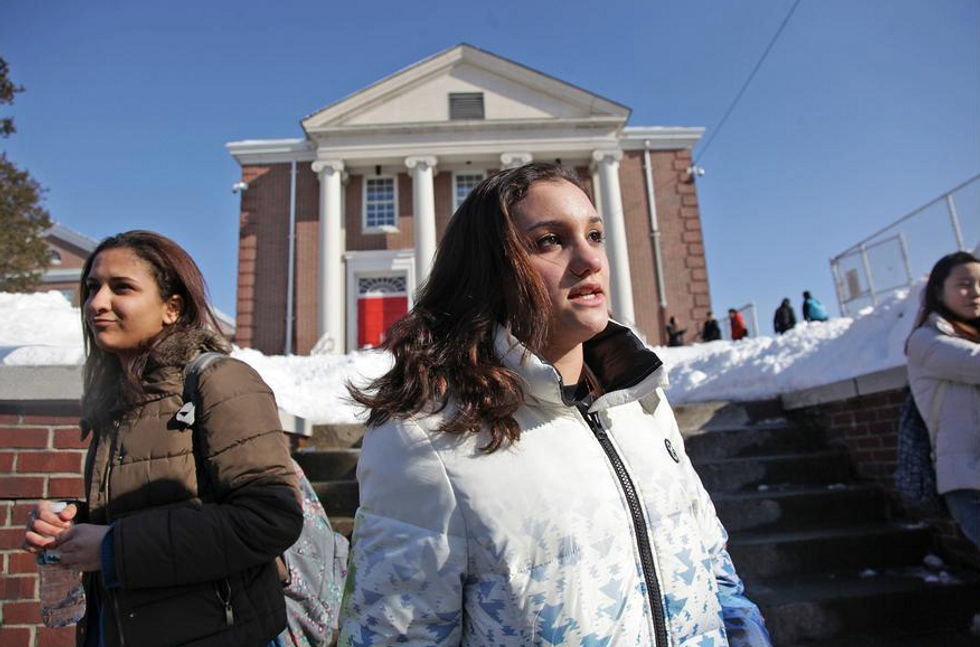 Mirna Mohamed, 14, and Mariam Aly, 14, talking bout taking the PARCC Algebra I test as they leave Fort Lee High School at the end of the day Monday, March 2, 2015, after the freshmen took the PARCC test. New state tests were given across New Jersey on Monday amid controversy and a growing test refusal movement that overshadowed what state education officials said was intended to be a boon to learning and instruction in schools. (AP Photo/Northjersey.com, Chris Pedota)
Rubin describes her daughter – like many children in the Princeton school district – as "academically inclined." But about 750 students in that district have refused the exam, out of 1,164 eligible to take the test.
"She hated the test. She said it's miserable," Julia Rubin said of her daughter. "She said she is miserable. She said it had a confusing format and it's a complicated test."
In some districts across New Jersey this week, more than one-third of students refused to take the PARCC exam, the New Jersey Herald reported. A refusal is a formal process that involves a parent submitting a letter to the school weeks in advance of the test.
In Livingston, New Jersey, where Gov. Chris Christie, a likely 2016 Republican presidential contender, grew up, about 1,100 students refused the test – more than a fourth of the student population, the Wall Street Journal reported. Christie, a long time supporter of Common Core, was critical of the K-12 math and English standards when speaking to a crowd in Iowa last month.
Rubin is a parent, but also a co-founder of the group Save Our Schools, an all-volunteer group with a mailing list of 27,500 parents across New Jersey – one of numerous battlegrounds over Common Core in the United States. Over the last year and a half, the organization has gained momentum in the movement to encourage more parents to refuse the PARCC exam.
"We don't have an opt-out law in New Jersey," Rubin told TheBlaze. "Parents are refusing the test. The schools can't physically force children to take a test."
Angst over Common Core, the education standards developed by the National Governors Association and Council of Chief Stats School Officers, has been going on for some time. But the number of parents nationally opting out or refusing to let their children take either the PARCC exam or the Smarter Balance test is growing. Though not a federal program, the Obama administration's Department of Education has tied federal grants to adoption of Common Core.
"She is thankful that she's in the Princeton," Rubin said of her daughter. "The Princeton district, if a student refuses, will place the student in an alternative location to read or do homework. In a dozen or 15 districts across the state, if they refuse, they have to sit and stare. It's entirely a district-by-district decision."
There are two bills in the New Jersey legislature. One would prohibit a school district from imposing consequences against students that refuse the PARC test. The other would be a two-year moratorium from using the test as a measurement of teacher, student and school performance.
Rubin explained that Save Our Schools is opposed to high stakes testing and not necessarily Common Core. As an all-volunteer group, she said it is majority rule and some members strongly oppose Common Core, and others don't. But she said all oppose high stakes testing.
She further said that doesn't mean parents oppose standardized test as a way to measure the performance of teachers, schools and students.
"The concern with PARCC is that it's high stakes testing with punitive consequences that prompt cheating and overwhelming focus on testing," Rubin said. "We are not opposed to standardized testing. We are opposed to high stakes testing. When I went to school, testing was not oppressive. My school was not going to be closed down if students did meet a certain performance. "
—