A city bus driver was caught on camera falling asleep behind the wheel and leaving a one-half mile accident trail in his wake.
Leon Rasheed caused the accident in West Bloomfield, Michigan, in October but was just arraigned this week with a misdemeanor for the incident. He could see up to 93 days in jail, according to WXYZ-TV.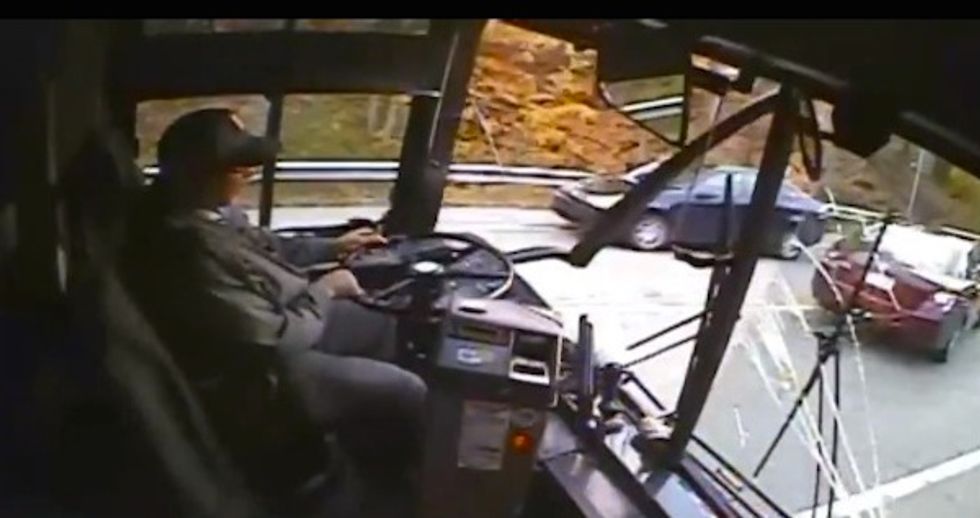 A Michigan bus driver could face more than 90 days in jail for falling asleep at the wheel and causing an accident scene that was one-half mile long. (Image source: WXYZ-TV)
Different camera angles show the accident from various viewpoints. From inside the bus, you see Rasheed seemingly unaware of upcoming cars. Then he popped up in his seat as the bus slammed into cars stopped in front of it.
Watch the footage in WXYZ's report:
From another angle, you see the bus barreling down the road toward a line of stopped cars. Then you see the impact of the accident. Here's that viewpoint (Content warning: some strong language):
This angle shows a lone passenger sitting toward the back of the bus (Content warning: some strong language):
According to WXYZ, eight cars were involved in the accident. Though no one on the bus was hurt, some people in outside vehicles were.
"The crash scene was half a mile long," Det. Lt. Curt Lawson of the West Bloomfield Police Department told the news station. "It is one of the largest crash scenes in West Bloomfield history. We are fortunate no one was killed."
After its investigation, the police department determined that Rasheed fell asleep at the wheel, which is something he admitted he must have done but said it wasn't intentional, WXYZ reported.
According to the Detroit Free Press, Rasheed worked for the Suburban Mobility Authority for Regional Transportation for 11 years before he retired in December.
"I'm sorry [for] what happened. I apologize to the people I had the accident with," Rasheed said, according to the Free Press. "They have my sympathies. I pray for them every day. I wish them well."
(H/T: WJW-TV)