While covering a child-rape arrest, a Pittsburgh news crew took video of the victim's father climbing on top of an SUV allegedly belonging to the accused and smashing it with a hammer.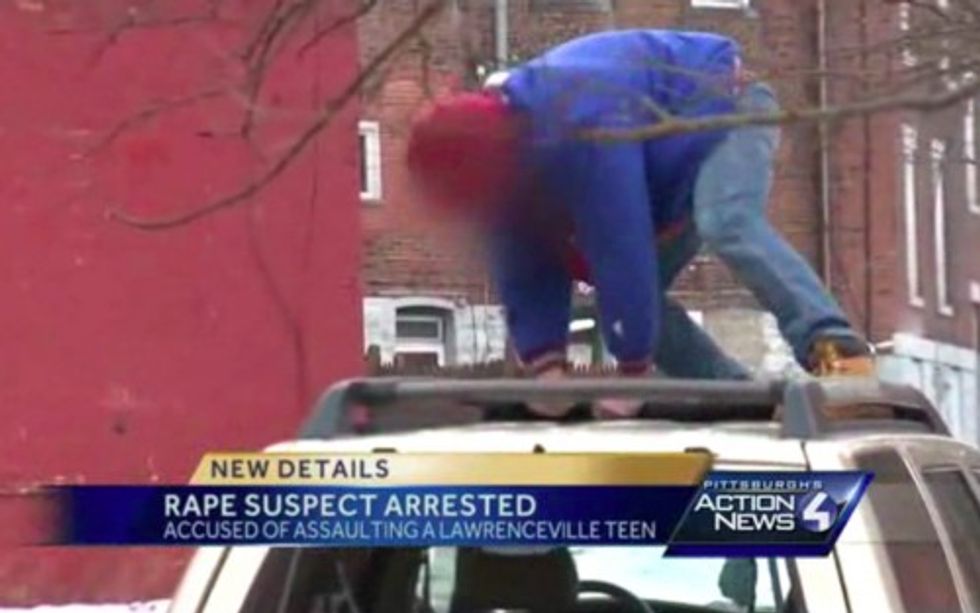 Image source: WTAE-TV
During Tuesday's incident, the father screamed about the crimes 32-year-old Dustin Moffat allegedly inflicted upon his daughter, WTAE-TV reported.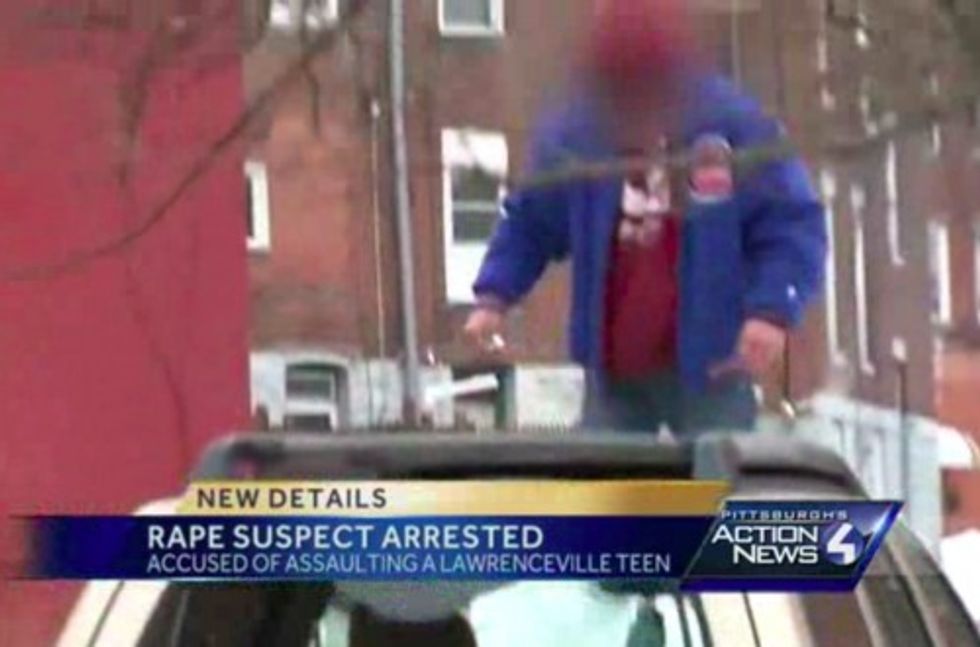 Image source: WTAE-TV
Moffat was arrested at his home Tuesday morning — where the alleged incidents occurred — on nearly 30 charges including rape, involuntary deviate sexual intercourse, aggravated indecent assault, sexual exploitation of children and child pornography, police said.
The victim told police Moffat first forced her to have sex with him in 2011 when she was 13; the second incident occurred in 2012 when she was 14, TribLive reported.
Police located the victim while investigating Moffat for naked photos on his computer and contacted several females via phone numbers on his computer, KDKA-TV reported. Police said Moffat secretly photographed sex acts with the girl, who lived just a few doors down from him, and posted them online, KDKA added.
He allegedly threatened to hurt the girl if she told anyone, WTAE reported.
More from TribLive:
The victim told police that between and after the incidents, Moffat harassed her via phone calls and text messages. After the second incident, Moffat began stalking and physically assaulting the girl, including choking, spitting on and slapping her, according to police.

According to the complaint, the girl's parents confronted Moffat about his abusive behavior in 2012, but they were not aware of the rape and assault. Court records show April 2012 charges of false reports and corruption of minors against Moffat were dismissed, as well as a May 2012 charge of disorderly conduct.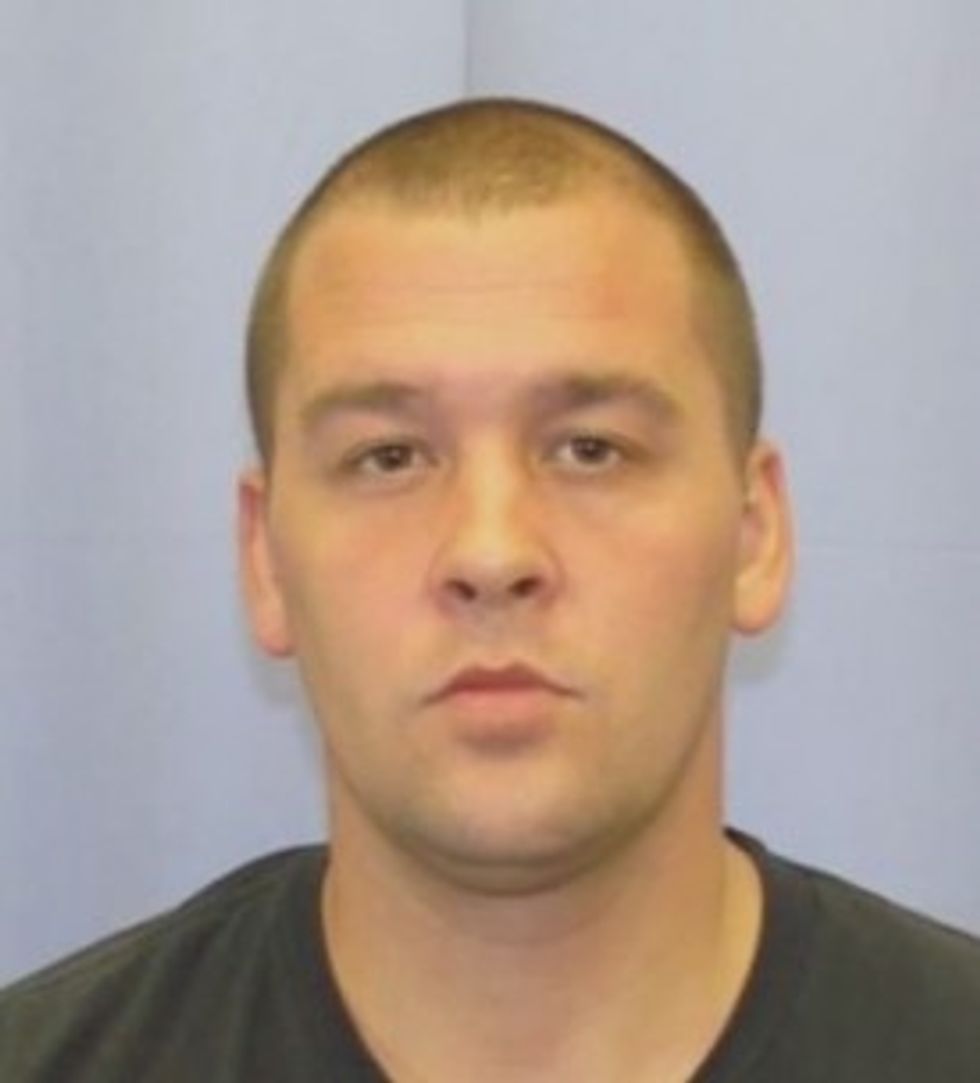 Dustin Moffat (Image source: Pittsburgh police)
In addition, two women have filed protection from abuse orders against Moffat — one in 2008 and another just three weeks ago, WTAE reported.
More from WTAE:
Both women claim Moffat stalked them when they broke up, sent angry messages and terrified them. One woman wrote that he was jealous and controlling and that she ended their relationship because of his anger issues. The other woman wrote that Moffat hit her, threw her to the ground and spit in her face.
Moffat's next-door neighbors, who have 12-year-old twin girls, told the station they were sickened by the turn of events.
"I'm appalled," Micki Golden told WTAE. "He lives right there. No, I can't have that."
"We're not friends with the guy," Steve Patton added to the station. "He seems like a normal Joe. You always hear that on the news. I had no sixth sense about it. Nothing like that."
"There's a special place in hell for people like that," Patton added to KDKA.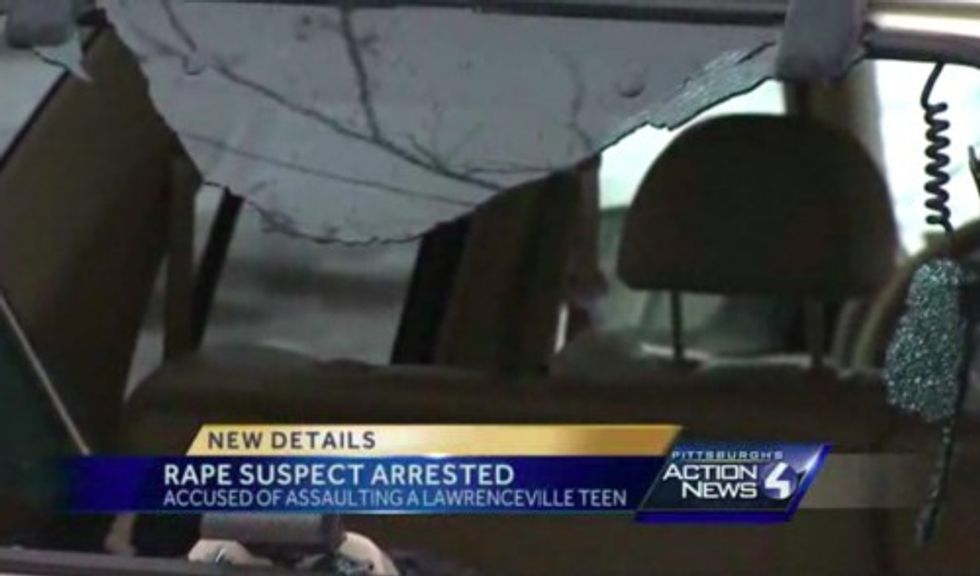 Image source: WTAE-TV
A KDKA reporter said she spoke to the victim's father off camera who said he hopes Moffat suffers and thanked police. He added to the station that his daughter is doing well and off to college next year.
(H/T: Daily Mail)
—
Follow Dave Urbanski (@DaveVUrbanski) on Twitter