Five Israelis were injured Friday morning when a Palestinian motorist rammed his car into them as they were standing at a Jerusalem tram stop. Police are treating the incident as an intentional terrorist attack.
A police spokeswoman said after he rammed the pedestrians, the man got out of his vehicle and tried to stab passersby with a butcher's knife. An Israeli policeman shot and wounded him before he could stab any victims.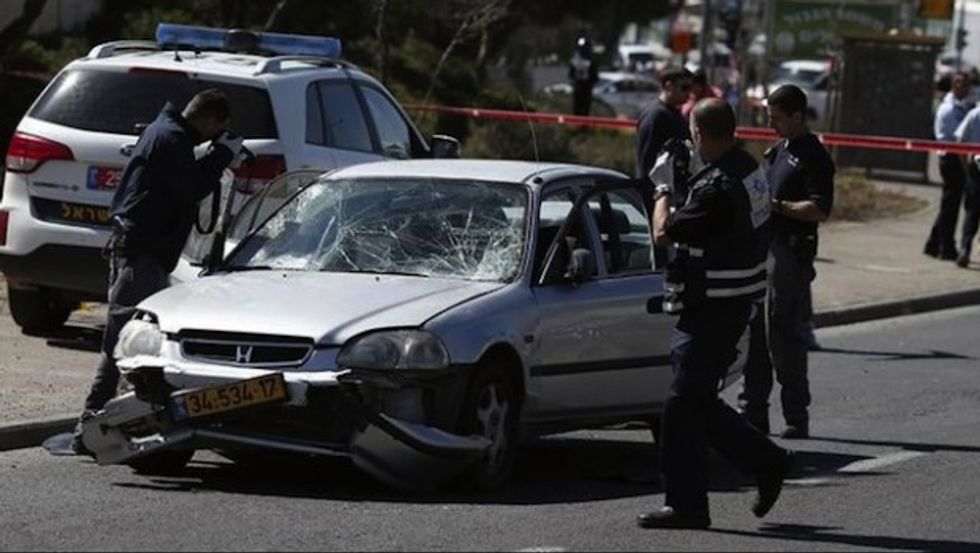 Israeli forensic police inspect a car that ploughed into pedestrians in Jerusalem injuring several people, before its driver got out and tried to stab them, in an attack mirroring similar incidents last year, on March 6, 2015. The incident took place outside an Israeli border police station on the line separating west and east Jerusalem. (Thomas Coex/AFP/Getty Images)
Four of those injured were female law enforcement officers, the Jerusalem Post reported.
Jews in Jerusalem were celebrating the Purim holiday Friday, with many dressed in costume, a holiday tradition. Police had already been ramping up security in advance of the holiday, where many gather for outdoor festivities.
Kids dressed for Purim celebrations look at area after terror attack. Heightened security continues in Jerusalem pic.twitter.com/yDaive5vU1

— Micky Rosenfeld (@MickyRosenfeld) March 6, 2015
The Times of Israel, quoting Israel Radio, reported that the attacker is a resident of East Jerusalem.
Police forensics examining scene attack in Jerusalem.Terrorist was shot and arrested after driving into 5 people. pic.twitter.com/UNFROZPrva

— Micky Rosenfeld (@MickyRosenfeld) March 6, 2015
The Israeli capital faced a string of similar car ramming terrorist attacks in October and November, including one in which an American 3-month old girl was killed after having been flung out of her stroller.
Palestinian social media was filled with words of praise for the attackers, while a Palestinian music duo produced a song in honor of vehicular attacks on Jews.
Last month, Jerusalem Mayor Nir Barkat personally helped thwart a terrorist attack outside City Hall when he and his bodyguards tackled a knife-wielding Palestinian who had just stabbed an Orthodox Jewish man.
—