Glenn Beck on Friday said Dr. Ben Carson's presidential career is over before it began, after the famed neurosurgeon said on CNN that homosexuality is a choice.
"The answer here is, 'Why is government involved in marriage in the first place?'" Beck said on his radio program. "Let the individual be free to make his choice. The only reason why the government is involved is so the government can get their grimy little hands on tax dollars. That's the only reason. Why are we arguing about this?"
Beck said Carson's explanation, that "a lot of people who go into prison, go into prison straight — and when they come out, they're gay," sounded like it came from a "10-year-old."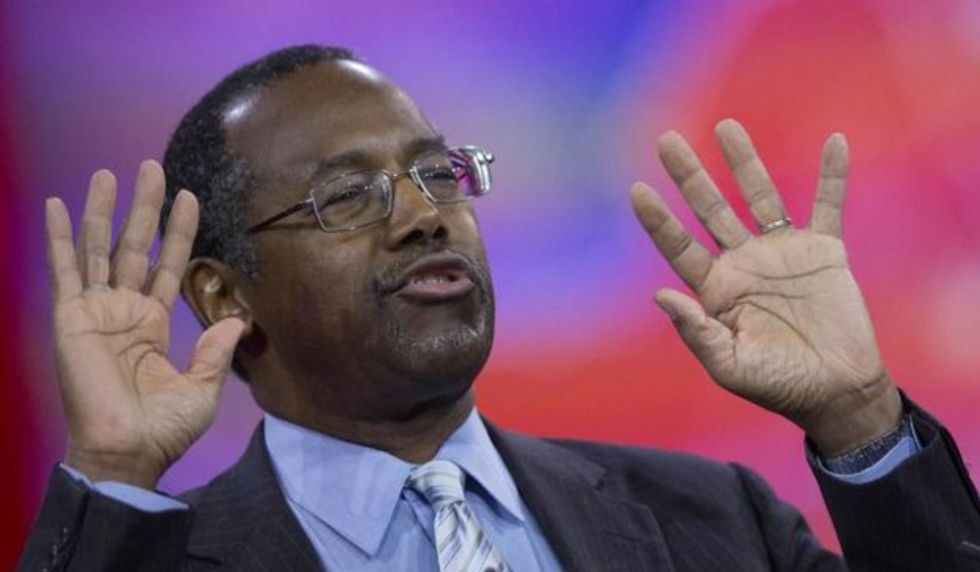 Ben Carson, possible 2016 presidential candidate, speaks during the Conservative Political Action Conference (CPAC) in National Harbor, Maryland, U.S., on Thursday, Feb. 26, 2015. The 42nd annual CPAC, which runs until Feb. 28, features most of the potential Republican candidates for president, from Carson and Carly Fiorina to Jeb Bush and Scott Walker. Credit Bloomberg/Bloomberg via Getty Images
"Goodbye to his presidential career. It's over," Beck said, asking where Carson found such a statistic to support his claim. "There's no way to recover from that."
"Even a bigger picture here, from a Ben Carson standpoint, is he is not sensitive enough to understand what's happening," Beck's co-host Stu Burguiere said. "He's kind of just walking right into this one and just spouting out some opinion about prison sex, without realizing what he's walking into or where the CNN guy is leading him. He's inexperienced. ... Should he become the candidate, this sort of thing would happen quite often."
Beck said it isn't just that "he didn't see it coming," but that he "thought that was a good answer." Beck said if he was at a cocktail party and someone said homosexuality is a choice because people go to prison and come out gay, he would say "that's the dumbest thing I ever heard."
"It proves that guys in prison want sex, and they are not real choosy," Beck suggested.
"It's a comment that you don't see from a top-tier candidate, to be generous," Burguiere agreed. "That's why I think over time it is going to hurt Ben Carson, not only in our poll, but the other polls as well."
The full episode of The Glenn Beck Program, along with many other live-streaming shows and thousands of hours of on-demand content, is available on just about any digital device. Click here to watch every Glenn Beck episode from the past 30 days for just $1!