Darren Brock wanted his fiancee to know how much he loves her.
What better way to remind her, he thought, than to write a giant love letter in the rare Texas snow.
"The best thing I feel I want to provide for her to know I love her is to say it big and loud. For people to see, too," Brock told KTVT-TV.
So Brock snuck out of their apartment early one morning while his fiancee, Andrea Riggs, was still sleeping. He strapped on his snow boots and made his way down to a small snow-dusted area outside their window and got to work.
Using some impressive footwork, he scribed "I [heart] u." He thought about stopping there. But, he said, "I need her to know it's for her." So he kept it up and sculpted "Andrea" beneath "I [heart] u."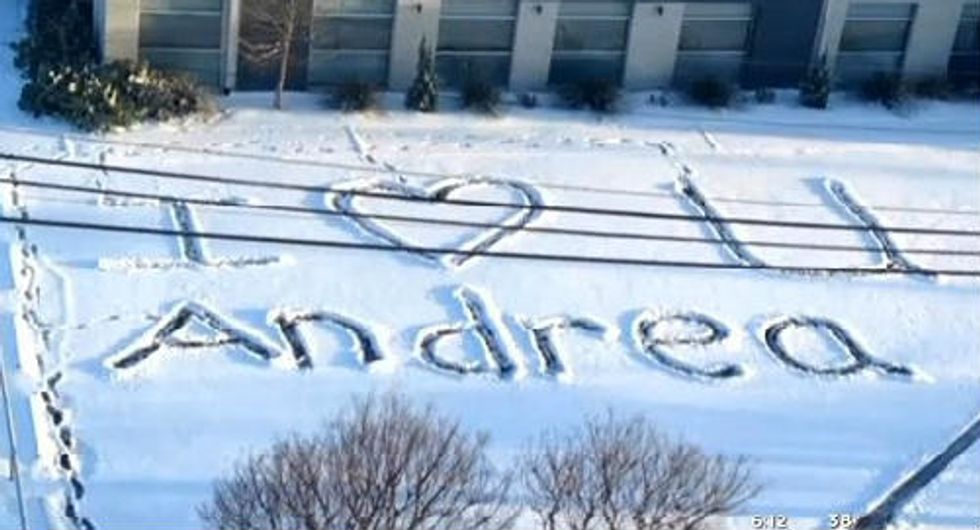 Image source: KTVT-TV
Ever since, Brock's simple but sweet love message to his soon-to-be wife has gone viral. Just as he intended, his message was seen by people. In fact, it's been seen by more than a million people online, according to KTVT.
So how did Riggs respond? She recalled looking at Brock and said, "No one's ever done this for me."
"The writing in the snow is something extremely special for me and something that again I'll never take for granted," she said. 
Brock and Riggs plan to be married this summer.
(H/T: KTVT-TV)
–
Follow Jon Street (@JonStreet) on Twitter