Iran unveiled a new long-range missile Sunday, just days after U.S. Secretary of State John Kerry wrapped up another round of negotiations with Iran's foreign minister over its controversial nuclear program.
The announcement of the domestically-manufactured surface-to-surface missile, named Soumar, was made in a ceremony reported on by Iranian state news media.
Middle East watchers questioned the timing of the new missile's announcement.
Why is #Iran unveiling its long-range cruise missile on the eve of signing a nuclear deal? http://t.co/FnaH31DsHW

— Anshel Pfeffer (@AnshelPfeffer) March 8, 2015
Israeli officials have maintained that should Iran obtain a nuclear weapon, not only would Israel's security be threatened but so too would that of the U.S., were Iran able to deliver a doomsday weapon via a long-range cruise missile.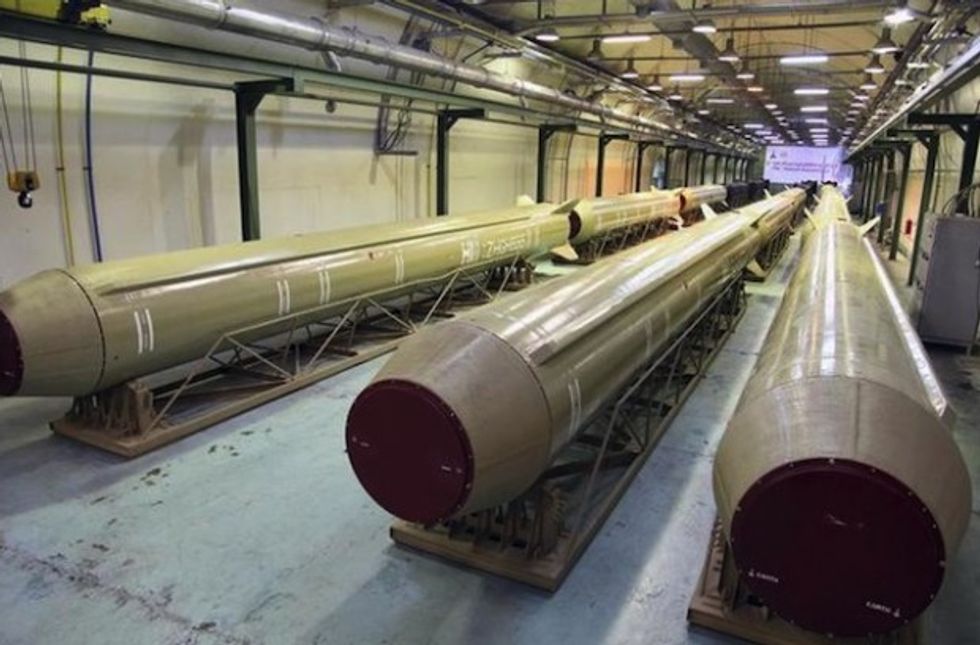 This photo released on Wednesday, March 5, 2014 by the Iranian Defense Ministry, purports to show Qadr and Qiam missiles in an undisclosed location in Iran. (AP Photo/Iranian Defense Ministry)
While the State Department has said missiles are part of the negotiations with Iran, Iranian officials have said they have never agreed to negotiate over what they describe as the Islamic Republic's defensive abilities, including missiles.
Iran's English-language Press TV quoted Defense Minister Brigadier General Hossein Dehghan who said in the Sunday unveiling ceremony that the Soumar missile "enjoys different characteristics in terms of range and pinpoint accuracy in comparison with the previous products," including radar evasion.
He characterized the missile as a defensive and deterrent weapon, and added that Tehran aimed to increase the range, precision and destructive power in a more advanced missile to be unveiled later this month, Press TV reported.
#Iran's defense minister: Our new long-range cruise missile 'Soumar' - effective step in boosting our deterrent power pic.twitter.com/kMDbXkoSg3

— Shiapulse (@shiapulse) March 8, 2015
At the ceremony, Dehghan announced that the Qadr and Qiam long-range ballistic missiles have been delivered en masse to the Aerospace Division of the Islamic Revolution Guards Corps (IRGC).
State Department spokeswoman Jen Psaki last month said the negotiations with Iran have included talk over "how to deal with the ballistic capabilities of delivering nuclear warheads. That issue has been discussed and will continue to be discussed as part of the negotiations."
But Al-Monitor reported that Iranian nuclear negotiator and Deputy Foreign Minister Abbas Araghchi denied Psaki's claims and said Iran would never compromise on its missile development program.
"Iran's missile program has a completely defensive nature and the Islamic Republic of Iran in no way views the defensive matters of the country negotiable and we are not ready to discuss this matter with any foreigner," Araghchi said in February.
"Therefore, never in the framework of the nuclear talks with the P5+1, whether in the past or currently, has ​Iran given permission to plan or negotiate the country's defensive and military abilities, and this permission will not be given in the future," he added.
In his speech to Congress last week, Israeli Prime Minister Benjamin Netanyahu warned of the dangers of omitting missiles from the emerging deal.
"And by the way, if Iran's Intercontinental Ballistic Missile program is not part of the deal, and so far, Iran refuses to even put it on the negotiating table. Well, Iran could have the means to deliver that nuclear arsenal to the far-reach corners of the earth, including to every part of the United States," Netanyahu said.
"[T]his deal has two major concessions: one, leaving Iran with a vast nuclear program and two, lifting the restrictions on that program in about a decade. That's why this deal is so bad. It doesn't block Iran's path to the bomb; it paves Iran's path to the bomb," the Israeli leader added.