Former Secretary of State Hillary Clinton on Tuesday spoke out about using her personal email account for government business, saying she believes she "fully complied by every rule" and used her personal account because it was more convenient.
But TheBlaze's national security adviser Buck Sexton, who used to work at the CIA, said her defense was "completely absurd."
"Even if that's true Glenn, the whole purpose of this is control of the data on the server," Sexton told Glenn Beck on The Glenn Beck Program. "People keep mixing up all the different aspects of why this is so shady. There are the aspects of security --- for example, how open to hacking was the Hillary email system?"
"But the bigger issue -- the one that she can't escape -- is the one of transparency," Sexton continued. "The fact of the matter is, we're never going to actually see what the emails are that she doesn't want us to see."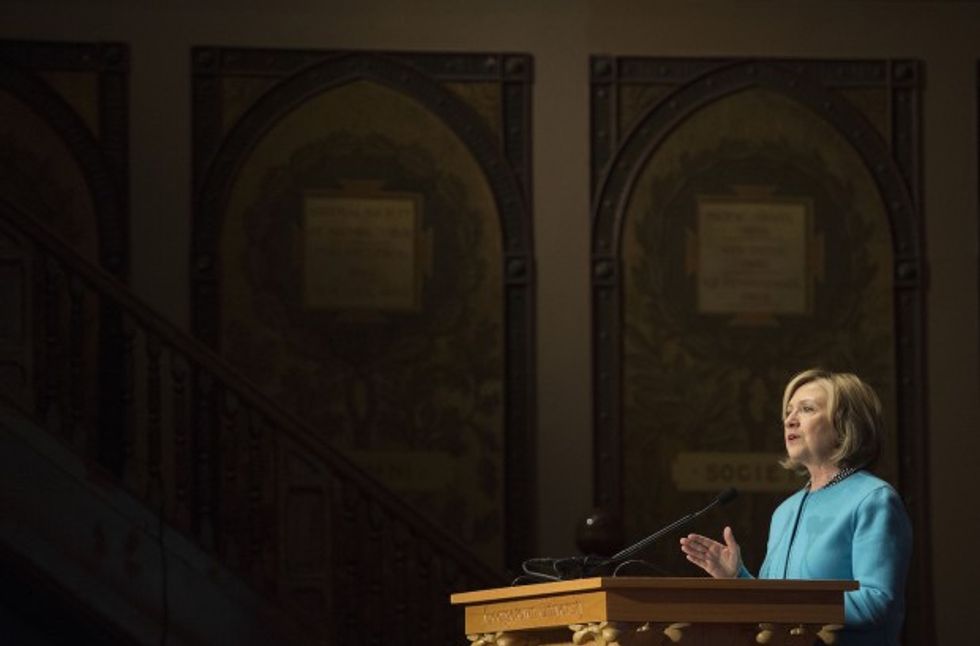 Former US Secretary of State Hillary Clinton discusses 'Smart Power: Security Through Inclusive Leadership' at Georgetown University in Washington, DC, December 3, 2014. (AFP PHOTO / Jim WATSON)
Sexton said that by using her own email system, Clinton evaded the spirit if not the letter of the law requiring her to retain her correspondence.
"Look, Glenn, I was in government. Plenty of people had two devices," Sexton said. "She knew that this was weird. She wanted the control. She had the control. She's deleted the emails she didn't want us to see, or didn't want to get out there, and that's it. And that is it because we're not going to ever be able to subpoena emails we can't prove existed in the first place."
Sexton said the emails may never be released, but argued that people don't give the Clintons the benefit of the doubt they way they do for President Barack Obama, and it may harm Hillary Clinton's chances at mounting a successful presidential campaign.
"The Clintons get none of that," he said. "We've all been to this dance before."
[mlbvideo content_id=43966283]
The full episode of The Glenn Beck Program, along with many other live-streaming shows and thousands of hours of on-demand content, is available on just about any digital device. Click here to watch every Glenn Beck episode from the past 30 days for just $1!