If you can't beat 'em, join 'em?
When it comes to pornography, one Danish professor is advocating that instead of trying to protect kids from smut, schools should show porn as a teaching tool, Newsweek reported.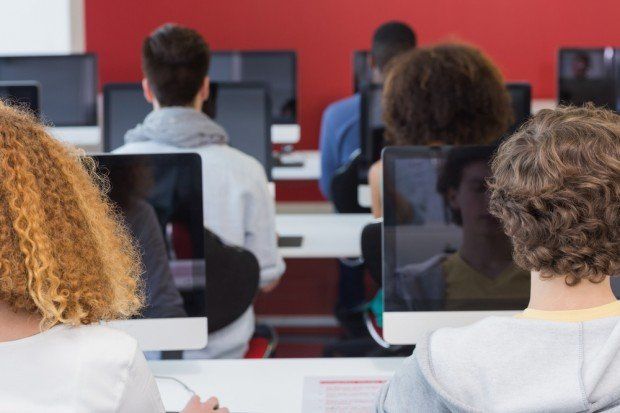 Photo credit: Shutterstock
"Young people, like the rest of us, are part of a sexualized post-modern society," Christian Graugaard, a sexology professor at Aalborg University in Denmark, told Danish TV station DR. "What I am proposing is that we reinvent sex education in the classroom. Rather than focusing on the technical disease-related or biological aspects of sex, we should also use this platform to discuss and show other phenomena, such as pornography, taught by trained teachers, so that young people can develop a critical approach to what they are seeing."
Denmark lifted a porn ban in 1967 and became the first country in the world to completely legalize pornography in 1969, Newsweek noted.
Graugaard said students aged 13 or older should be exposed to porn in a classroom environment, and much of his thinking relies on the fact that kids are seeing porn online at a young age anyway — Newsweek cited research that showed 99 percent of teen boys and 86 percent of teen girls in Nordic countries have seen porn — so schools should go ahead and try to address potential problems proactively.
"We know that Nordic adolescents are quite capable of differentiating between pornography and the reality of sexual relationships, but at the same time we know a small minority do not have those skills, and to keep them out of trouble we need to reach out to them," Graugaard said.
Perhaps unsurprisingly, when DR asked Danish youth about the prospect of watching porn in class, the TV station got enthusiastic responses.
"I think you could get something out of it," ninth-grade student Anders Kaagaard said. "For example, the difference between real love between two people who have sex and hard porn and orgies from the U.S."
Across the North Sea from Graugaard, British Campaign for Real Education chairman Chris McGovern said teaching porn in school would cause "outrage" in the U.K.
"Pornography and sex education is definitely more of an issue than it used to be," McGovern told Newsweek. "Sexting is certainly an issue among young people, and it is a fact of life that children are sending sexual images to each other, which is being used by bullies. But I don't think this Danish professor quite understands the damaging impact putting porn before young children could cause."
Graugaard's proposal for school-sanctioned porn comes as organizations such as Fight the New Drug issue dire warnings about the potential harms of pornography, researchers discover that viewing pornography can essentially shut down a brain's moral center and Christian leaders decry the "powerful lies" pornography teaches children and note porn's powerfully addictive threat to trap viewers in a "cycle of sex slavery."
(H/T: The Guardian)
—
Follow Zach Noble (@thezachnoble) on Twitter