Cosmetics retailer Sephora is under fire for selling lipstick shades with names that reference young girls in a sexualized manner.
Went shopping for some makeup. How on earth is this a lipstick color? pic.twitter.com/mJanAVKlAd

— Parker Marie Molloy (@ParkerMolloy) March 15, 2015
The lipstick shade "Underage Red" was listed for sale on Sephora's website Monday afternoon...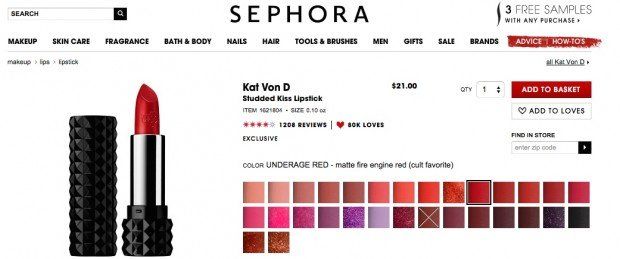 Image via sephora.com
...along with the similarly evocative shade, "Lolita."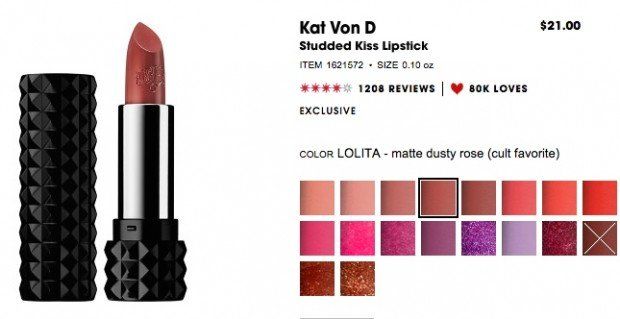 Image via sephora.com
"Lolita" is the title of a 1955 novel by Vladimir Nabokov in which a middle-aged man is obsessed with — and eventually becomes sexually involved with — his 12-year-old stepdaughter.
The lipstick line comes courtesy of celebrity tattoo artist Kat Von D, who has caused trouble with her naming choices before.
In 2013, Sephora pulled a Von D lipstick shade from its shelves after the name — "Celebutard" — provoked outrage.
On Twitter, reactions to the "Underage Red" and "Lolita" lipstick names were distinctly negative, with people calling the line "lipstick named by creeps" and saying the monikers sounded as if they were referencing "statutory rape."
@ParkerMolloy "statutory rape red"

— allisonkilkenny (@allisonkilkenny) March 15, 2015
@anamariecox @ParkerMolloy Lipstick named by creeps.

— Lucy Frost (@LucyFro) March 15, 2015
@SCJoson @SuperScienceGrl @anamariecox @ParkerMolloy Yet another difficult teaching moment for my 11yo and 13yo. 2/2

— Jenn (@jlms_qkw) March 16, 2015
Neither representatives from Sephora nor Von D were able to comment immediately when contacted by TheBlaze Monday.
As Business Insider noted, during the last bout of public outcry over her lipstick naming choices, Von D seemed unapologetic, tweeting, "At the end of the day, it's just a f*****g lipstick."
She later deleted that tweet, according to People.
(H/T: Business Insider)
—
Follow Zach Noble (@thezachnoble) on Twitter