The White House went on the offensive against Senate Majority Leader Mitch McConnell on Monday, as White House spokesman Josh Earnest tagged the Kentucky Republican for "inept leadership," called the delay of Loretta Lynch's confirmation to serve as attorney general "unconscionable," and even questioned McConnell's trustworthiness.
The nomination of Lynch, who was tapped in November to replace outgoing Attorney General Eric Holder, has stalled in the Senate.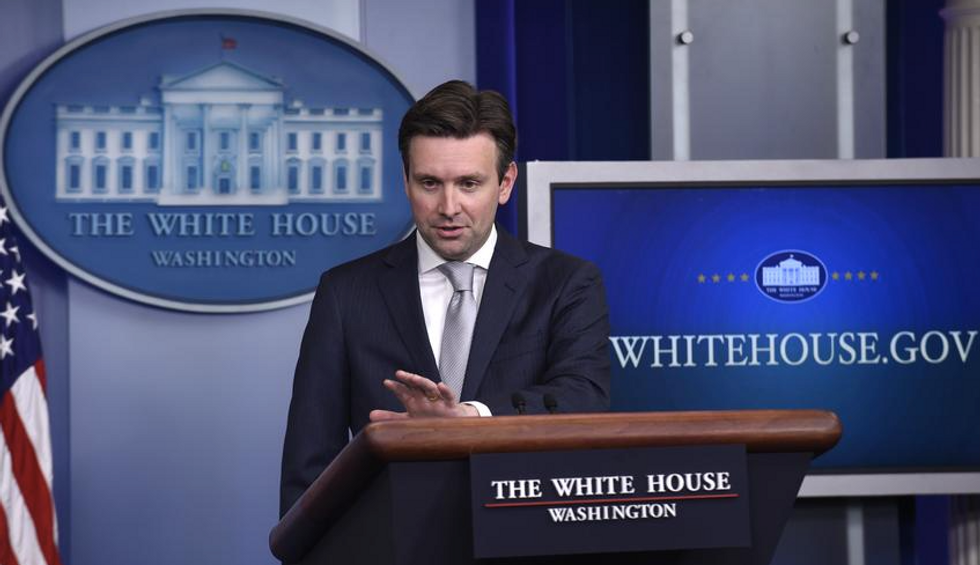 AP Photo/Susan Walsh
McConnell said Sunday that her confirmation could depend on the passage of the Justice for Victims of Trafficking Acts, which contains language to restrict federal funds from paying for abortions. Though Democrats supported the entire bill in committee, they are now threatening to filibuster it because of the abortion provision.
"It's certainly a disappointment that 128 days after being nominated to be the next attorney general, that Loretta Lynch, a professional, independent, career prosecutor, has not yet gotten a vote in the United States Senate," Earnest said. "It's an unconscionable delay."
Earnest even said it could go to the question of McConnell's credibility.
"Now, I've gotten asked a number of times since Republicans were in the majority about whether the president trusts Senator McConnell and the Republican leadership, whether their word is good to the president," Earnest said.
"Senator McConnell in November said her nomination should be considered by the new Congress. But yesterday, when Senator McConnell was asked on CNN about whether or not he was going to act quickly to confirm her, and to explain the delay, he said the nomination hasn't take that long if you consider when it was actually taken up, which was this year," Earnest continued. "He said the Democratic majority back in December had a chance to work on the nomination earlier but decided to delay it until this year. He failed to point out that delay was at his request."
Earnest did not say whether Obama would veto the human trafficking bill if it passed as is.
"You've got to hand it to Republicans. They've taken a measure as common-sense as that and turned it into a partisan controversy," Earnest said. "That is not a reflection of a flaw in the bill. It's a reflection of inept leadership."
"Surely Democrats and Republicans should be, in regular order, be able to work together to advance legislation that would allow us to concentrate our efforts to focus on and track down individuals who seek to traffic children," Earnest continued. "But yet, Mitch McConnell and Republicans in Congress have succeeded in turning this into a partisan controversy."