© 2023 Blaze Media LLC. All rights reserved.
Senate Democrats on Tuesday blocked a bipartisan bill to help victims of human trafficking due to their opposition to anti-abortion language in the bill, a move that once again showed the unwillingness of Democrats to allow any bill to move ahead unless it's free of language they oppose.
The Senate needed 60 votes to advance one version of the Justice for Victims of Trafficking Act, but fell short in a 55-43 vote. A few Democrats voted with Republicans, but not enough to reach the 60 votes needed.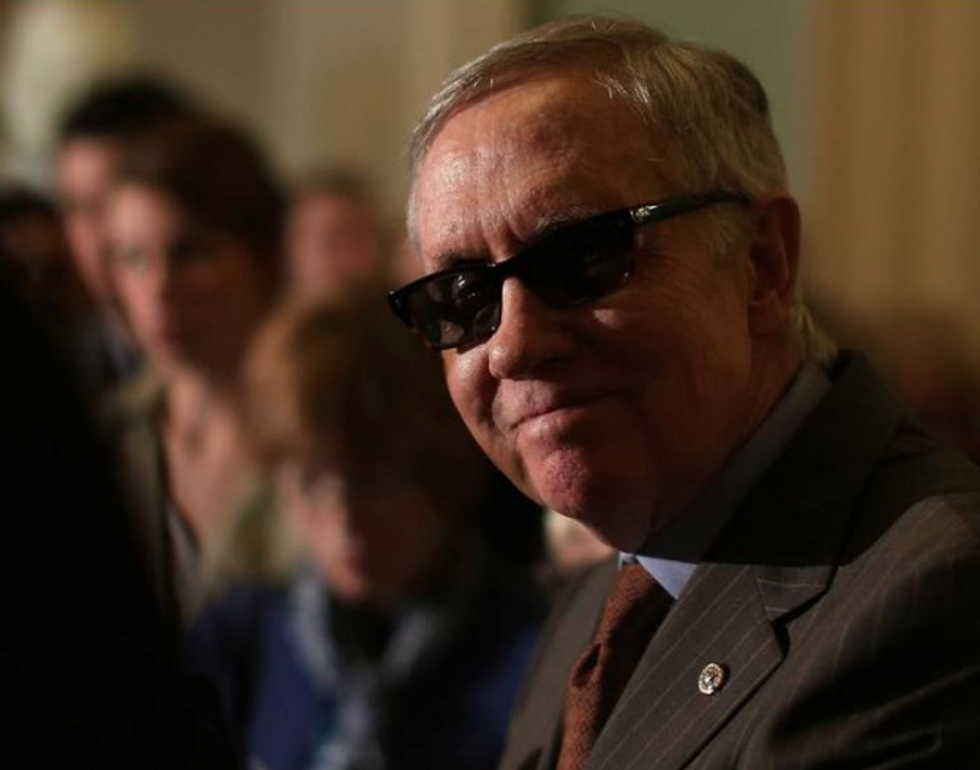 Senate Minority Leader Harry Reid (D-Nev.) led another Democratic revolt against language his party opposes, this time over abortion. Image: Mark Wilson/Getty Images
Moments later, the Senate tried again on a different version of the bill, but that vote also failed by the same margin.
That vote came after Senate Minority Leader Harry Reid (D-Nev.) warned again that the "bill is going to fail" because Democrats don't like abortion-related language in the bill.
Senate Majority Leader Mitch McConnell (R-Ky.) said just before the vote that Democratic opposition to a bill that 13 Democrats have cosponsored shows that Democrats are denying help to women and children in order to fight a political battle over abortion.
"As an official with the Coalition Against Trafficking in Women put it, 'win or lose and move on,' " McConnell said on the Senate floor. "But as it stands now, in her words, 'Senate Democrats are choosing a phantom problem over real victims.' "
"If Democrats actually vote to filibuster help for the oppressed victims of modern slavery, the American people will not forget it," he added.
Republicans have said repeatedly that a vote to get onto the bill would be how the Senate normally takes up legislation, after which amendments could be considered. By refusing to take up the bill at all, Democrats are making it clear that they realize they would lose those amendment votes, and thus would rather not start work on the bill at all.
The fight erupted last week, after Democrats discovered language in the bill that would prevent a fund to help victims of trafficking to be used for abortion. The language was in there since the bill was offered with Democratic cosponsors, and Republicans say it would essentially continue the government's policy of not using public money for abortion.
But Democrats have argued the language would expand that decades-old position of the government, by preventing federally collected fines from being used to fund abortions, instead of just money appropriated by Congress.
Republicans have indicated this is not a significant expansion, and would merely restrict the use of money in the fund in the same way that most federal money is restricted.
With the bill blocked, it's not clear whether it can move forward at all, at least until more Democrats agree to let it advance, or until Republicans agree to strike the abortion language. Over the weekend, McConnell said he wouldn't allow a vote on Attorney General nominee Loretta Lynch to come up until work is finished on the human trafficking bill — it's not clear if the GOP would allow a vote on Lynch this week, or if the GOP would instead spend the rest of the week trying to push the trafficking bill again.
Want to leave a tip?
We answer to you. Help keep our content free of advertisers and big tech censorship by leaving a tip today.
more stories
Sign up for the Blaze newsletter
By signing up, you agree to our
Privacy Policy
and
Terms of Use
, and agree to receive content that may sometimes include advertisements. You may opt out at any time.