A touching tradition has formed aboard the USS New York, a Navy ship that is made, in part, from steel recovered from the World Trade Center following the 9/11 attack.
The chaplain aboard the vessel says a prayer over the loudspeaker around 9:55 every evening — an invocation that recaps the day's happenings and commemorates an individual firefighter who perished during the terrorist attack.
In a video posted by Stars and Stripes, Lt. Justin Bernard, the chaplain aboard the USS New York, is observed invoking God during one of these public prayers, specifically thanking the Lord for keeping members of the military safe.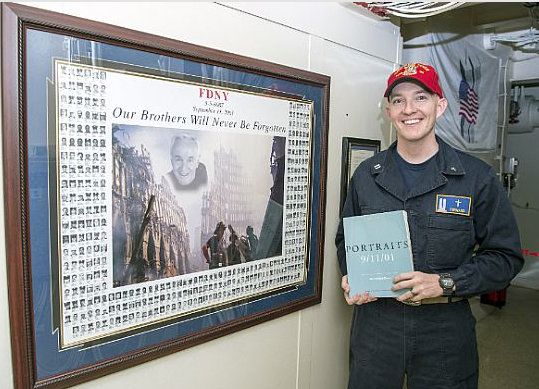 ALt. Justin Bernard (U.S. Navy photo by Mass Communication Specialist 3rd Class Jonathan B. Trejo/Released)
"Most gracious heavenly father, we come before you once again tonight to take pause for our day and to thank you for your vision, for your mercy, and for your grace that you have shown to us once again today aboard New York," Bernard said in footage filmed on February 27.
The chaplain went on to commemorate the life of firefighter Paul Gill of engine 54, who perished during the 9/11 attacks.
"We pray tonight for his father, John, and stepmother, Georgette," Bernard said. "I ask, Lord, that you would be their peace and comfort tonight no matter where they may be."
According to the Navy, Bernard started the daily prayer ritual after he began working on the USS New York back in 2013, and was subsequently tasked with coming up with a way to connect military members with the ship's history.
And that's when he thought of remembering the lives of those lost in such a unique way.
"My goal in praying for just one of their families every night is to remind our crew that we carry their torch of service, and that these families are our families now," he said. "Thousands of lives were impacted that day, so we pray for one at a time so they will never be forgotten."
Watch the touching invocation below:
Bernard goes through an alphabetical list to find names, taking the time to research each individual in an effort to learn more about life stories — information that he then integrates into the prayers. Read more about that process here.
(H/T: Christian Fighter Pilot)