It's a handwritten note, blunt in its childish, crayon-ed misspellings — and its display of a racial divide:
"Maby [sic] I will not be able to come to your birthday sleepover, because my dad will not let me go because you are black."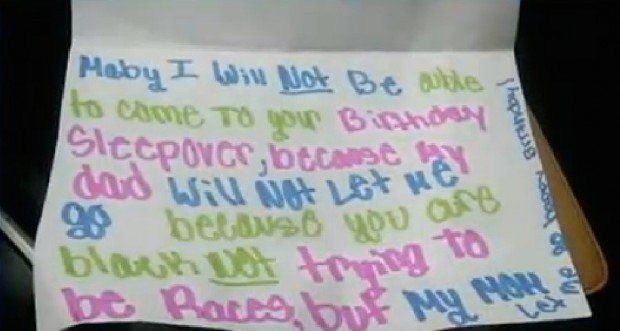 Image via WHBQ-TV
The story comes out of Highland Oaks Elementary in Memphis, Tennessee — a city with a population that is roughly two-thirds black and one-third white — where black 10-year-old Harmony Jones allegedly received the note from a white classmate with whom she'd recently struck up a friendship, WREG-TV reported.
Harmony's father, Christopher Jones, told WHBQ-TV he was saddened and surprised by the message.
"You would think in the 21st century people would be judged strictly on their character or their personality, not on the color of their skin," he said.
Still, Jones noted that his daughter got over the note and had a fun birthday party on Friday. He added that he'd relish the opportunity to speak with the white girl's dad — to show him love.
"I would have to display the love that I'm trying to teach my daughter," Jones told WHBQ. "I would have a talk with him. I would. If we could iron out our differences, great! If not, God bless, the man."
Watch WREG's report below:
(H/T: Daily Mail)
—
Follow Zach Noble (@thezachnoble) on Twitter