Sen. Tom Cotton (R-Ark.) on Wednesday rejected the notion that America is in decline and needs to pursue a foreign policy to manage that reality, and instead argued that America is only in decline if it believes it is.
"Retreat is a political choice. It's not dictated by resources or capabilities," he said in a discussion at the Hudson Institute in Washington, D.C.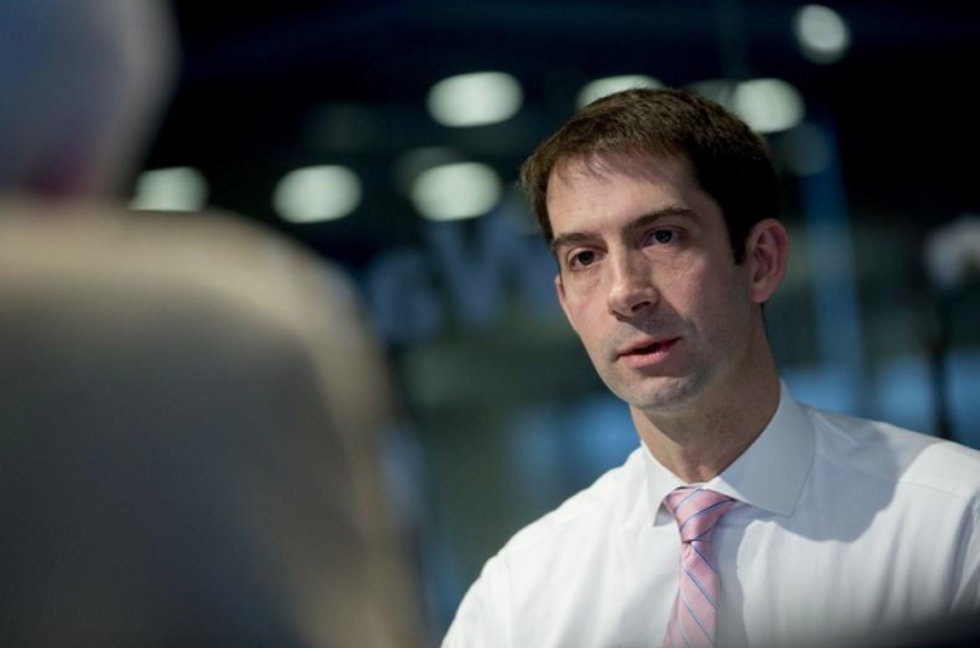 Sen. Tom Cotton (R-Ark.) rejected the idea that America is on the decline, and said that a political choice that can be reversed. Image: Bloomberg/Bloomberg via Getty Images
Cotton, who is quickly emerging as a leading defense hawk in the Senate, used his Wednesday remarks mostly to reiterate the comments he made Monday night when he said the U.S. needs to shoot for "global military dominance." Cotton said that far from being just a personal issue for him as a veteran, the need for a stronger national security posture is something that he hears all the time from his constituents.
"By far, the most common question was about national security," he said about his recent visits with constituents, last month and when he ran for the Senate last year. "In fact, I would say national security questions and comments outnumbered other topics all combined."
Some have reacted to Cotton's remarks by saying he is ignoring the framers of the Constitution, who would have preferred a much less aggressive foreign policy than the one he advocates. But Cotton said that's a misreading of the country's history, and said the U.S. is already under attack from Islamic terrorists who attacked the U.S. just because of the values it holds.
"I don't think Islamic terrorists attack us for anything we've done," he said. "They attack us for who we are, for the way we worship our God, for the equal rights that we give to women, for the freedom of expression we grant to everyone, for peaceful elections based on people's own preferences."
And when asked how the U.S. can win the fight against these terrorists, Cotton implied that President Barack Obama's prescription is the wrong way forward.
"We don't win by apologizing for our supposed transgressions, or retrenching or retreating from the world," he said. "We don't win by trying to accommodate Islamic terrorists who want to kill us."
"We have to confront them and we have to show, as Osama bin Laden said in his famous statement from the 1990s that we're once again the strong horse," he added. Cotton has become a thorn in Obama's side, most notably by spearheading an open letter to Iran warning that Congress will have a say over whatever nuclear agreement reached between the two countries.