Sen. Tom Cotton (R-Ark.) on Monday called on the United States to return to the military might and capability it had in the 1980s — a plan that he acknowledged would be more expensive, but one that would ensure the safety of Americans, restore U.S. military leadership, and stop inviting power struggles around the world that increasingly seem to befuddle the Obama administration.
"Our enemies and allies alike must know that aggressors will pay an unspeakable price for challenging the United States," he said on the Senate floor. "The best way to impose that price is global military dominance. When it comes to war, narrow margins are not enough, for they are nothing more than an invitation to war."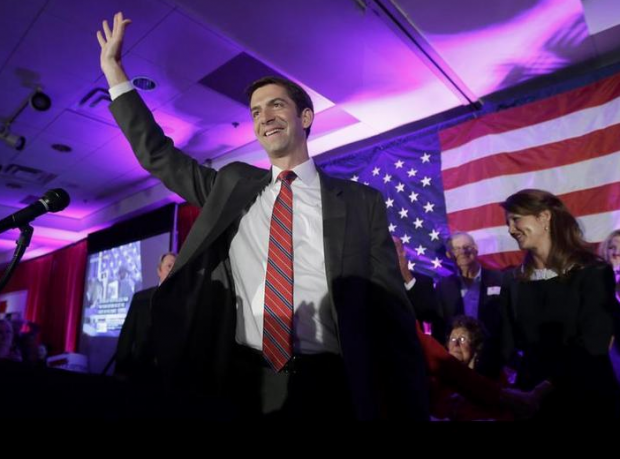 Sen. Tom Cotton (R-Ark.) on Monday night blasted President Barack Obama for overseeing a weaker U.S. military, and said it's time to return to the global military dominance the U.S. saw in the 1980s. Image: AP Photo/Danny Johnston
"We must have such hegemonic strength that no sane adversary would ever imagine challenging the United States," he added.
Cotton has already been tagged as an up and coming defense hawk, after his aggressive open letter to Iran warning that Congress would at some point have a say in any nuclear agreement reached with the White House.
His Monday night speech, his first formal address to the Senate chamber as a new member, will further cement his status as one of the leading voices in Congress for the military. The veteran of the Iraq and Afghanistan wars had nothing but criticism for the Obama administration, which he said has overseen an historic reduction in U.S. military power.
He noted that spending on the military, for example, has fallen to just 16 percent of U.S. gross domestic product, and fell $200 billion last year alone. That reduction has led to less troops, less technological upkeep, fewer military assets like naval ships, and lower morale.
But he said President Barack Obama's decision to abdicate U.S. leadership is equally damaging, and the combination of those two failures has put the United States in a dangerous place.
"American weakness and leading from behind have produced nothing but a more dangerous world," Cotton said.
"Alarms should be sounding in our ears," he added. "Our enemies, sensing weakness and hence opportunity, have become steadily more aggressive. Our allies, uncertain of our commitment and capabilities, have begun to conclude that they must look our for themselves."
He said the Obama administration has watched as Russia expands its territory and influence in Europe, China threatens other powers in Asia, and the Islamic State continues to gain strength in the Middle East. Cotton said the Islamic State's rise shows Obama was wrong when he said the terrorist threat was on the run.
"The Director of National Intelligence recently testified that when the final accounting is done, 2014 will have been the most lethal year for global terrorism in the 45 years since data has been compiled," he said. "Yet the president won't even speak our enemy's name."
Cotton said he would recommend adding $200 or even $300 billion to the defense budget immediately to restore troop strength, training and technological superiority. He said even a $300 billion increase would only put the military on par with the military President Reagan took over in 1981, in terms of its cost compared to GDP.
While the national debt is at a record high, he said that only shows that trying to balance the budget on the back of the military and other discretionary spending — instead of entitlements — doesn't work.
As he opened and closed his remarks, he warned that failing to realize this urgent need would be a failure to recognize the history of the rise of Nazi Germany, and the ensuing world war, which he noted was called the "unnecessary war" by former British Prime Minister Winston Churchill.
"I know many of you in this chamber stand with me, and I humbly urge you all, Democrat and Republican alike, to join in rebuilding our common defense, so that we will not face our own unnecessary war, our own period of consequences," he said.