Senate Democrats on Thursday once again block legislation aimed at helping victims of trafficking to protest anti-abortion language in the bill — Democrats have now blocked the bill in five separate votes this week.
Democrats continue to oppose language that would prevent certain money in the bill from being used to provide abortion services for victims of human trafficking and sexual abuse. Republicans say the language mirrors standard language found in appropriations bills for the last several decades, and that Democrats are making a political issue out of a bill that should have already passed by now.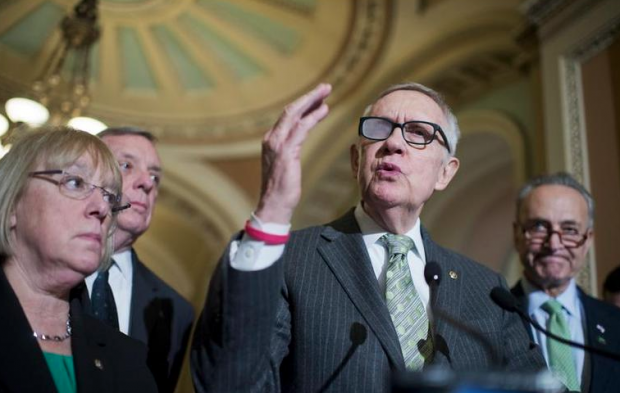 Senate Democrats have now blocked a human trafficking bill five times to protest anti-abortion language in the bill. Image: Tom Williams/CQ-Roll Call,Inc.
To put more pressure on Democrats, Republicans have said they would not hold a vote on Attorney General nominee Loretta Lynch until the trafficking bill moves.
But that hasn't swayed Democrats at all. Only four Democrats have been voting with the GOP all week, and at least two more are needed to get the 60 votes needed to advance the bill.
Republicans haven't made any headway in gathering Democratic support. On Tuesday, the Senate twice failed to advance the bill, in 55-43 votes. On Wednesday, the vote was 57-41, and Thursday, the Senate failed again in two separate votes of 56-42.
The small changes in those vote totals don't reflect any real progress, as the GOP is stuck with just four Democratic supporters: Bob Casey (Pa.), Joe Donnelly (Ind.), Heidi Heitkamp (N.D.) and Joe Manchin (W.Va.).
Meanwhile, Democrats have charged Republicans with holding up Lynch's nomination because she's a woman, and because she's black.
On Wednesday, Sen. Dick Durbin (D-Ill.) said the GOP is making her sit "in the back of the bus,' and today, he refused to apologize for that incendiary remark.