You're probably aware that companies like to collect your private data, but if you're like most people, you probably don't actually read the terms and conditions of the products and services you use.
Photo credit: Shutterstock
But what exactly are you giving companies legal access to, and what information are you willfully handing over by just skimming all those pages of legalese and other jargon?
The Huffington Post compiled a list of five key phrases contained in the licensing agreement and privacy policy for Apple's iOS 8.1 software. It turns out the company is collecting a lot more than what you might realize.
Read on to get a better idea about what specific information Apple might be getting from you without your knowledge, but certainly with your consent.
• Where and when you talk to Siri
"If you have Location Services turned on, the location of your iOS Device at the time you make a request to Siri may also be sent to Apple to help Siri improve the accuracy of its responses to your location-based requests," the agreement states.
In other words, if you ask Siri how long it takes it to get to the nearest coffee shop, Apple can legally record the geographic location of where you ask it so that the directions can be accurate if you ever forget how you once got from Point A to Point B.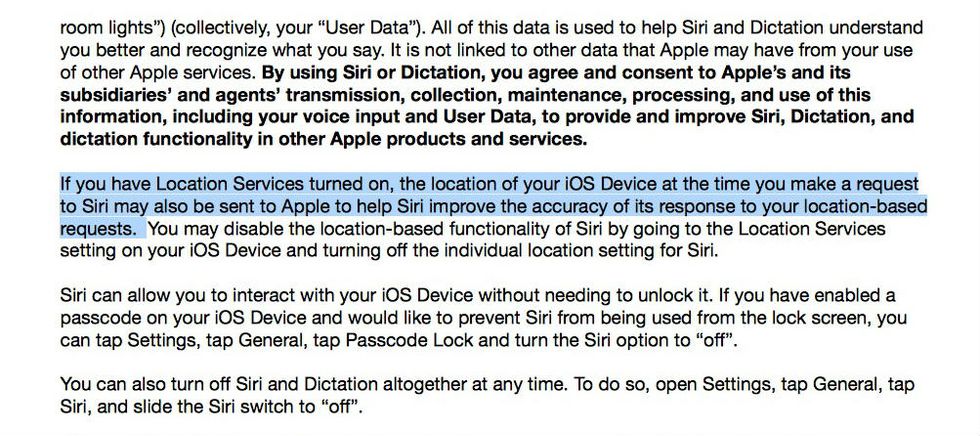 Image source: Apple
• "Non-personal" information, such as your occupation and zip code
"We may collect, use, transfer and disclose non-personal information for any purpose."
Apple describes what it means by "non-personal" information: "We may collect information such as occupation, language, zip code, area code, unique device identifier, referrer URL, location and the time zone where an Apple product is used so that we can better understand customer behavior and improve our products, services and advertising."
It can also collect related to how you use Apple's specific products and services, such as iCloud and iTunes to help it understand which parts of its website are of the most interest to users.

Image source: Apple.com
• Your device's location, and because you likely take at least one of your devices with you most places you go, your own location
"By using any location-based services on your iOS Device, you agree and consent to Apple and its partners', licensees and third party developers' transmission, collection, maintenance, processing and use of your location data and queries to provide and improve such products and services," Apple states.
This one, however, offers an easy way out: Apple says it will no longer collect such data if you turn off all your location settings or the location settings for any particular app that might also be tracking you.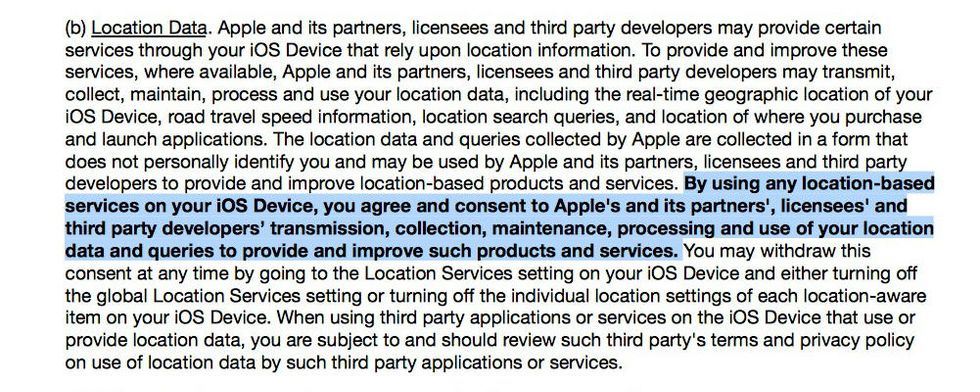 Image source: Apple
• How fast you're going
Apple, its partners, licensees as well as its third-party developers can "transmit, collect, maintain, process and use your location data, including the real-time geographic location of your iOS Device, road travel speed information, location search queries and location of where you purchase and launch applications."
So for example, if you're known to speed, even if a police officer doesn't catch you speeding, Apple could potentially offer evidence as to how fast you were going.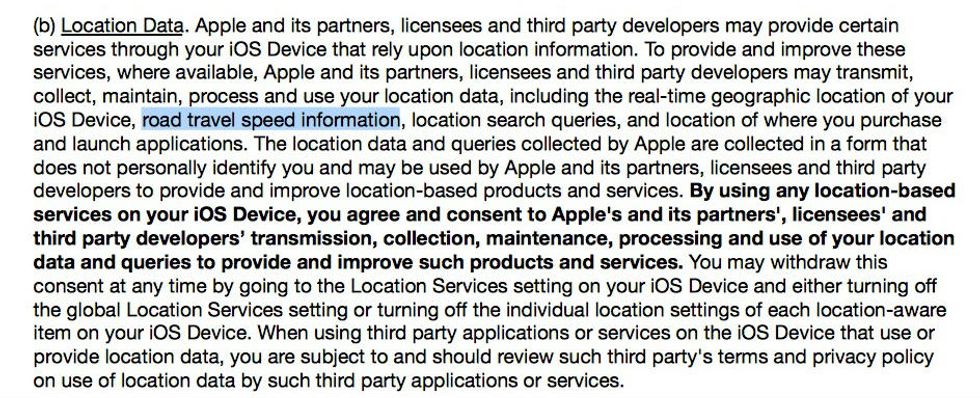 Image source: Apple
• Your iMessage conversations
"To facilitate the delivery of your messages, and to enable you to maintain conversations across your devices, Apple may hold your messages in encrypted form for a limited period of time," Apple states.
While you have the option of sending regular text messages from an iPhone, you can also use "iMessage," which can significantly reduce the number of "texts" you send, as defined by your mobile service provider. While it's one way to save money by not paying for unlimited texting, the savings come at another cost. In this case, it's your privacy.
As is the case with location data, you can also opt to have your private conversations truly private by disabling from your phone from sending any iMessages at all. That's assuming, however, that your mobile carrier doesn't snoop on your texting conversations, which they have been known to do.

Image source: Apple
Learn more about how Apple collects your information by reading the Huffington Post's full rundown here.
–
Follow Jon Street (@JonStreet) on Twitter