The U.S. Department of Agriculture its letting its workers play child-like games during the day in an effort to ensure they get enough physical activity, and wants companies to follow suit by giving their own workers time for "activity breaks."
"Take activity breaks or schedule walking meetings with your colleagues," USDA advised on Thursday. "Healthy choices like these will keep you energized and able to put your best foot forward."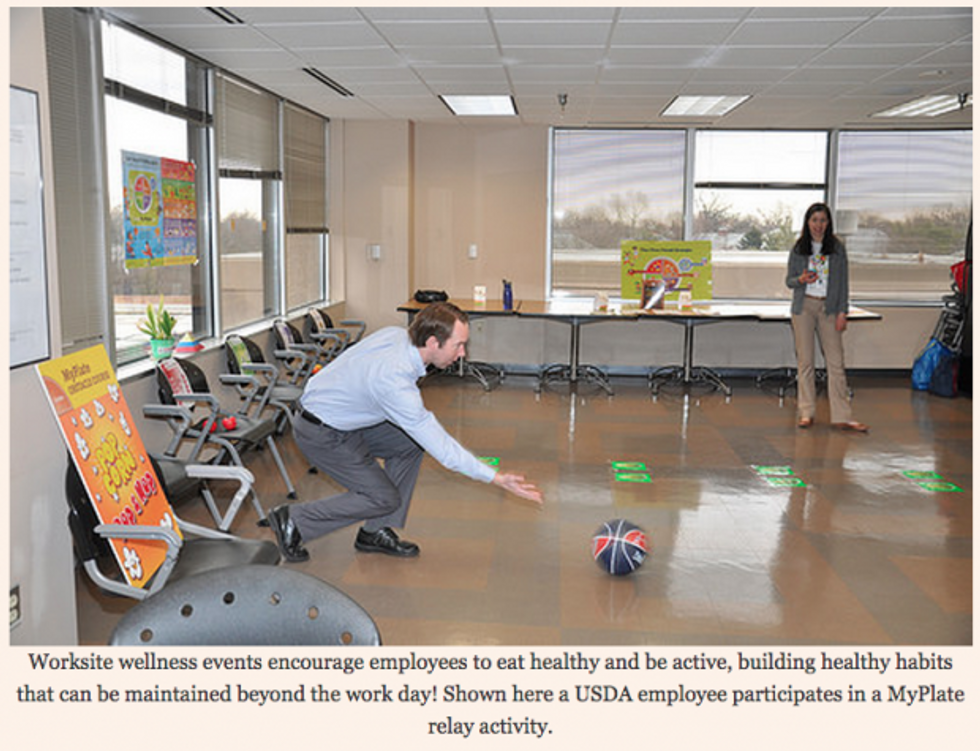 Image source: USDA
USDA posted a picture of an unnamed federal worker rolling a basketball in a big room — USDA said it was a "relay activity." Around the worker are a bunch of brightly colored signs talking about popcorn and healthy eating, the kind you might see in an elementary school classroom.
The department said companies can learn about how to start their own worksite activity programs by going to the National Healthy Worksite Program. That site has several links companies can use to set up their own plans to let people exercise during the workday.
As might be expected, USDA also calls on workers to eat healthy food all day long.
"Whether you pack your lunch or grab takeout, make half your plate fruits and vegetables and choose whole-grain when available," USDA wrote. "Keep healthy snacks on hand, such as low-fat yogurt, a trail mix of dried fruit and unsalted nuts, or hummus dip and veggies, to help you resist the office candy bowl when hunger strikes."