Two good legs is something many people might think is a necessity for filling the role of a U.S. Postal Service mail carrier, but Anita Fee proves that's not the case.
The woman has worked in the office for the postal service for 14 years, according to the Northwestern Florida Daily News, but in December she received her own route through the Crestview Post Office in Florida.
"She's probably in the top 10 percent for speed and accuracy," Postmaster John Blair told the newspaper. "She's amazing."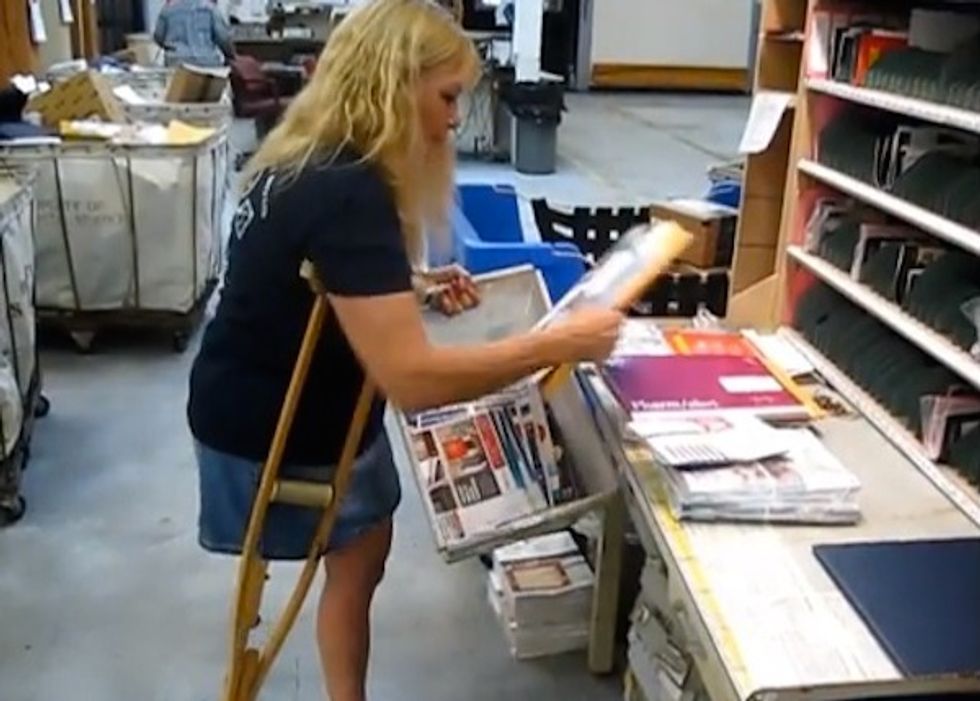 Anita Fee is one of the fastest mail carriers for the Crestview Post Office, despite only having one leg. (Image source: Northwest Florida Daily News)
The Daily News explained that Fee's Jeep was modified to allow her to deliver mail effectively. And when she needs to walk, she has opted to use her crutches despite the fact that she was required to take out a loan to purchase a prosthetic leg when she applied for the job.
In addition to making it a point to be friendly with the people on her route, Fee keeps an eye out on her community along the way. Once, she came across a burning house with a pregnant woman sleeping inside, the Daily News reported.
"She didn't know her house was burning," Fee told the newspaper. "She lost everything, but she got out OK."
In another case, Fee removed a snake from one of her customer's mailboxes, according to the Crestview Bulletin.
Watch Fee talk about her job in an interview with the Daily News:
For her exemplary performance on the job, the newspaper reported that she has twice received the United States Postal Service district All-Star Top Performer Award.
Crestview Mayor David Cadle called Fee "a role model for her fellow citizens by her work ethic, perseverance, commitment and by overcoming adversity."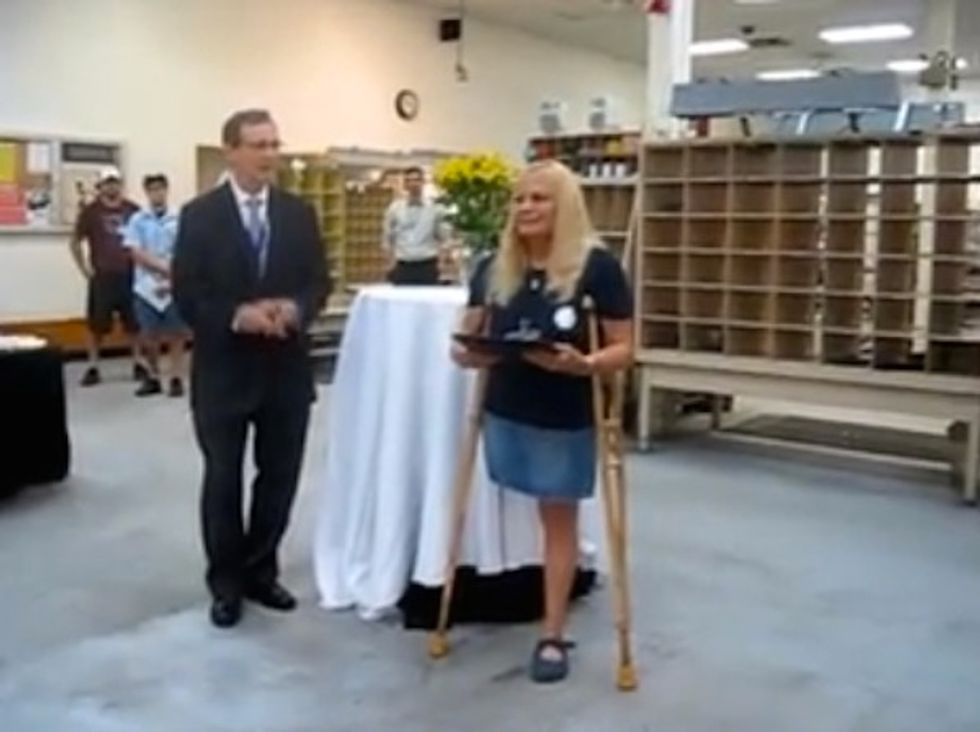 Fee was honored for her hard work. (Image source: Northwest Florida Daily News)
Fee told the Daily News, she does it all to set an example for her grandchildren, especially the 16-year-old grandson she raised after her son died.
"I want to show my grandson that he can take care of himself, that if you really try, you can live a decent life," she said.
"I just think she's the most incredible thing I've ever seen," Blair told the Crestview Bulletin of Fee. "She's awesome."