Rep. Sam Johnson (R-Texas) introduced legislation this week that would prevent any part of the U.S. armed forces from altering the oaths it makes its recruits take without first getting permission from Congress.
His bill is a response to a 2013 decision by the U.S. Air Force Academy to make it optional for cadets to say "so help me God" when taking the cadet honor oath. Johnson said that adjustment was made to accommodate one atheist group, but that such an important change should not have been made so lightly.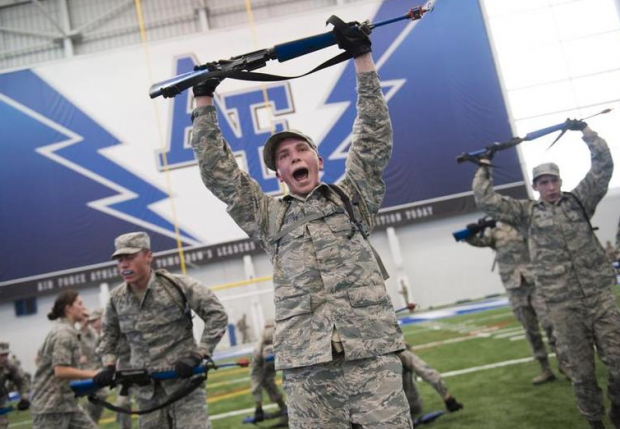 Air Force Academy freshman Michael Chado joins fellow "doolies" running in place and chanting at the U.S. Air Force Academy in Colorado Springs, Colo. As of 2013, cadets no longer have to say "so help me God" as part of an oath, but one House Republican is looking to change that. (AP Photo/The Gazette, Mark Reis)
"In 2013, the U.S. Air Force Academy made the phrase 'so help me God' optional in the oath each cadet takes," Johnson said. "And why did they do this? Because of one radical atheist group's demands."
"Let me be clear: Americans have the freedom of religion – but not freedom from religion," he added. "The moral foundation of our country is in serious danger if we allow radical groups to dictate whether or not we can freely express our religious beliefs. It's time to take a stand."
Since 1984, the cadet honor oath has been given to freshmen when they join basic training: "We will not lie, steal or cheat, nor tolerate among us anyone who does. Furthermore, I resolve to do my duty and to live honorably, so help me God."
The Air Force Academy said in 2013 that it decided to make the last four words of the oath optional in order to "build a culture of dignity and respect" and allow airmen to "freely practice and exercise their religious preference, or not."