The U.S. and Israel on Monday did something at the United Nations that many thought would not happen after several weeks of tension between the two countries — work together.
The U.S. and Israel agreed to sit in silence the U.N. Human Rights Council when it came time to talk about human rights violations that Israel allegedly committed against Palestinians, just as the two countries have boycotted this part of the meeting in past years.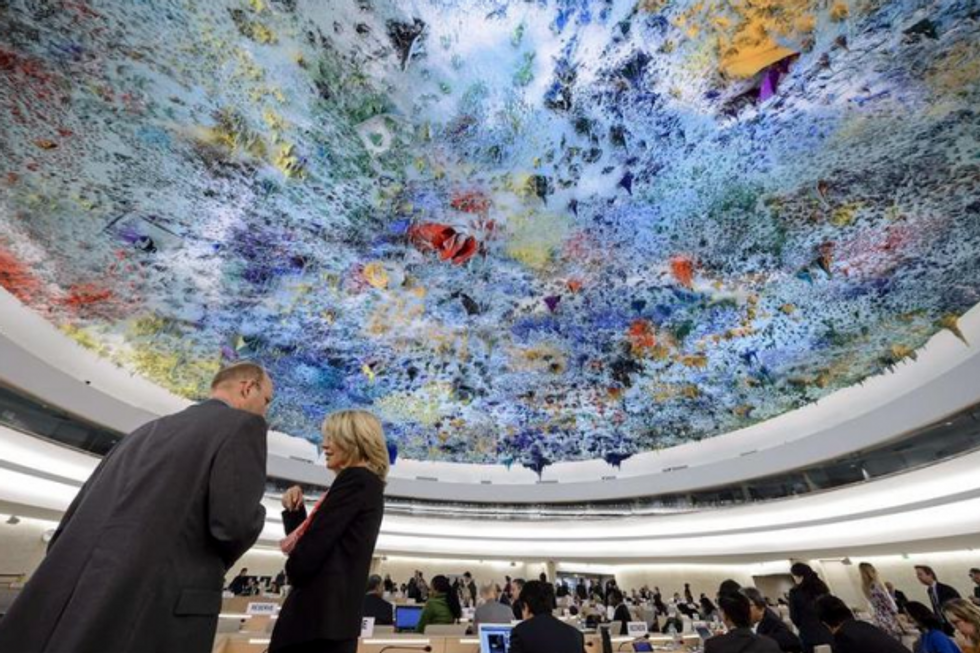 Delegates speak prior to the opening of a session of the Human Right Council on the Palestinian territories situation on March 23, 2015 in Geneva. The U.S. and Israel boycotted the meeting. Image: FABRICE COFFRINI/AFP/Getty Images
That coordination was the first major test of whether the U.S. would allow its position to change at the U.N. in light of President Barack Obama's clear distain for Israeli Prime Minister Benjamin Netanyahu's campaign tactics. Netanyahu also said he no longer supports a two-state peace deal in the Middle East just before the election, a comment that U.S. officials said might force the U.S. to reassess how much it can support Israel in at the U.N.
Netanyahu has since retracted his comment somewhat, and now says he's still interested in a two-state solution under certain circumstances. But in the days after his election victory, top White House officials indicated the U.S. might take a different approach at the U.N.
But beyond a few stray comments, there was never any firm pledge that the U.S. might abandon Israel at the U.N.
By Monday, it almost seemed like old times again. The U.N. Human Rights Council met to discuss the seventh agenda item of the meeting, which dealt with violence against Palestinians, an item that the U.S. in the past has boycotted because of the many one-sided resolutions against Israel that are raised. And just as in years past, the U.S. sat out the discussion along with Israel.
Reuters originally reported that the U.S. sat out the meeting in defiance of Israel, but later corrected its story to note that the U.S. move was actually coordinated with Israel.
"This is not the first time the U.S. has refused to participate in the U.N. Human Rights Council discussion of item seven," said State Department spokeswoman Marie Harf. "We do not participate because we remain deeply troubled by the Human Rights Council's stand-alone agenda item directed against Israel, and by the many repetitive and one-sided resolutions under that agenda item."
"We've coordinated our refusal to participate with Israel, which also did not participate," she said.
When pressed, Harf seemed to confirm that nothing had really changed at all.
"Regardless of our policy disagreements or discussions on other issues, we're not going to let Israel be singled out by the international community unfairly," she said. "We will stand up for them in the international community, absolutely."
That said, Harf did stress that when it comes to negotiating peace in the Middle East, the Obama administration is still somewhat confused by Netanyahu's decision to back away from a two-state solution, and then his move to walk those comments back. She said his remarks may have made it harder to negotiate an agreement, and said the best way forward would be for Israel to demonstration through its actions how devoted it is to securing a peace deal.
"So we are evaluating what's taking place. I think what we're looking for now are actions and policies that demonstration genuine commitment to a two-state solution, not more words," she said.
"Words aren't enough at this point," he said. "What we need to see are actions, actions and policies that demonstration a genuine commitment to the peace process."