© 2023 Blaze Media LLC. All rights reserved.
The Senate on Monday voted to start work on a budget resolution for fiscal year 2016 that includes a plan to repeal Obamacare, five years to the day that the controversial health care law was signed by President Barack Obama.
The Senate voted unanimously to proceed to the Republican budget, a plan that would cut more than $5 trillion in planned spending over the next decade, and would also call on Congress to pass legislation to repeal the law. Senate Majority Leader Mitch McConnell (R-Ky.) praised the budget as perfectly timed to repeal a law that has only led to higher health insurance premiums and the elimination of health plans for millions of Americans.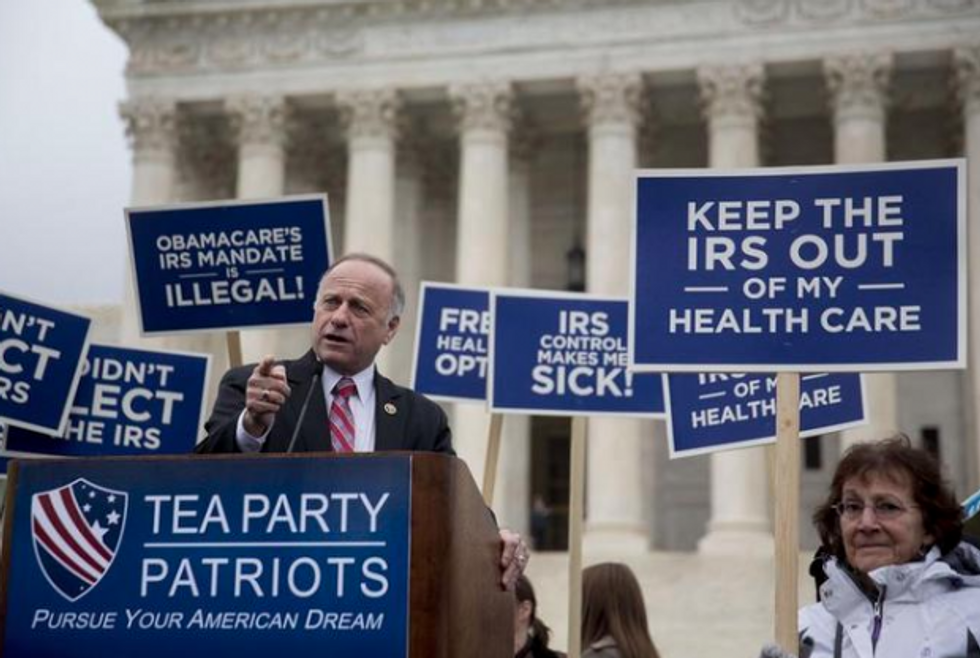 Obamacare is facing both legislative and judicial challenges this year. The Senate moved Monday to take up a budget plan that would repeal Obamacare, and the Supreme Court will make a key ruling on the law this summer. Image: Bloomberg/Bloomberg via Getty Images
"We begin this week by remembering a failed idea from the past — Obamacare — and we'll end by passing balanced legislation about the future," McConnell said. He said experts warned the law would lead to higher premiums and fewer choices, and said "tragically, that's just what we've seen."
"Millions of Americans lost health plans they were promised they could keep," he said. "Premiums spiked. Deductibles skyrocketed."
His counterpart, Minority Leader Harry Reid (D-Nev.), praised the law in his opening remarks, and said it was a "great accomplishment" of Democrats to finally pass the law in 2010. "It wouldn't be a stretch to say that President Obama risked his presidency by pushing for health care reform," he said.
But while Reid and other Democrats will oppose the GOP effort to repeal the law, there may be little they can do about it. Republicans are planning to use a process known as "budget reconciliation," which is a way to use the budget to create legislation that has the ability to pass the Senate even without a single Democrat behind it.
Normally, 60 votes are needed to advance legislation in the Senate, the GOP's budget plan calls for the creation of privileged legislation to repeal Obamacare, and this bill could advance and pass with just 51 votes, since the bill would be created under "reconciliation" instructions in the budget.
The only hitch is that this repeal bill could still be vetoed by President Obama. But for the next several months at least, Republicans will be able to look forward to at some point holding a Senate vote to repeal Obamacare, something that wasn't possible at all under Democratic rule.
"It will also provide the procedural tools – via the budget reconciliation process – to bring an end to the nightmare of Obamacare," McConnell said. "That's something all of us should want."
"So, since our friends across the aisle have decided not to offer a budget of their own, I invite them to join us — join us in supporting the growth-oriented and balanced budget that's before us now," he said.
Legislation isn't the only problem Obamacare is facing this year. By the summer, the Supreme Court is expected to rule on whether billions of dollars in taxpayer subsidies were legally paid out to millions of people to help them buy health insurance under Obamacare.
If the court rules the subsidies are illegal, that could be a major problem for the law that might force millions of people to rethink the idea of signing up for what today are heavily subsidies insurance plans.
Want to leave a tip?
We answer to you. Help keep our content free of advertisers and big tech censorship by leaving a tip today.
more stories
Sign up for the Blaze newsletter
By signing up, you agree to our
Privacy Policy
and
Terms of Use
, and agree to receive content that may sometimes include advertisements. You may opt out at any time.