A Republican strategist who worked on Israeli Prime Minster Benjamin Netanyahu's campaign alleged that the Obama administration played a larger role in opposing Netanyahu's re-election than what has been previously reported.
"What was not well reported in the American media is that President Obama and his allies were playing in the election to defeat Prime Minister Netanyahu," strategist John McLaughlin told John Catsimatidis' "The Cats Roundtable" radio show in New York on Sunday, after Netanyahu's Likud party emerged victorious in Israel's parliamentary elections last week.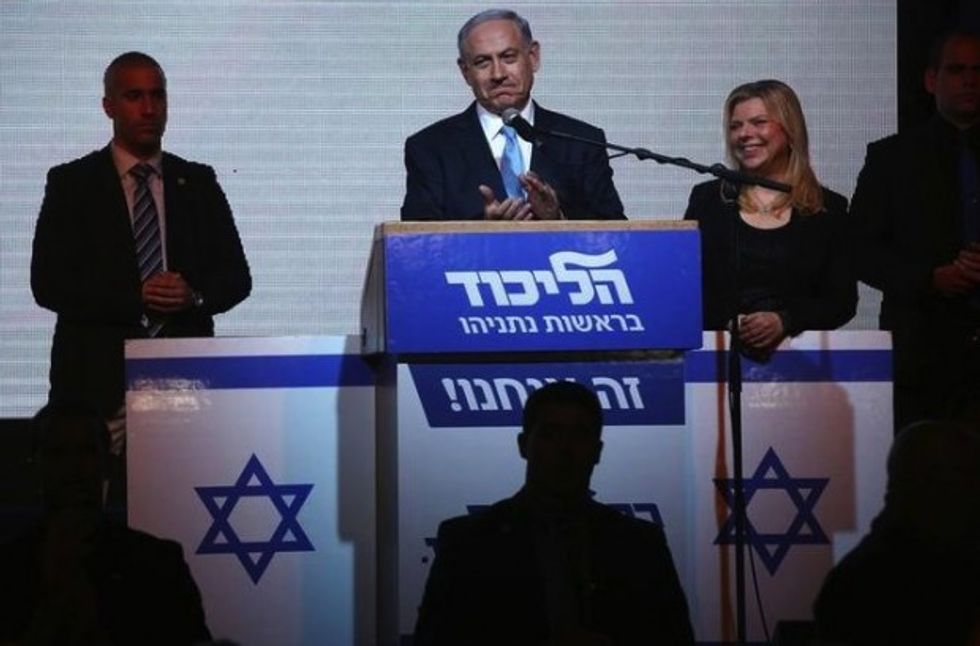 Israeli Prime Minister Benjamin Netanyahu with his wife Sara on Israel's election night, March 17, 2015 in Tel Aviv. (Menahem Kahana/AFP/Getty Images)
McLaughlin said "there was money moving that included taxpayer, U.S. dollars, through nonprofit organizations" and "various liberal groups in the United States that were raising millions to fund a campaign called V15 against Prime Minister Netanyahu."
Among the consultants for V15, or Victory 2015, was former Obama campaign strategist Jeremy Bird. V15 is a subsidiary of OneVoice, which advocates for a two-state solution for the Israeli-Palestinian conflict and received two grants from the U.S. State Department last year. Sen. Ted Cruz (R-Texas) and Rep. Lee Zeldin (R-N.Y) sent a letter to Secretary of State John Kerry at the end of January inquiring if OneVoice had violated its tax-exempt status due to its activities in Israel.
The State Department said at the time that no payments were made after November 2014 and were not part of the campaign. OneVoice filed paperwork last week to allow it to engage in political activism following the scrutiny.
McLaughlin also said there was a U.S. effort behind the merger of four far left-wing parties representing mostly Israel's Arab minority as a way to draw votes away from Netanyahu's right-wing bloc.
"In December, there was a memo going around where they were trying to organize the Arabs into one party, and teach them about voter turnout, et cetera," he said.
"The State Department people in the end of January, early February, expedited visas for [Israeli] Arab leaders to come to the United States to learn how to vote," McLaughlin continued. "There were people in the United States that were organizing them to vote in one party so they would help the left-of-center candidate, [Isaac] Herzog, that the Obama administration favored."
The four parties merged in January to form the Joint List, which ended up increasing voter turnout among Israel's Arab citizens, and also ensured fewer votes were discarded under new Israeli election rules setting a 3.25 percent vote threshold for entry to the Knesset.
The Joint List emerged with 13 seats in the Knesset, compared with the 11 secured separately in 2013 by the parties making up the amalgamated list. The Joint List is now the third-largest party in the Israeli parliament.
Israeli Arabs vote overwhelmingly for left-wing parties, which traditionally are more supportive of territorial compromise with the Palestinians. On Sunday, however, the Joint List refused to endorse Herzog for prime minister in a meeting with Israeli President Reuven Rivlin, saying his Zionist Union party was just a softer version of the Likud.
The White House harshly criticized Netanyahu over remarks he made in the campaign's final hours last Tuesday, appealing to his supporters who had not yet voted to do so because foreign government-funded groups were busing Israeli-Arab citizens "in droves" to the polls in order to favor his left-wing opponent.
The merging of the Joint List was an ideological hurdle for its members who represent a vast political spectrum of communists, feminists, Palestinian nationalists and Islamists.
McLaughlin said the strained relations with the U.S. have taken a toll in Israel.
"The Israelis don't like the fact that the president has become really partisan with them," McLaughlin said. "They're used to enjoying good relations with the United States, whether Republicans or Democrats."
President Barack Obama is "a big negative over there," he said. On the issue of security, "they're very concerned about what this president might do before he leaves office. So, the president really overplayed his hand."