Appearing on Fox Business Network on Monday, Judge Andrew Napolitano, a prominent figure in the libertarian movement, noted two key issues that he feels Sen. Ted Cruz (R-Texas) is getting wrong. However, a spokesperson for the Cruz campaign told TheBlaze that it seems Napolitano misinterpreted some of the conservative lawmaker's positions.
Speaking on background, the Cruz spokesperson addressed both of Napolitano's grievances.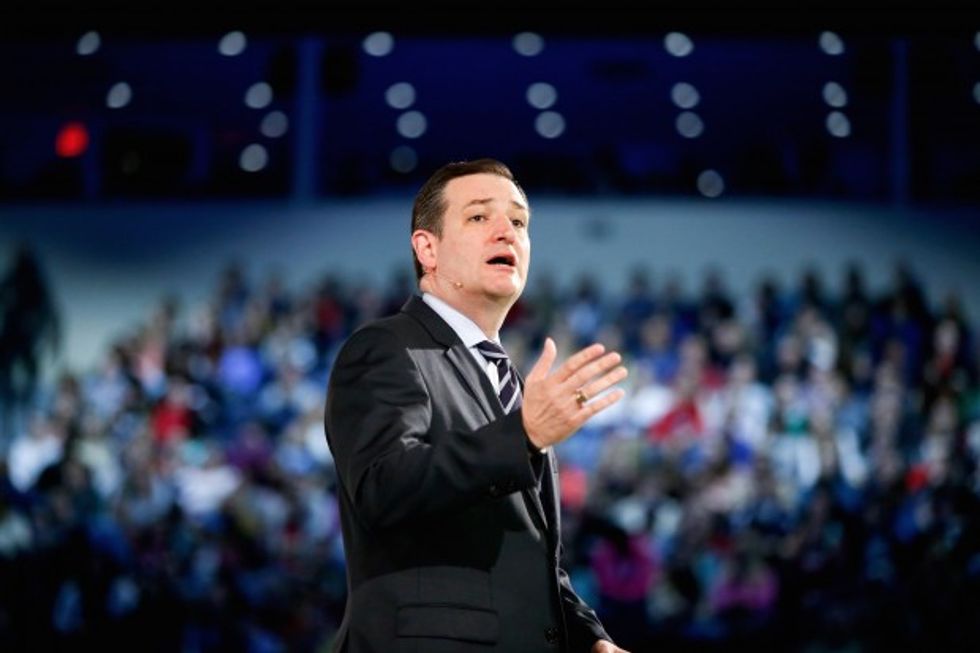 AP Photo/Andrew Harnik
Napolitano said his "heart sank" when Cruz spoke about a "federal right to education" during his first campaign speech at Liberty University in Lynchburg, Virginia, on Monday. Here's the exact wording from the transcript of Cruz's speech:
"Imagine embracing school choice as the civil rights issue of the next generation, that every single child, regardless of race, regardless of ethnicity, regardless of wealth or ZIP Code, every child in America has the right to a quality education."
The campaign spokesperson told TheBlaze Cruz absolutely was not claiming that every person has a federally guaranteed right to education, and he never mentioned the federal government in making the point. Instead, the spokesperson said Cruz was advocating for "bottom-up" education reform centered around school choice, the "right" to choose.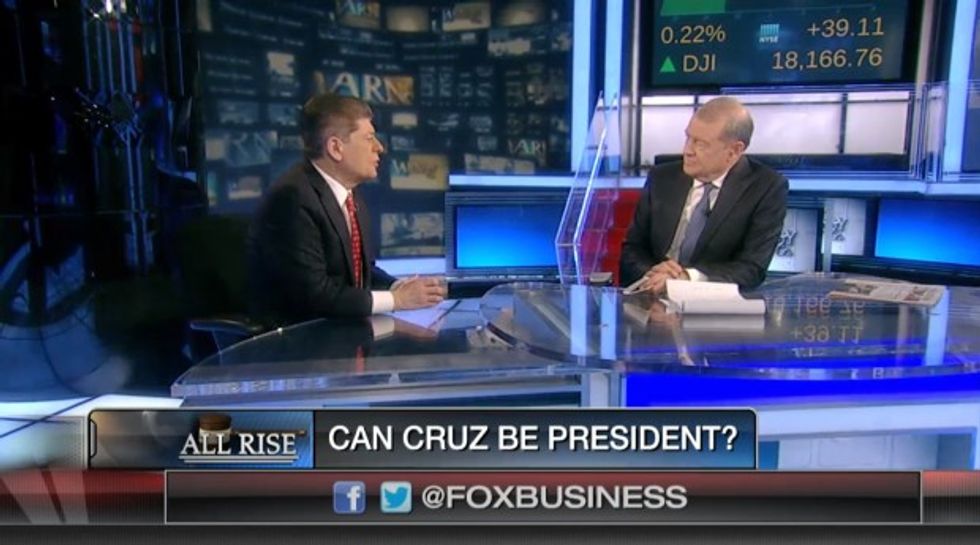 (Fox Business Network)
Cruz has also been an outspoken critic of Common Core, the controversial national standards handed down to the states, and even asked his audience to "imagine repealing every word of Common Core" during his Liberty University speech.
Secondly, Napolitano argued that he believes Cruz "probably would join all the other Republicans but Rand Paul with the idea that we should — to use Woodrow Wilson's phrase — make the world safe for democracy, which means perpetual death and perpetual war." Again, the spokesperson said the interpretation wasn't quite right.
The campaign official directed TheBlaze to a Bloomberg View article titled, "Ted Cruz, Tea Party Hawk," as a resource to get an accurate representation of Cruz's view on foreign policy issues. You can read the portion of the article cited by the Cruz spokesperson below:
"The central touchstone for U.S. foreign policy should be defending the vital national security interests of the United States," he said. He called weakness on that obligation "the most central failing" of the foreign policies of President Barack Obama and Hillary Clinton.

In his brief Senate career, Cruz has sometimes sided with libertarians such as Paul on big national security issues, as when he opposed Obama's request for authorization to attack Syria after  Bashar al-Assad's alleged use of chemical weapons (Obama later withdrew that request). But Cruz has also sided with the hawks in opposing Obama's nuclear negotiations with Iran and pushing for more sanctions on the Tehran regime.

"I believe both of those positions are consistent because both are driven by national security interests," Cruz told me. "There are a range of views within the Republican Party, but there is an overwhelming consensus that the Obama-Clinton foreign policy is a manifest disaster, that leading from behind does not work."

[...]

"It is inexplicable and indefensible that this president will almost never speak out for dissidents," Cruz said. "I don't believe that shining light and speaking truth is soft power, it's often far more effective than dropping bombs."
To be sure, Napolitano said he mostly likes Cruz as a 2016 presidential candidate and suggested they are on friendly terms, a point that the Cruz spokesperson reiterated. But the libertarian thought leader made it clear that his number one choice for president is Sen. Rand Paul (R-Ky.), who has yet to announce his candidacy for 2016.
"I basically do like him, I've spent a lot of time with him, I know him very well," Napolitano said of Cruz on Monday. But he added, "Rand Paul is more faithful to the Constitution as I see it."
Watch the original Fox Business Network segment from Monday afternoon here.
---