© 2023 Blaze Media LLC. All rights reserved.
'America Is Quickly…Fragmenting': Filmmakers Want America to Get Back to God and Prayer Before Things 'Get Worse\
"If you seek me, you'll find me, if you seek me with all your heart.'"
The Kendrick brothers — the filmmakers who brought audiences "Flywheel," "Courageous," "Fireproof" and "Facing the Giants" — are back with "War Room," a new faith-based movie that offers up a pointed message about the power of prayer.
Stephen and Alex Kendrick, the brothers behind the film, told TheBlaze recently that "War Room" focuses on how prayer can have a powerful impact on marriages, careers, relationships and other areas of one's life, showcasing how a reliance upon God can transform circumstances.
The brothers also shared one of their secrets to continuously churning out successful faith-based films: a reflective and prayerful period that they always engage in before embarking on a new movie-making journey.
"Between every film, we go through what we call a 'season of prayer,' and that's when we take our time and we say, 'God, what do you want us to do next?'" Alex Kendrick said. "We seek him, we try to listen, we worship him … and, you know, God loves to be sought, and I would use the term 'chase.' He likes to be chased."
He continued, "He says, 'If you seek me, you'll find me, if you seek me with all your heart.'"
The brothers said that Hollywood and New York City are notorious for being disconnected from middle America, but that their movies tackle subjects that most people can relate to, as they base plot lines in the direction they believe God has set them.
Alex Kendrick went on to more generally discuss the importance of prayer, not only for his business and film decisions, but also for the nation more broadly, warning that people desperately need to rely upon God if they want to see circumstances improve in both the nation and world.
"America is quickly breaking, fragmenting and so we need healing in our land or it's going to get worse … we think that prayer is the answer," he said. "'War Room' the movie is not the answer, but we do point to the answer."
Stephen Kendrick spoke about how he and his brother grew up in a "praying home" and have always been a part of faithful churches, adding that he believes the secret to their feature film successes has always been what goes on "behind the scenes."
"We've been praying through every major decision," he said. "And we've seen God provide the resources with no money, help enable people to act beyond their ability because they were volunteers from our church, giving us a theatrical release, giving us favor internationally, all these things we know it has not been because of our resources or our training or our talent. It has been because of answered prayer."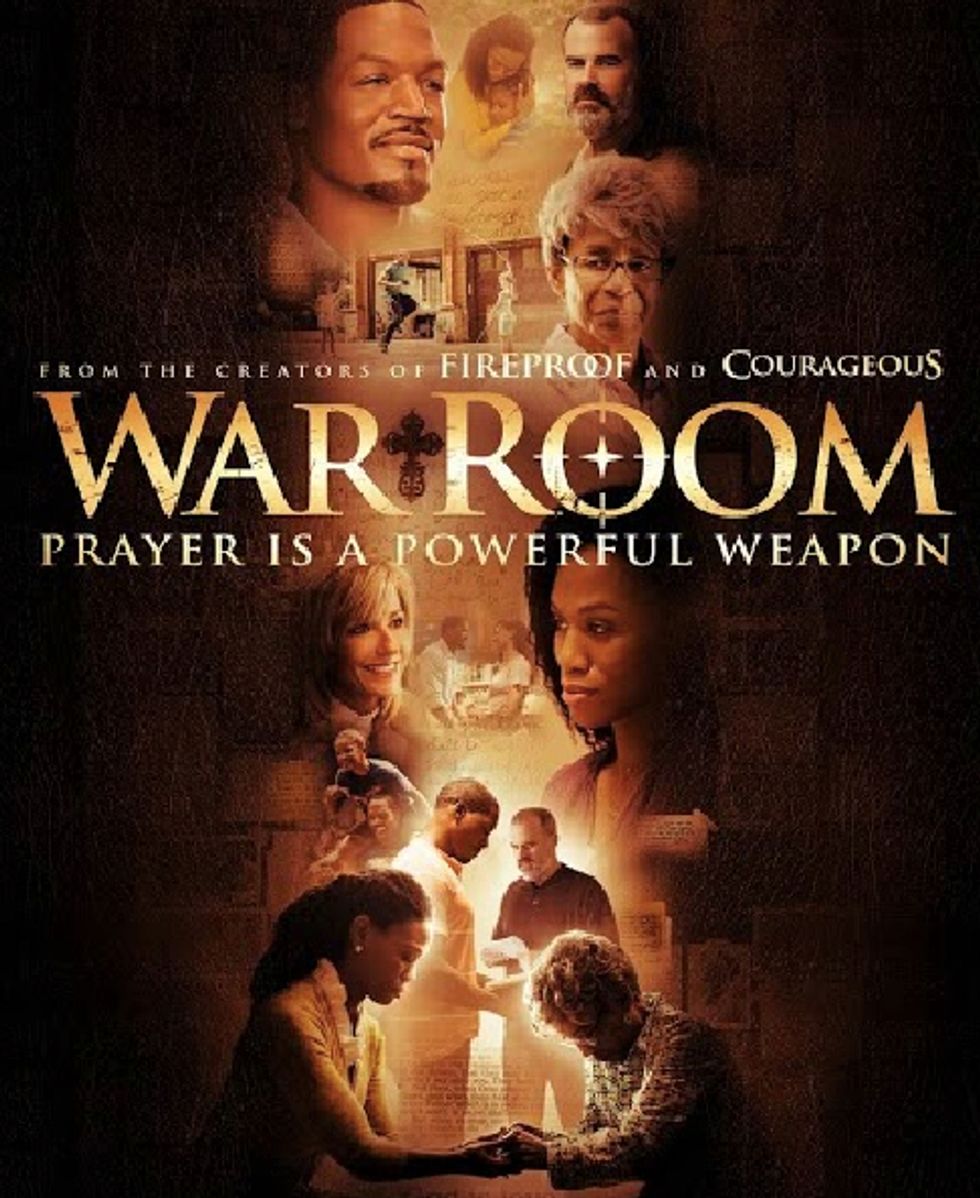 Kendrick Brothers
"War Room," which opens August 28 in theaters nationwide, centers on characters Tony and Elizabeth Jordan, a married couple who have a young daughter and seemingly possess everything they could ever ask for. But it doesn't take long to recognize that their marriage is in tatters.
The movie documents their harrowing struggle and what they both learn about the power of transformational prayer — a story the Kendricks hope will resonate with audiences.
"For us, if we can give inspiration and hope to people when they leave, that is success for us," Alex Kendrick told TheBlaze of his goal for the film.
Find out more about "War Room" here.
TheBlaze's Marissa Abbott contributed to this report.
Want to leave a tip?
We answer to you. Help keep our content free of advertisers and big tech censorship by leaving a tip today.
more stories
Sign up for the Blaze newsletter
By signing up, you agree to our
Privacy Policy
and
Terms of Use
, and agree to receive content that may sometimes include advertisements. You may opt out at any time.