After two years undergoing upgrades, the Large Hadron Collider at CERN in Geneva is getting ready to start slinging particles again and some of its experiments, scientists think, could support another theory over the widely held big bang theory.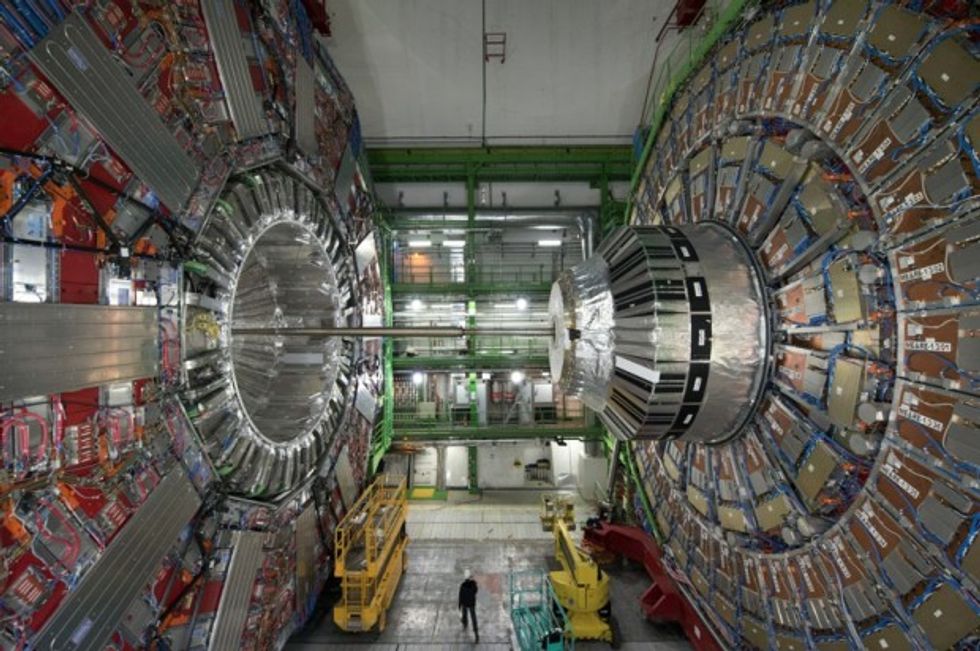 Excitement is mounting at the world's largest proton smasher, where scientists are close to launching a superpowered hunt for particles that may change our understanding of the Universe. Physicists and engineers are running the final checks on an upgrade that nearly doubled the muscle of the Large Hadron Collider (LHC), which in 2012 unlocked the putative Higgs boson and, with it, a Nobel Prize. The two-year power boost will take experiments into a previously-inaccessible realm that resembles science fiction. (RICHARD JUILLIART/AFP/Getty Images)
According to the U.K.'s the Guardian, scientists will conduct experiments to try and detect mini black holes. If successful, their findings could then support gravity's rainbow theory, which posits that the universe has no set beginning and has always existed. Here's how the Guardian explains it further:
The scientists at Cern believe that there are miniature black holes hidden away in dimensions beyond the ones that we can comprehend, and that these lead to parallel universes.

[...]

The point of all of this is that Gravity's Rainbow could prove that the singularity – the infinitely tiny point that exploded billions of years ago, giving birth to the universe – is a scientific impossibility.
"We predict that gravity can leak into extra dimensions, and if it does, then miniature black holes can be produced at the LHC," Dr. Mir Faizal explained to PhysOrg.
In a paper published by Faizal and his colleagues earlier this year, they explained a "possible explanation for the absence of black holes at the LHC" so far.
"We demonstrate that a black hole remnant exists for Schwarzschild black holes in higher dimensions using gravity's rainbow. The mass of this remnant is found to be greater than the energy scale at which experiments were performed at the LHC," the authors wrote.
"We have calculated the energy at which we expect to detect these mini black holes in gravity's rainbow,"Faizal told PhysOrg. "If we do detect mini black holes at this energy, then we will know that both gravity's rainbow and extra dimensions are correct."
Mohammed Khalil, another one of the study's authors, told PhysOrg if they do not detect black holes, it could mean: "One, extra dimensions do not exist. Two, they exist, but they are smaller than expected. Or three, the parameters of gravity's rainbow need to be modified."
Europe's multi-billion dollar Large Hadron Collider will begin its second three-year run in may with twice the energy and far more violent particle crashes this time around. Scientists say if nature cooperates, the more powerful beam crashes will give them a peek into the unseen dark universe.
(H/T: Reddit)
—
The Associated Press contributed to this report.