The Senate on Tuesday destroyed any lingering hope President Barack Obama might have had for passing his budget plan through Congress this year, by voting down Obama's plan 1-98.
The only senator to vote for the plan was Sen. Tom Carper (D-Del.).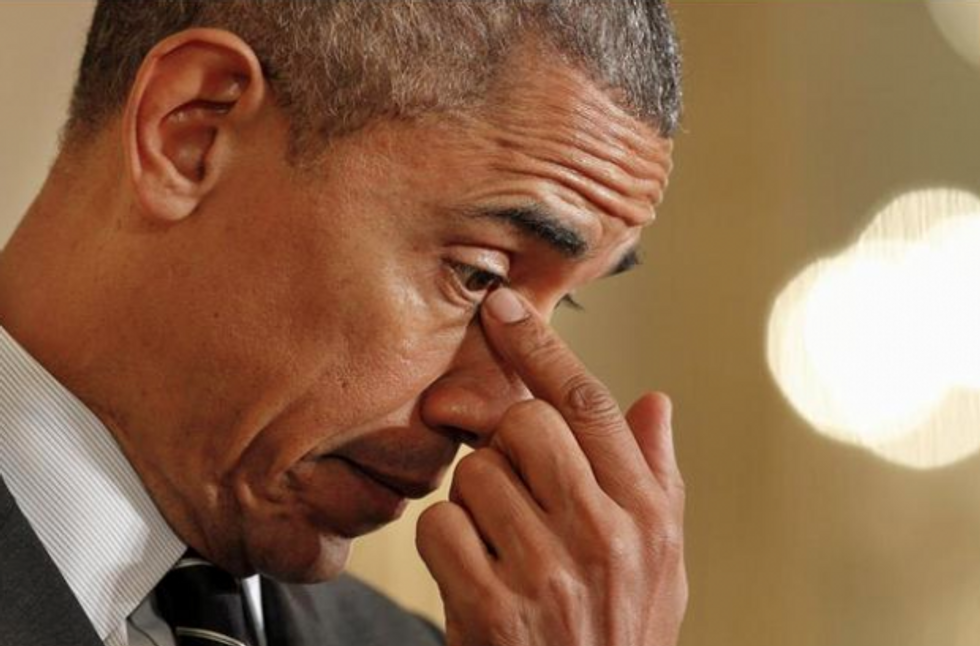 President Obama's $4 trillion budget met a brutal fate in the Senate, which killed a version of that plan in a 1-98 vote. Image: AP Photo/Jacquelyn Martin
Obama's budget plans have not fared well in Congress, and in fact Democrats have not even tried to present them each year when members consider various budget plans. That has forced Republicans to call up a version of Obama's plan to get a sense of how much Congress supports Obama's plan.
In the last few years, Democrats have protested that these attempts are not real votes on Obama's budget plans. But those arguments seemed mostly designed to allow Democrats to vote against it with Republicans and spare Obama from seeing his budget plans go down year after year.
How many people voted for President Obama's #budget? @BudgetGOPpic.twitter.com/GrbedynmoY

— Leader McConnell (@SenateMajLdr) March 24, 2015
In recent years, versions of Obama's plans have failed in the House without getting a single vote from any Democrat. This week, the House is expected to skip the ritual of voting on Obama's plan, but it was picked up in the Senate this year.
Just before the vote, Sen. John Cornyn (R-Texas) noted that Obama's budget has been savaged in the press since it was introduced this year. Republicans themselves have noted it contains higher taxes, more spending, and no end in sight for the huge annual budget deficit.
"Since 2011, it's only gotten two votes for the president's proposed budget, 1,023 votes against," Cornyn said.
Sen. Bernie Sanders (I-Vt.) protested the vote and said it didn't reflect Obama's actual budget plan.
"I'm going to vote no because I'm not quite sure what is in Sen. Cornyn's proposal, but certainly it is not what President Obama presented," he said.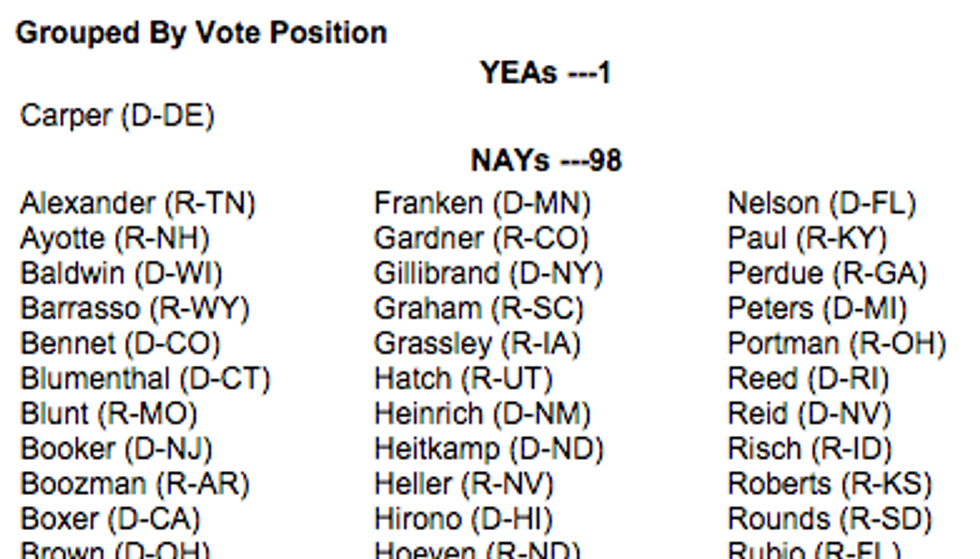 Still, the vote is a sign of worse things to come for Democrats this week. By the end of the week, both the House and Senate are likely to have passed plans that balance the budget within a decade, thanks to $5 trillion in cuts to planned spending over that period.
Those budget plans aren't binding, but they will guide Congress as it appropriates money this year. In addition, part of the Senate's budget language calls for legislation to repeal Obamacare, an idea that should be able to move swiftly through both the House and Senate thanks to the quirky rules of the budget resolution.