Senate Minority Leader Harry Reid (D-Nev.) ridiculed Senate Republicans on Wednesday for trying to do something he routinely dodged when he led the Senate — pass a budget.
"All this happy talk that I heard this morning, and I'm going to hear this week and we'll hear the next couple of days, about this great budget the Republicans have — it is an absolute farce," he said on the Senate floor.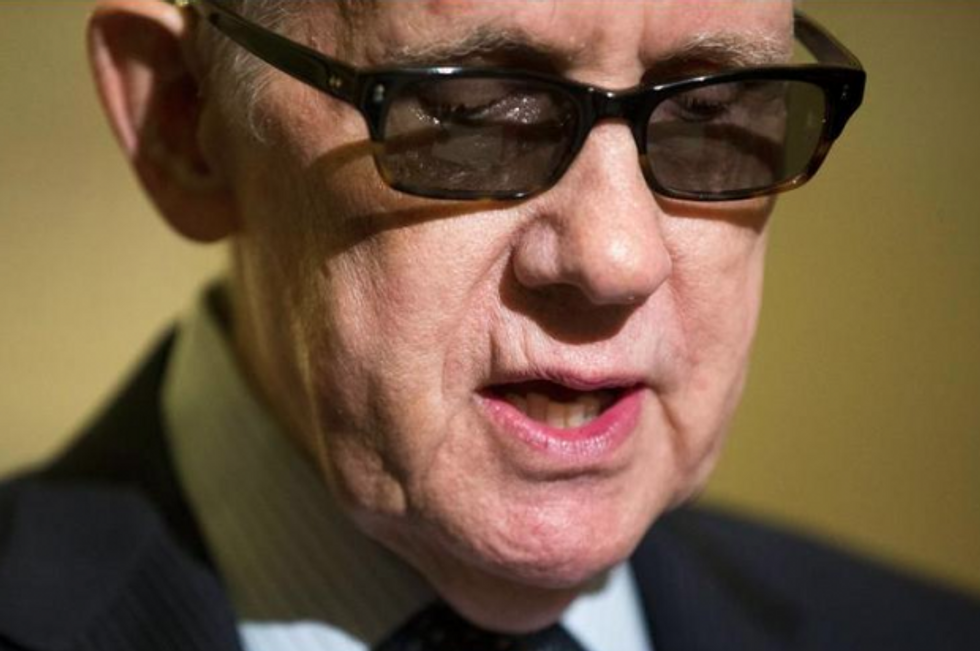 Senate Minority Leader Harry Reid (D-Nev.) dismissed the GOP's budget plan as a 'farce' on Wednesday. Image: AP Photo/Pablo Martinez Monsivais
Republicans have put forward a plan to cut $5 trillion in planned spending over the next decade, and eliminate the half trillion dollar budget deficit after that time. But Reid skewered it by arguing that Republicans are trying to balance the budget by slowing the growth of government, instead of finding new ways to tax the wealthy.
"Any time the Republicans are asked to close tax breaks for companies shipping jobs overseas, no," he said. "But they're happy to cut Social Security, Medicare, and of course focus never on middle class priorities."
While Democrats have accused Republicans of proposing "draconian cuts" to the government, on net, all of the GOP budget plans in the House and the Senate allow the government get bigger each year on net. They count on steadily growing revenues to eventually outpace spending after a decade.
Republicans have said ending the deficit is key to starting the next step of paying down the debt, something they say would help everyone in the country in the long-term. But Reid also rejected the idea that reducing deficits and debt is as important to the middle class as the government programs that would see slower growth.
"They use the words [middle class], but … it's just a joke," Reid said.
Republicans use the words "middle class," but it's just a joke. Their budget protects the wealthy and hurts middle class priorities.

— Senator Harry Reid (@SenatorReid) March 25, 2015
The chairman of the Senate Budget Committee, Sen. Mike Enzi (R-Wyo.), spoke soon after Reid, and indicated that Reid's complaints ring a bit hollow given that Reid rarely even tried to pass a budget when he led the Senate for the last few years.
The Senate approved a budget in 2009, but then ignored the idea of passing a budget until 2013. No budget was forthcoming in 2014, and late last year, Senate Republicans won control of the Senate again.
The lack of any budget at all in most years under Reid was seen as part of his overall plan of sparing Democratic senators from tough votes, but also because it seemed clear there was no agreement within the Democratic Party on what a budget would look like.