It was supposed to be an opportunity for first lady Michelle Obama to promote healthy cooking.
Time for HEALTHY COOKING WITH @MICHELLEOBAMA: @MyPlate suggests using this fermented dairy product for sour cream #Jeopardy! #Clues

— Jeopardy! (@Jeopardy) March 24, 2015
Instead, her appearance on "Jeopardy!" became a spark for Internet rumors about her hair.
Thanks to the way her hair was styled and the lighting in the White House kitchen, some thought the first lady had shaved her head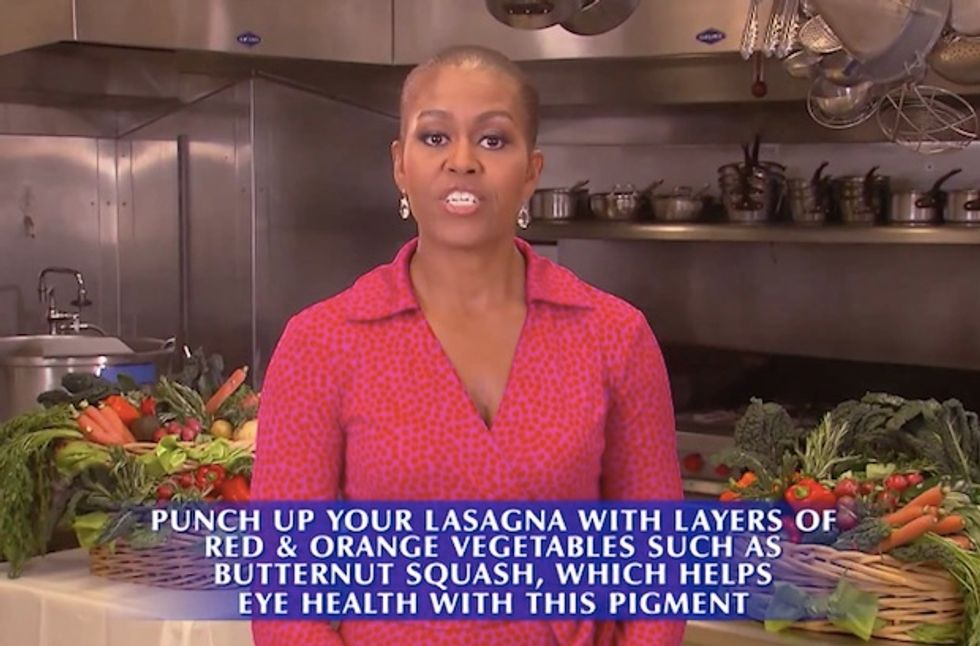 Image source: YouTube
Forget her arms! Let's talk Michelle Obama's #Jeopardy hair http://t.co/GydGSqBTe6pic.twitter.com/7TsUJiH3wK

— Zap2it (@Zap2it) March 25, 2015
I wonder why Michelle Obama shaved her head? #michelleobama

— Olivia Martin (@OliviaMM4) March 24, 2015
That moment when you think you see Michelle Obama bald on Jeopardy, and go to twitter to find the answer.

— Noelle Richard (@NoelleRichard) March 24, 2015
people keep making fun of michelle obama's shaved hair and calling her a man, but she looks gorgeous

— Brianna (@cruellatrix) March 25, 2015
Between Michelle Obama's hair and Gauthom's odd mannerisms, this #Jeopardy is awesome.

— Jill Isherwood (@jillybeans3) March 24, 2015
Others surmised that the first lady's hair (or seeming lack thereof) was just pulled back in a tight style.
Michelle Obama looking like she shaved her head with this unfortunately placed ponytail #Jeopardy

— Annie Theresa (@annie_teee) March 24, 2015
Media outlets drove the topic as well:
First Lady Michelle Obama appears to be bald on 'Jeopardy.' http://t.co/MnVxDJSrkPpic.twitter.com/6AmbOUTtJd

— New York Daily News (@NYDailyNews) March 25, 2015
Bald first lady? Michelle Obama's 'Jeopardy!' appearance raises questions http://t.co/1iXl9erGJvpic.twitter.com/QSptjyM1GW

Have you seen it? People talking about Michelle Obama's hair on @Jeopardy. It looks like it's just in a pony tail.... pic.twitter.com/ZKw0shygsY

— Christie Post (@christiepost) March 25, 2015

— The Hill (@thehill) March 25, 2015
A quick check of Obama's official Twitter account found no mention of the "Jeopardy!" appearance or her hair.
Watch the clip:
—
Follow Mike Opelka (@Stuntbrain) on Twitter