Rep. Luis Gutierrez (D-Ill.) and other Democrats have created a pamphlet that encourages illegal immigrants to carry a card that asks immigration officers not to deport them if they are detained.
"I created this toolkit for you to protect yourself from deportation," Gutierrez said in a video describing the pamphlet.
The two-page document describes the documents illegal immigrants should collect in order to use Obama's program. That action has been delayed by a court injunction, but Gutierrez said he expects the program will be available soon.
While the program cannot be used yet, Gutierrez said illegal immigrants who may qualify for it should be prepared to tell immigration officials that they will soon qualify for it, and that they should therefore not be deported. He said the "do not deport me" card can be used to explain the situation to immigration officials.
"I want you to cut the card in the toolkit and keep it in your wallet, and use [it] in cases of emergency," he said. "Use this card only if you are arrested and detained by an immigration official."
"It explains in English and Spanish that you're eligible for DACA or DAPA," he added. "By using this card after you've been arrested or detained, you can explain that under the policy in place today, you should be released because you're not a priority for deportation."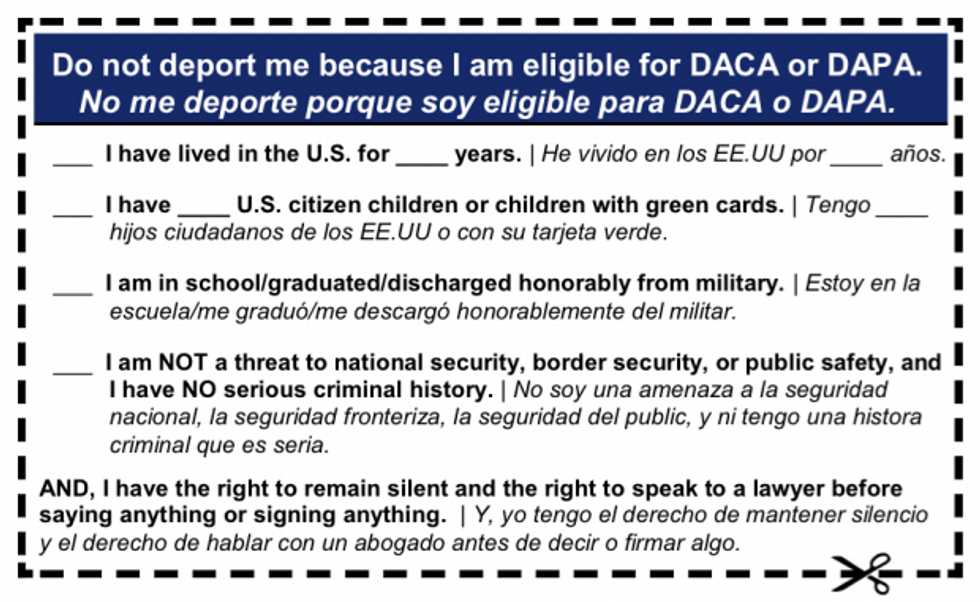 DACA is the Deferred Action for Childhood Arrivals program, and DAPA is the Deferred Action for Parents of Americans and Lawful Permanent Residents program.
The card reads: "Do not deport me because I am eligible for DACA or DAPA," and repeats that line in Spanish.
"I hope that you never have to use this card," he said. "But if you do, don't be scared because you are prepared. Soon enough the DACA and DAPA applications will be available, and when that time comes you will have everything you need to apply."
Gutierrez announced his pamphlet at a press conference in which he said Democrats are holding workshops around the country to explain Obama's immigration move. Read it here: