A young girl riding her scooter on the side walk in Chicago's Rogers Park neighborhood stopped to stare when she saw what began to ensue between two adult drivers.
In surveillance footage captured of the incident that happened earlier this month, a man is seen running up to and kicking another person's car. The girl eventually moved on, leaving it to the adults to duke it out — and boy did they.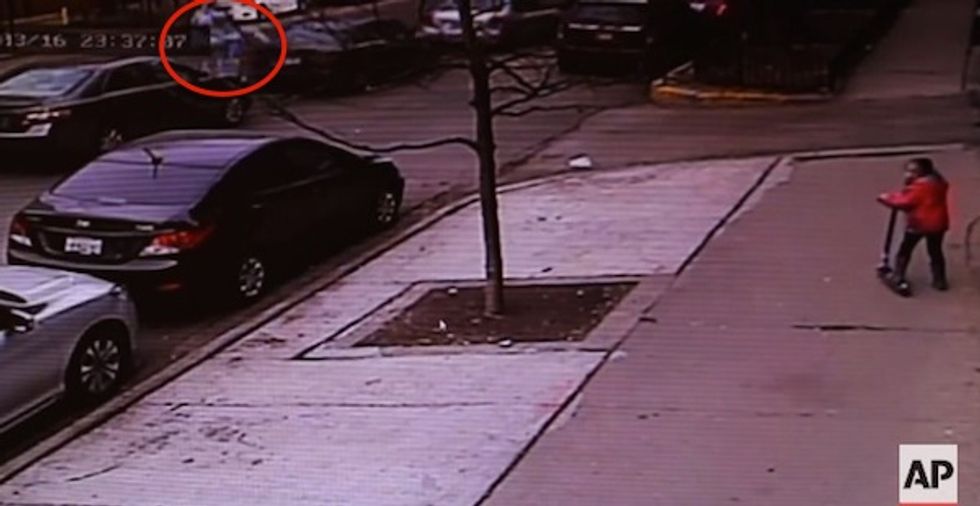 An unidentified man is seen kicking an Audi, which police say left the scene of a minor traffic accident, thus causing a road rage incident afterward. (Image source: Associated Press video)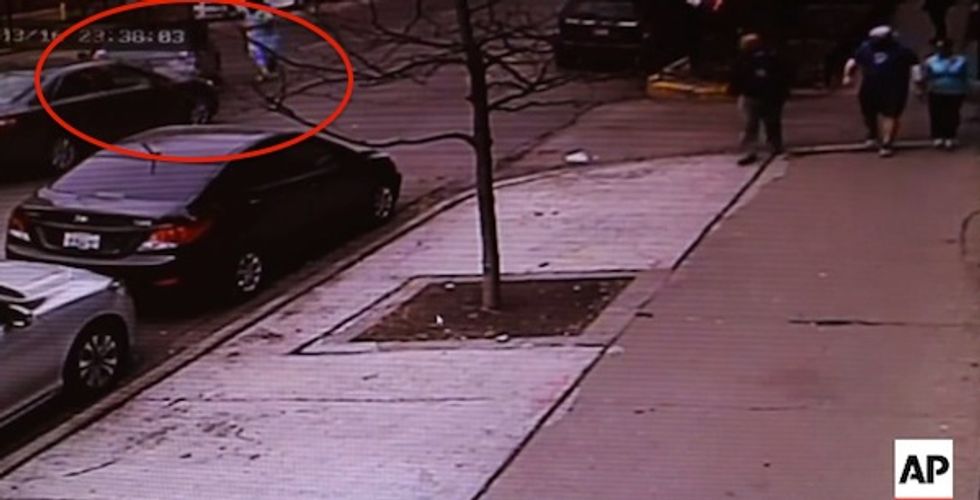 The Audi driver, later identified as Martin Vigil, came back to ram the other man's Camry. (Image source: Associated Press video)
The man continued to accost the exterior of the Audi, while that driver backed up and hit his sedan. Right when it seemed like the Audi got away, speeding off, he returned only to slam into the other driver's car again and again.
The situation escalated even further with the Audi eventually looking like it was going after the man himself — not just his car.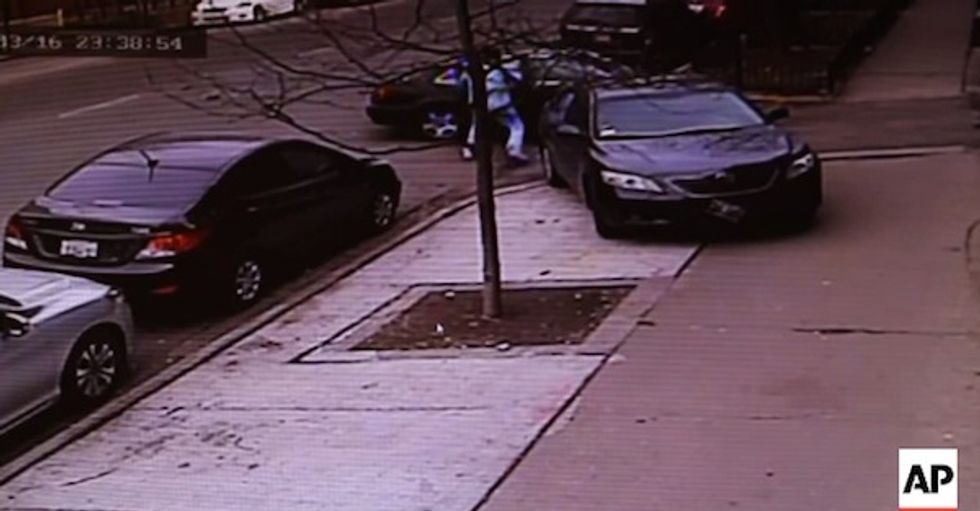 At one point, it seemed as if Vigil was going after the other man himself, not just his car. (Image source: Associated Press video)
Check it out:
The whole ordeal began, according to Chicago's DNAInfo, when the Audi driver, identified as 48-year-old Martin Vigil, allegedly fled the scene of a "minor traffic accident" involving the Toyota Camry. The other driver followed him and the road rage captured by a store's surveillance camera is what happened when Vigil was caught.
Despite being charged with assault, leaving an accident scene, damage to property and a traffic infraction, DNAInfo reported that Vigil insists he is the victim here.
"Everything you've been told is a lie. That's all I can tell you," he told DNAInfo. "I called 911. He punched out my windows. He was trying to kill me. I was defending myself."
The police report described the Camry driver's actions as an "attempt to get [Vigil] to exit the vehicle," DNAInfo reported.
WGN-TV reported that the whole fight on camera lasted six minutes and noted that the other man, who remains unidentified in news reports, even got out a shovel to use against Vigil.
Mirza Rodriguez, one of the many who witnessed the incident, told WLS-TV she was "scared" by what she saw.
"Seeing it in front of you: I thought he was going to get run over," she told the news station of the Audi repeatedly backup into the Camry.
Erickson Ocasio, who owns the store with the camera that picked up the footage, told WLS that he knows Vigil and was threatened by him afterward.
"He said, 'Hey, Eric.' He stopped right in front of our door and said, 'If you tell anybody, I'll kill you,'" Ocasio told the news station.
(H/T: Gawker)