Using Hollywood tough-guy language, movie mogul Harvey Weinstein last week called on Jews to "get as organized as the mafia" to fight modern-day anti-Semites.
Though Weinstein didn't appear to specifically mention firearms, such mafia-like organization appears unlikely, since European Jews who have recently been targeted in deadly Islamist militant attacks in France, Denmark and Belgium face major hurdles obtaining gun licenses and are being financially crippled by security expenditures.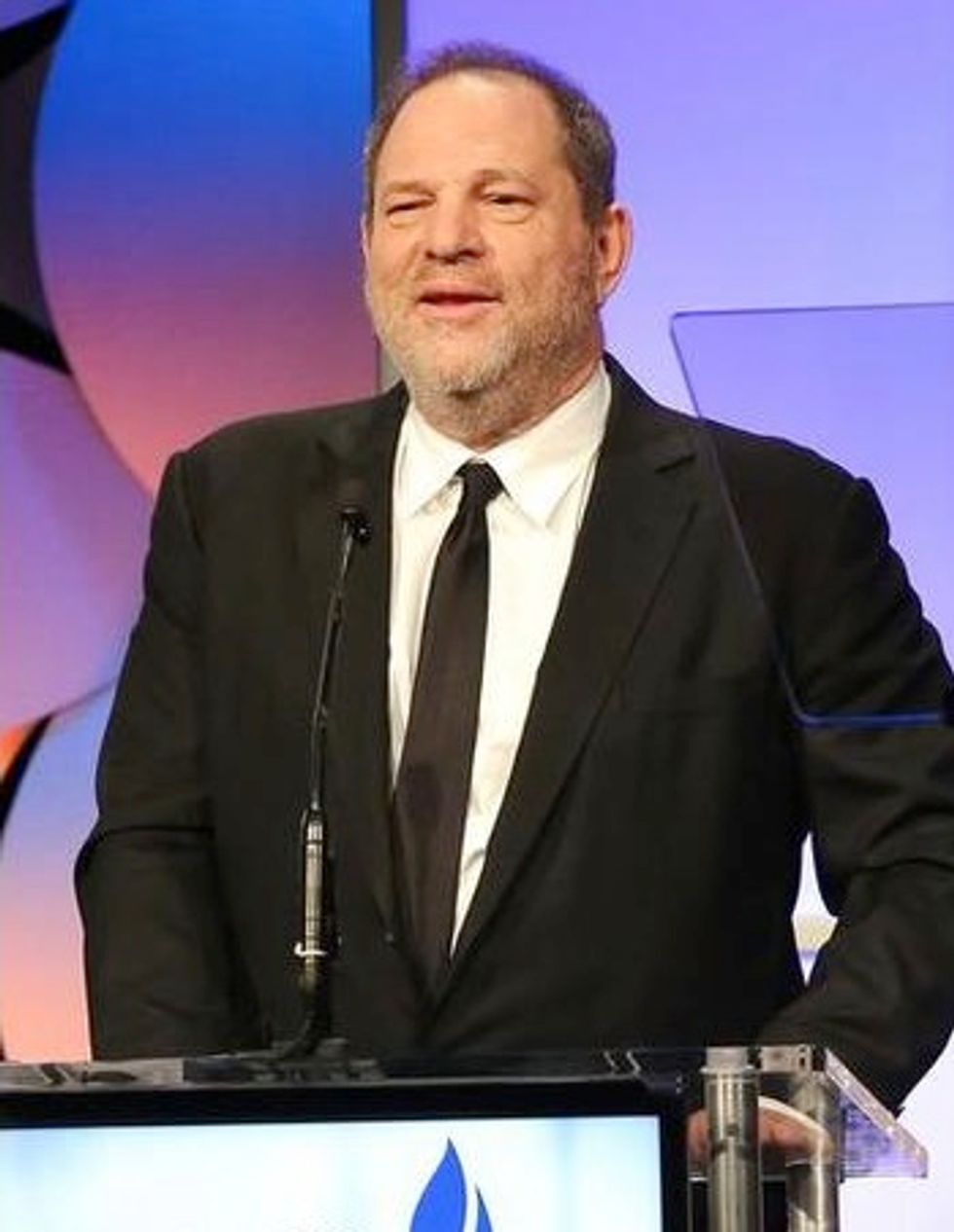 Producer Harvey Weinstein accepts the Humanitarian Award onstage at the Simon Wiesenthal Center 2015 National Tribute Dinner at the Beverly Hilton Hotel on March 24, 2015 in Beverly Hills, Calif. (Imeh Akpanudosen/Getty Images)
"We better stand up and kick these guys in the ass," Weinstein said Tuesday upon accepting the Humanitarian Award by the Simon Wiesenthal Center, a Jewish human rights group.
"We're gonna have to get as organized as the mafia," Weinstein said, according to the Hollywood Reporter. "We just can't take it anymore [from] these crazy bastards."
Noting recent anti-Semitic attacks in Europe, Weinstein said, "It's like, here we go again, we're right back where we were [before the Holocaust]. And the lessons of the past are we better stand up and kick these guys in the ass. … There's gotta be a way to fight back."
"[W]e also have to understand that these crazy bastards [Arab and Islamic extremists] are also killing their own — they're killing neighbors, they're killing people from all sorts of different races," he said. "And, unlike World War II, when we didn't act right away and we paid the price, we better start acting now. Trust me, I'm the last guy who wants to do anything about it, but I realize if we don't, we will perish. We can't allow the bad guys to win."
Recent cases show how difficult it would seem to be to turn Weinstein's vision into reality.
Take the case of Rabbi Menachem Margolin, director general of the European Jewish Association, who in January called for European governments to reform their gun laws to make it easier for Jews to buy guns to protect themselves and their institutions. After issuing his call, Margolin was criticized even by Jewish community leaders.
A reporter for Vice News called his proposal "bombastic" and "wildly implausible."
That reporter also asked Margolin if his proposal to ease gun permits "should be extended to Muslim populations" who are "feeling under threat."
"The government is unable to protect its citizens," Margolin said when he suggested easing gun permits.
Liel Leibovitz argued in Tablet, a Jewish magazine, in favor of arming European Jews.
"A well-armed Jewish population might make the jihadists—and their political enablers—think twice. More immediately, they are likely to save their own lives," Leibovitz wrote. "Europe's restrictive gun laws may pose a hurdle, but not a very onerous one: The weapons used in the terrorist attacks in Paris earlier this year were likely purchased legally in Slovakia, where a wide variety of firearms, including machine guns, are available, deactivated, over the counter; converting them back to operational weapons requires very little skill or effort."
"The European Union being the porous body it is, such loopholes are not likely to close anytime soon and will continue to benefit the terrorists," Leibovitz added. "To deny their designated victims the same protections is the height of folly."
Without their own guns, Jewish organizations have had to outsource their security to private companies, in some cases, and elsewhere the police.
The U.S. State Department's special envoy on anti-Semitism said earlier this month that many Jewish institutions are being bankrupted by the expenditures.
"Every Jewish community in western Europe certainly needs security support," Ira Forman told journalists in Stockholm, the Times of Israel reported. "Many of them are being bankrupted by the money they have to spend to protect their institutions."
"If current trends continue, and they're not good … we have to worry about small Jewish communities in Europe and their very viability," Forman said.
The Hollywood Reporter noted that at the event honoring him, Weinstein talked about his father who as a sergeant was deployed to Cairo during World War II and helped the Haganah – the pre-Israel Defense Forces military organization. It was from his father that Weinstein said he learned about anti-Semitism.
While Weinstein did not mention — based on quotes reported in the Hollywood Reporter and Variety — if guns had a role in mafia-like efforts to combat anti-Semitism, the leading producer has been a vocal opponent of the National Rifle Association.
In an interview with Howard Stern in January 2014, Weinstein said he has never owned a gun and never would.
"I don't think we need guns in this country," Weinstein said one year before the Islamist attacks in Paris and Copenhagen. "And I hate it. I think the NRA is a disaster area."
This story has been updated with Weinstein's past statements about guns and the NRA.