A Colorado politician and Christian TV host is apologizing to his constituents and viewers after coming under fire for comments he made last week about a situation involving an unborn baby who was horrifically cut from a pregnant woman's womb.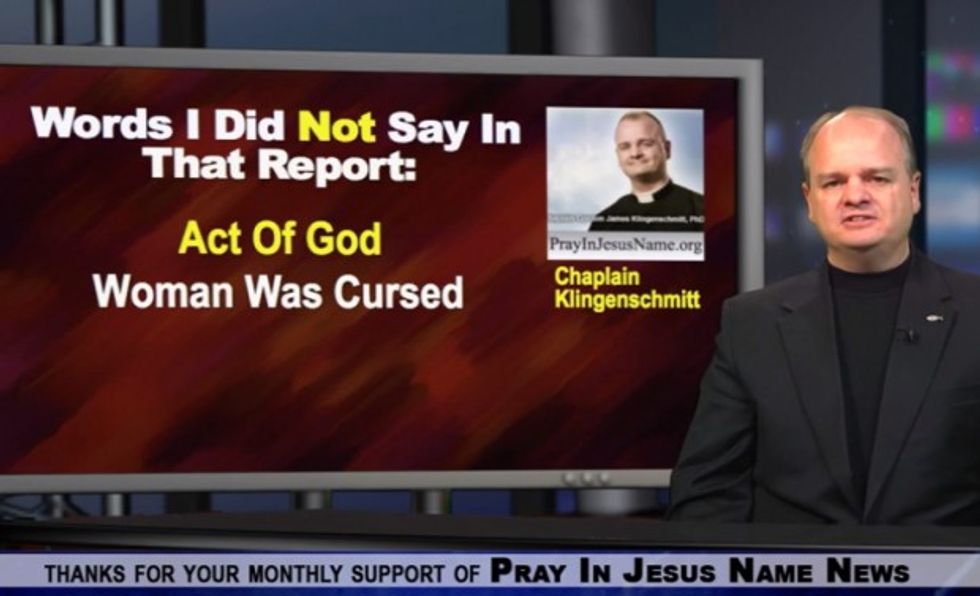 Gordon Klingenschmitt apologies (YouTube)
Gordon Klingenschmitt, a retired Navy chaplain and a Republican state representative in Colorado, released a nearly 30-minute video on Monday responding to controversy over his claim that the attack was evidence of the "curse of God upon America for our sin of not protecting innocent children in the womb."
"When we previously reported this story last week I was angry, and maybe you can understand a little bit of my righteous anger against the perpetrator of this horrific crime, against the demonic spirit of murder that this human cooperated with voluntarily, and the tragic act of violence against this innocent woman," Klingenschmitt said in his apology, which aired on his "Pray in Jesus' Name" TV show. "I was angry and I said some things that were insensitive and offensive to many of you, and for that I apologize."
He proceeded, though, to make some clarifications about some of the inaccurate media reports that he said have been swirling — reports that the politician and religious broadcaster believe take his words entirely out of context.
Klingenschmitt named a number of reporters and highlighted what he said were their inaccurate reports on his comments last week. Among the sentiments that he accused them of perpetuating was the claim that he called the attack an "act of God." He passionately rebutted this claim, offering a $1,000 reward to any journalist that could prove that he said it.
"My God, this was the devil's will," he said, demanding retractions. "I never said that this innocent victim was somehow cursed by God."
From there, Klingenschmitt clarified that he was speaking about the "demonic spirit of murder" as being God's curse, adding his belief that the alleged perpetrator in the case — Dynel Lane — is "cursed by God with a demonic spirit" and that she "voluntarily chose to do the opposite of God's will" in her purported attack against expectant mother Michelle Wilkins.
Klingenschmitt then went on to offer a fuller apology for his initial comments, which he said were "not compassionate."
"I do want to apologize for my words last week, because I was so angry that I forgot to be compassionate. My words were not compassionate and therefore I apologize," he said. "My tone was wrong, my choice of words was wrong, my choice of scripture was wrong. Everything I did about that report was wrong."
Watch his full apology below:
As TheBlaze previously reported, Klingenschmitt's comments quickly went viral last week.
"This is the curse of God upon America for our sin of not protecting innocent children in the womb," he said in his initial statements. "And part of that curse for our rebellion against God as a nation is that our pregnant women are ripped open."
Before making these claims, Klingenschmitt cited Hosea 13:16, explaining that the Old Testament verse involved Samaria and wondered aloud whether it also has any relation to the United States today.
"I wonder if there's prophetic significance to America today in that scripture," he said.