Indiana Gov. Mike Pence said during a press conference on Tuesday that incorrect statements made by advocates opposed to a religious freedom law and "sloppy reporting" have contributed to the outrage directed at his state in recent days, after calling for a legislative clarification to the contentious law.
"We've got a perception problem here, because some people have a different view and we intend to correct that," he said of the Religious Freedom Restoration Act. "After much reflection and in consultation with leadership of the general assembly … it would be helpful to move legislation this week that makes it clear that this bill does not give businesses the right to deny services to anyone."
Pence, a Republican, said that he wants to see legislation on his desk by the end of the week that adds language clarifying that business owners do not have the right to turn people away under the religious freedom act. He called the move both a "clarification" and a "fix."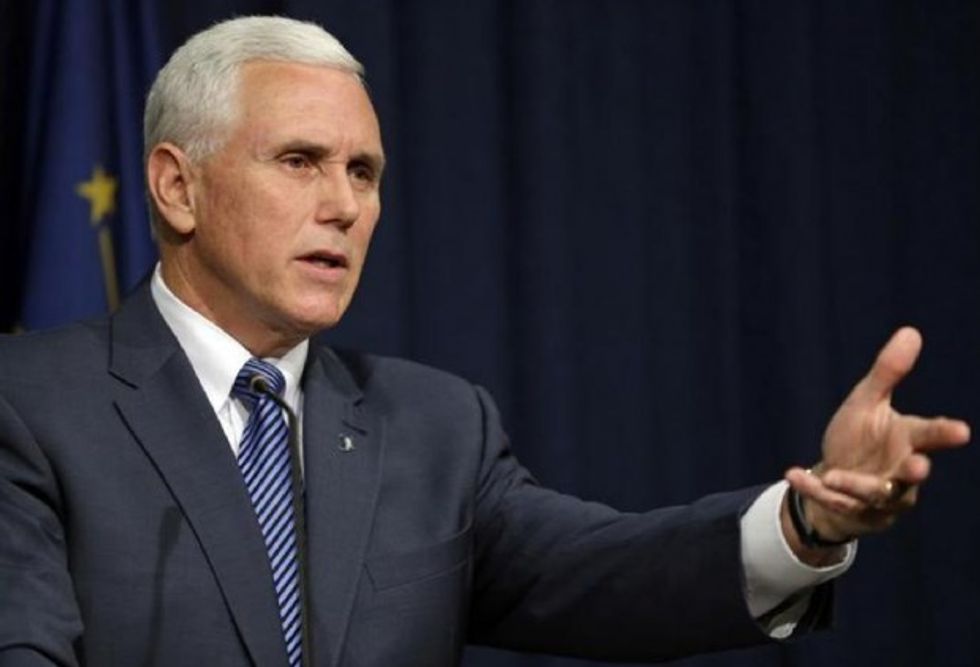 Indiana Gov. Mike Pence holds a news conference at the Statehouse in Indianapolis, Thursday, March 26, 2015. (AP Photo/Michael Conroy)
"We want to make it clear that Hoosier hospitality is not a slogan, it's our way of life," he said, calling attacks against his state in recent days "deeply offensive."
Pence repeatedly said that he believes rampant misinformation has necessitated this change, as confusion has abounded.
"It's a fix of a bill that through mischaracterization and confusion has come to be greatly misunderstood and I'm determined to address this this week," he said.
Not backing away from the Religious Freedom Restoration Act, which is based on national legislation that was passed in 1993 and signed into law by President Bill Clinton, Pence said that he was pleased that he signed the state legislation and that he stands by it.
"We are talking about the Religious Freedom Restoration Act, which is about restoring the highest level of scrutiny in our state courts when matters of government action intrude upon the religious liberty of Hoosiers," he said. "[It gives] the people of this country the opportunity to go into our courts — state now — and federal for more than 20 years, where they believe that government action has imposed and impinged upon their religious liberty."
Pence also explained in an op-ed published in the Wall Street Journal on Tuesday that the law actually provides protections above and beyond what has been discussed in media in recent days. He provided an example from 2008 of a Texas school that told a Native American kindergartner that he had to cut his hair to comply with school policies.
But the boy's hair was part of his religious adherence and his parents, as a result, were able to win in federal court under the Religious Freedom Restoration Act.
In both his speech and his op-ed, Pence cited Indiana University Maurer School of Law professor Daniel O. Conkle, a supporter of same-sex marriage who recently penned an op-ed defending the Indiana law, explaining that it "has little to do with same-sex marriage and everything to do with religious freedom."
"The bill would establish a general legal standard, the 'compelling interest' test, for evaluating laws and governmental practices that impose substantial burdens on the exercise of religion," Conkle wrote. "This same test already governs federal law under the federal RFRA, which was signed into law by President Bill Clinton. And some 30 states have adopted the same standard, either under state-law RFRAs or as a matter of state constitutional law."
Read Conkle's full explainer here.