A decade ago, Aaron and Chad Burns joined other members of their family in making short films just for the fun of it, but that hobby has now turned into something far greater, as the cousins are just days from seeing their feature film, "Beyond the Mask," head to theaters nationwide.
Both from homeschooling families, Aaron, 27, who grew up in Michigan, and Chad, 32, who was raised in Illinois, recently told TheBlaze about how their immediate families would get together for Christmas and summer break during their younger years.
Being adventurous and always looking for something new to do, they recalled their decision to build a log cabin on the family's property during one of those vacations. Then, someone came up with the idea that they should use the structure to film a cowboys and Indians movie.
The cousins thought it would be fun, so they took that advice and carried through with the project.
"We loved literature, loved stories, loved history," Aaron said. "[So] we shot this super, cheesy, awful short film that we did as a family."
What started out as a fun project, though, evolved into something far greater, as the cousins subsequently created a number of other short films before they decided to take an even bigger next step.
See an exclusive clip from the Burns' latest film "Beyond the Mask" below:
"We got together and we built this whole fort behind my dad's house. It was this movie set in the dark ages," he said. "An all-volunteer effort called 'Pen Dragon.'"
The film ended up getting picked up for international distribution and by some TV stations, and before he knew it, Aaron said that he was hearing from fans who enjoyed the movie and who wanted to know what the Burns family would be producing next.
"I started getting these letters and notes back from people around the world," he said. "[They said], 'Theres something different about this movie' and 'It has a strong Christ-centered message that we're enjoying' and 'When are you guy going to make the next movie?'"
But the cousins were on entirely different life courses, with Aaron working on his MBA and Chad completing a PhD in engineering.
Still, the letters inspired them to explore what might happen if they continued their movie-making, so they hired professional writers and began a fundraising push back in 2011, forming Burns Family Studios as the company through which their next feature film would be released.
The end result of that effort is "Beyond the Mask," a feature film that focuses on Will Reynolds, an assassin for the British East India Company who is double-crossed and goes on the run in an effort to "redeem his past by thwarting a plot against a young nation's hope for freedom."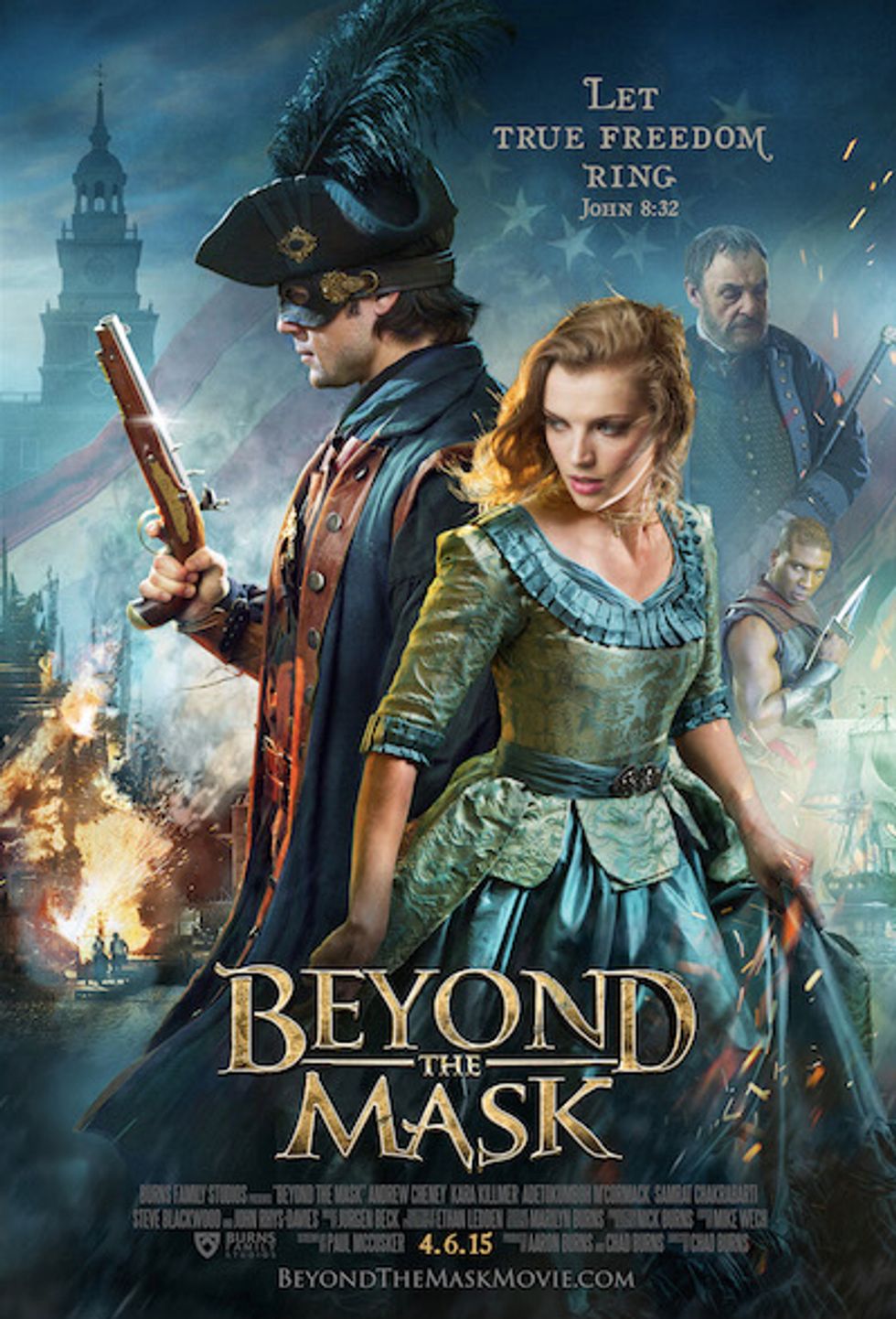 "Beyond the Mask"
The plot description continues, "As his past life closes in on him, Will must somehow gain the trust and the help of his beloved Charlotte — as well as Ben Franklin — while he races against time to defuse a plot of historical proportions."
At its core, "Beyond the Mask" is a family friendly movie that focuses heavily on Christian themes.
"Ultimately, the deepest theme is about where we find the basis for our identity ... all of us want to have value and we tie that to something, and very often in the west we tie that to our performance," Chad told TheBlaze. "And there's a fundamental idea within the Christian faith that, ultimately, our own performance is never going to be good enough … it's through Christ's finished work that we find our value."
It's that very ideal that he said the family is hoping to point audiences to through the film.
"Beyond the Mask" has already shattered the current record for on-demand theatrical distribution — a model in which fans request that a movie be shown in their local theaters; more than 25,000 tickets have been reserved across America for the action adventure's release on April 6.
With the unlikely filmmaking family clearly succeeding, Chad told TheBlaze that he believes that his and his cousin's experience as homeschooled students helped prepare them for their movie-making roles.
Here's the "Beyond the Mask" trailer:
"In the homeschool environment, there is a lot of diversity of age and ability and attitude," he said. "I think growing up in the homeschool world, we had a  predilection of working with people ahead of us and behind us, and when it came to building the huge eclectic team that created 'Beyond the Mask,' that was a huge strength."
Aaron added that he believes that the passion for stories, history and literature that was fostered during their homeschooling years helped guide the cousins on their movie-making path.
"The homeschooling perspective really helped me to develop an appreciation for the story and history, and where I sit as a part of broader history," he said.
Learn more about "Beyond the Mask" here.