SANAA, Yemen (TheBlaze/AP) — Al Qaeda militants in Yemen stormed the center of the coastal city of al-Mukalla and freed about 300 inmates, including scores of militants, security officials said Thursday. Shiite rebels have fought their way into the heart of Aden to the west.
According to Agence France-Presse, Khalid Batarfi, identified as an Al Qaeda commander who was held at the prison for four years, was among those released.
#Yemen | Al Mukalla, Hadhramaut : AQAP raids freed all central prison detainees, incl Saudi-Yemeni AQ Khalid Batarfi. pic.twitter.com/Bzpt93t2qG

— Haykal Bafana (@BaFana3) April 2, 2015
Two guards and five inmates were killed in the incident, AFP reported.
The officials said Al Qaeda militants were deployed on Thursday across major roads leading into al-Mukalla in an apparent bid to thwart any attempt to retake the city.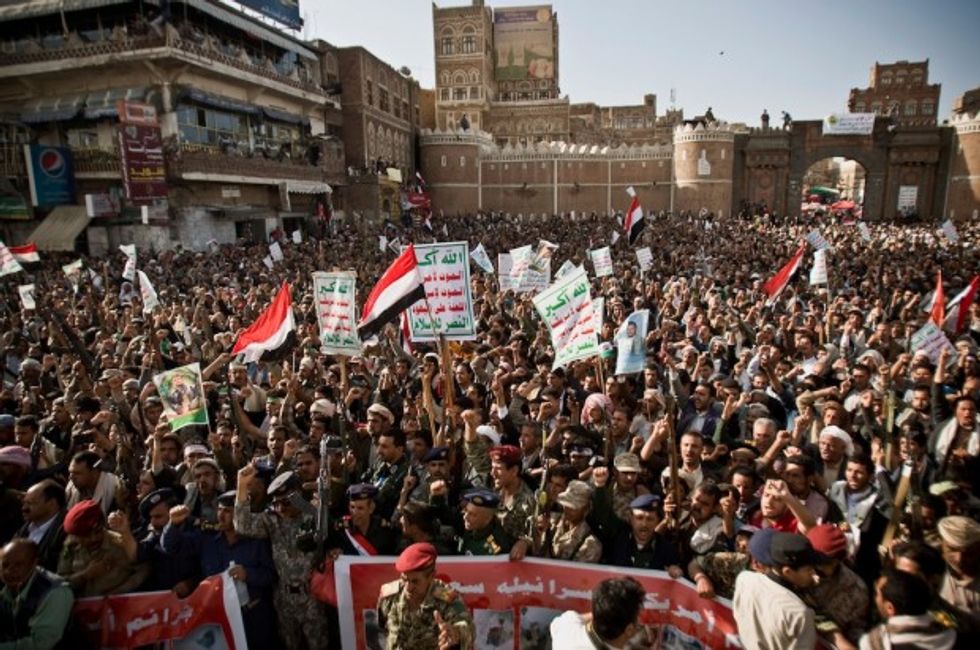 Shiite rebels, known as Houthis, chant slogans to protest against Saudi-led airstrikes, during a rally in Sanaa, Yemen, Wednesday, April 1, 2015. Saudi-led coalition warplanes bombed Shiite rebel positions in both north and south Yemen early Wednesday, setting off explosions and drawing return fire from anti-aircraft guns. (AP/Hani Mohammed)
The capture of al-Mukalla comes as a Saudi-led air campaign targeting Iranian-backed Shiite rebels, known as Houthis, enters its second week.
The Houthis and their allies breached the defenses of forces loyal to President Abed Rabbo Mansour Hadi in the coastal city of Aden on Thursday, reaching the city center.