A 62-year-old man told doctors that for more than 20 years, he had suffered from an overactive bladder.
Doctors didn't find anything wrong in a physical exam or laboratory tests, but a CT scan revealed otherwise. Going into the man's pelvis with a small camera, they found what they described in the New England Journal of Medicine as a "free-floating, smooth, firm, rubbery mass."
The mass measured larger than the average chicken egg and weighed almost a half of a pound.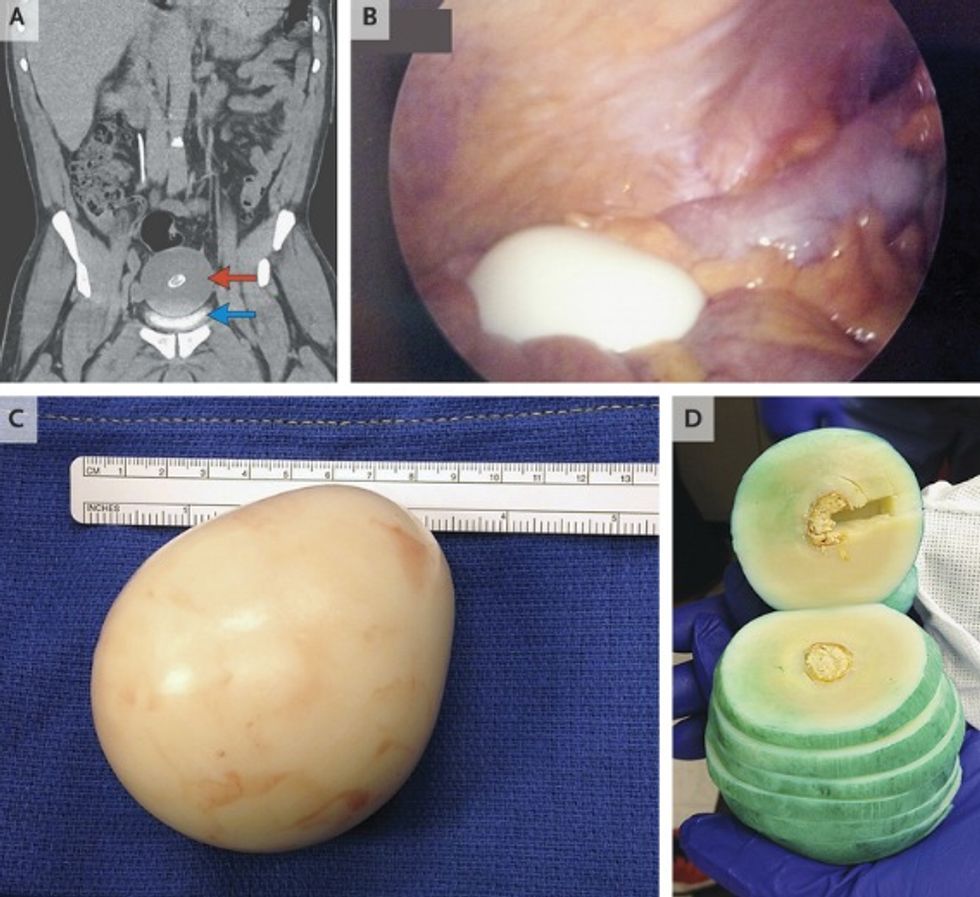 Several images show the mass that doctors removed from near the bladder of a 62-year-old man. He had lived with the mass for more than 20 years. (Image source: Rachael Sussman and Jonah Murdock via the New England Journal of Medicine)
To further analyze the mass, Dr. Rachael Sussman from Georgetown University Hospital and Dr. Jonah Murdock with the Washington, D.C., Veterans Affairs Medical Center, dyed it green and sectioned it. They determined the mass was "predominantly acellular, laminated, fibrous tissue; centrally, the specimen contained proteinaceous material with fibrinoid necrosis, surrounded by a ring of calcification."
They believe it formed from a fatty appendage that experienced cell death, was twisted then detached, resulting in the fibrous mass.
"Such masses are often asymptomatic when they are small, but they can be large enough to cause extrinsic compression that is associated with bowel obstruction, urinary retention or (as in this patient) urinary frequency," the doctors wrote.
Fortunately, when the mass was removed, the doctors reported that the man's symptoms of frequent urination stopped.
(H/T: Daily Mail)
—
Front page image via the New England Journal of Medicine.