Republicans are increasingly calling for an end to the Obama administration's efforts to reach a nuclear agreement with Iran, even as Secretary of State John Kerry remained behind in Switzerland two days past the March 31 deadline for reaching that deal.
The State Department said Kerry would remain in Switzerland at least through Thursday morning to see if any progress can be made. While he kept trying, the foreign ministers from China, France and Russia had already left — China and France said not enough progress was being made.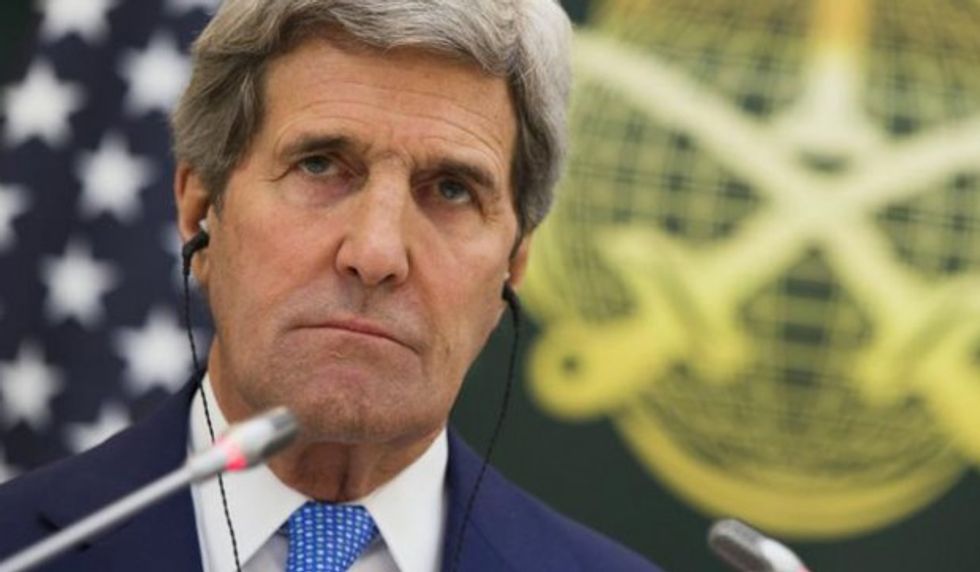 U.S. Secretary of State John Kerry continued to seek a nuclear deal with Iran this week, even as other countries indicated they had given up the effort for now. AP Photo/Evan Vucci, Pool
By mid-afternoon Switzerland time, the State Department had not made any announcement about whether it would extend the effort for another day, whether any progress was made, or whether it would abandon the effort. State has not had a formal press briefing since Monday, and at last check, officials were indicating they would not extend the talks indefinitely.
Acting State Department spokeswoman Marie Harf said negotiators talked until 6 a.m. Thursday morning in Switzerland, and resumed about four hours later.
For those keeping track, it's 6am in Lausanne. That was truly an all-nighter. #IranTalks

— Marie Harf (@marieharf) April 2, 2015
Some Senate Republicans were saying this week that enough is enough, and that extending the talks again and again was a sign that the U.S. would be making unacceptable concessions just to get a deal.
"The longer the Obama administration stays at the negotiating table with Iran, the more concessions they make," said Sen. Ted Cruz (R-Texas). "We have recently learned Tehran is insisting on sanctions relief before IAEA inspectors are given full access to inspect potential military elements of the nuclear program; that Tehran will continue enrichment activities at military facilities; and that Tehran plans to retain its entire nuclear stockpile rather than relinquish any of it to outside countries."
"And now the commander of the Basij militia of Iran's Revolutionary Guards has reportedly said that 'erasing Israel off the map' is 'nonnegotiable,' " Cruz added. "Enough is enough. The Obama administration's bad deal is only getting worse with time. Iran's nuclear build-up profoundly endangers the security of America and our allies."
Sens. John McCain (R-Ariz.) and Lindsey Graham (R-S.C.) said they appreciate the administration's efforts, but said they had little confidence anything would come of the talks.
"[I]t is clear the negotiations are not going well," they said. "At every step, the Iranians appear intent on retaining the capacity to achieve a nuclear weapon."
They added that any hope that a deal could significantly scale back Iran's nuclear ambitions is "simply delusional."
"The Obama administration's failure to recognize and counter this threat has only served to expand Iranian influence," they said.
Earlier in the week, Sen. Tom Cotton (R-Ark.) said extending the talks was a "sign of weakness," and said the best answer is to end the talks and start reimposing tough sanctions against Iran in order to force that country to choose between those sanctions and a solid nuclear agreement that allows those sanctions to end.
That's just what Congress might start taking up once members return from their Easter break. House Speaker John Boehner (R-Ohio) has said the House would take up legislation "very" quickly once it becomes apparent that there is no deal in sight as of March 31.