A California woman knew she was in labor when she stopped at the courthouse to pay a bill, but that's not all she did there.
Ambermarie Irving Elkins knew what to expect with labor, already having two children, according to KCBS-TV. Her contractions were still 15 minutes apart, and she wasn't anywhere near delivering — or so she thought.
While at Stanley Mosk Courthouse Thursday, thinking she had time to run errands, Elkins went into active labor and delivered a healthy baby boy in the hallway.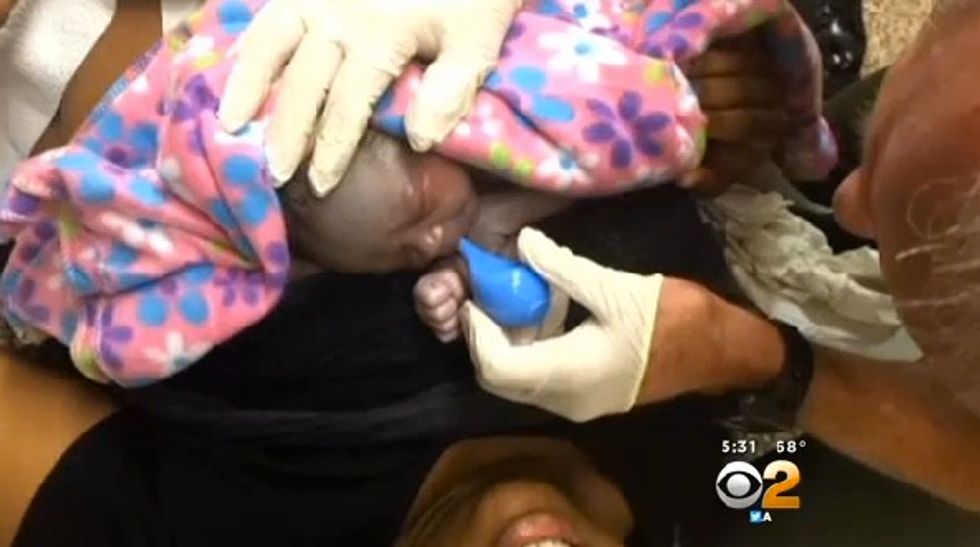 Image source: KCBS-TV
"She goes down on the floor, she's leaning on the chair, she's like, 'No, the baby's coming right now!'" Los Angeles County Sheriff's Deputy Marquette Oliver told KNTV-TV. "And I'm like, 'No wait,' and she's like, 'I can't wait, the baby is coming right now.'"
KCBS reported that people sprang into action to get towels for the birth and to help give Elkins some semblance of privacy.
"I removed the trousers like a good deputy would — I didn't look — and I put my hands down there and the baby's head comes out and the rest of the body just slid into my hands," Oliver told KCBS.
The Los Angeles Sheriff's Office wrote on Facebook that Elkins had told a court deputy she was in labor and Los Angeles County Fire was called along with Special Enforcement Bureau paramedics. A childbirth kit was on hand within four minutes to assist the deputies with the delivery.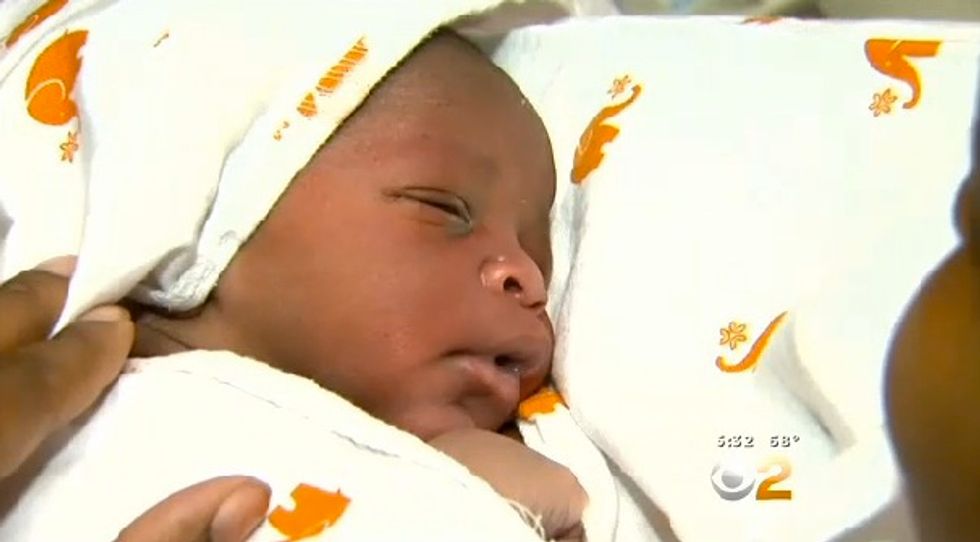 Image source: KCBS-TV
"SEB medics checked the baby for injury, determined an Apgar score, and kept the baby warm until LA County Fire Department arrived and took over," the sheriff's department wrote.
#BREAKING - #LASD SEB Tactical Medics assist in delivery of baby at the Stanley Mosk Court. Mom & baby fine! @LASDHQpic.twitter.com/5LUzBThapu

— SEB (@SEBLASD) April 2, 2015
After the successful and quick birth, the mother and her son, Malachi, were transported to the hospital.