CHARLOTTE, N.C. (TheBlaze/AP) — The family of a South Carolina man is rejoicing after he was found alive after spending more than two months at sea on a capsized sailboat.
The crew of a German-flagged container ship found Louis Jordan floating Thursday afternoon on the overturned hull of his 35-foot sailboat, about 200 miles off the coast of Cape Hatteras.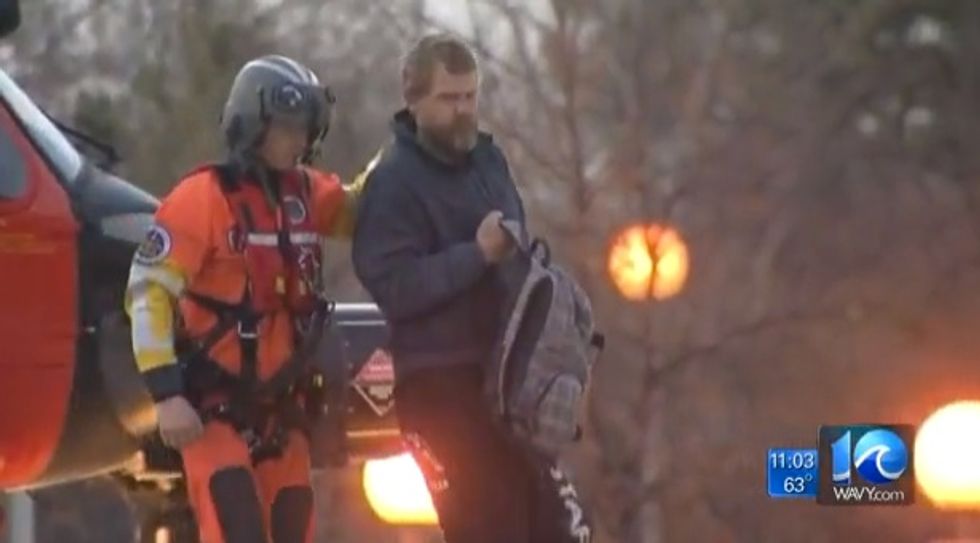 Louis Jordan walked on his own off the helicopter that rescued him. He was reunited with his family Thursday. (Image source: WAVY-TV)
"I saw a bigger boat and it had its back to me or front to me as far as I could tell and I waved my hands real slowly, and that's the signal 'I'm in distress help me,'" Jordan said, according to WAVY-TV. "I blew my whistles. I had three whistles. They never heard them. I turned my American flag upside down and put that up. That says, 'rescue me.' They never saw it. All they saw was this," indicating his hands.
A Coast Guard helicopter crew from North Carolina airlifted Jordan from the tanker to a hospital in Norfolk, Virginia, on Thursday night, where he was recovering from a shoulder injury and dehydration.
Watch this raw footage of his rescue:
Jordan, 37, had been living on his sailboat at a marina in Conway, South Carolina, until January, when he told his family he was "going into the open water to sail and do some fishing," said his mother, Norma Davis. He sailed out of the marina on Jan. 23, Coast Guard officials said, and had not been heard from him since.
The details of Jordan's whereabouts since January and how he might have survived for more than two months at sea were still unclear, said Coast Guard Chief Petty Officer Ryan Doss.
"We don't know where he capsized," Doss said. "We really won't know what happened to him out there until we talk to him" at length.
According to WAVY, Jordan said he rationed his water so he could have about a pint a day, and then he prayed for rain.
"For such a long a time I was so thirsty," he said. "And I was almost out of water, and everyday I was like, 'Please God, send me some rain, send me some water.' Begging God, please. And finally right before I ran out of water, finally the conditions were perfect."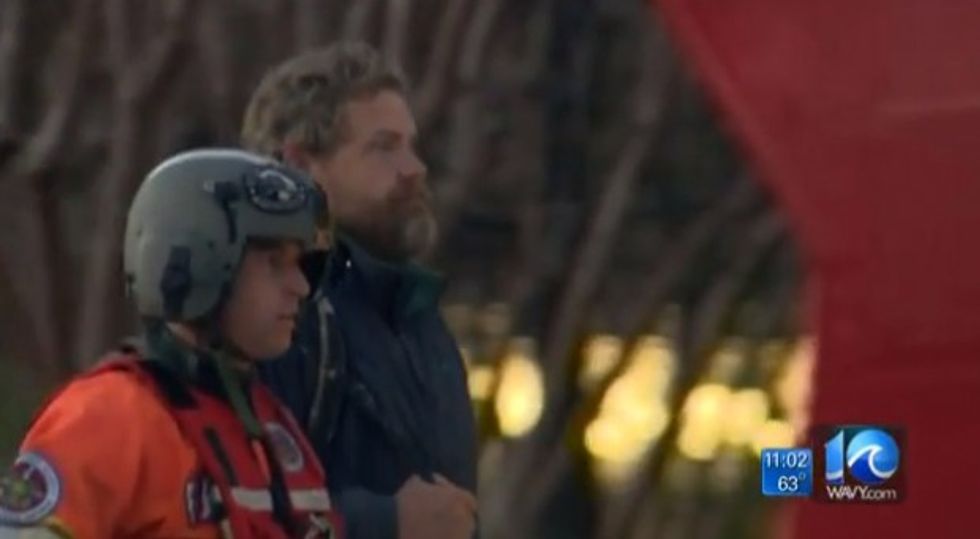 Jordan lived off of fish, rationed water and rain during his time at sea. (Image source: WAVY-TV)
NBC News reported that Jordan caught fish with a net for food during his 66 days at sea.
Records show that Jordan sailed out of the marina in Conway, on Jan. 23, aboard the sailboat Angel, said Marilyn Fajardo, a spokeswoman for the Coast Guard's 7th District. Fajardo said the Coast Guard in Miami was notified by his father, Frank Jordan, on Jan. 29 that he hadn't seen or heard from his son in a week. One week later, Davis said their son was still missing.
Fajardo said alerts were issued from New Jersey to Miami to be on the lookout for Jordan and his sailboat. Officials also searched financial data to determine whether Jordan actually had come ashore without being noticed, but found no indication that he had, she said.
A search was begun on Feb. 8, but Fajardo said the Coast Guard abandoned its efforts after 10 days. Despite reports from other sailors claiming to have seen Jordan's sailboat, none of the sightings were confirmed and the case was suspended. The Coast Guard said Jordan didn't file a "float plan," the nautical equivalent of a flight plan, to determine his route or destination, and Fajardo said there wasn't enough information to narrow down his whereabouts.
"We're elated that he survived. We were never able to determine where he was headed," Doss said. "Without that as part of the equation, it was difficult to come up with a search area."
Coast Guard spokeswoman Lt. Krystyn Pecora said Jordan had a shoulder injury. Frank Jordan said his son also was dehydrated from his ordeal.
"We prayed and we prayed, and we hoped that you were still alive," Frank Jordan said to his son in audio received by WAVY. "So, that's all that matters. That's the only thing that matters."
Watch WAVY's report: