A Colorado bakery didn't discriminate against a Christian who wanted two cakes decorated with anti-gay messages, the state's civil rights division has ruled.
Marjorie Silva, owner of Denver's Azucar Bakery, told the division that she told the customer that her bakery "does not discriminate" and "accept[s] all humans," KMGH-TV reported.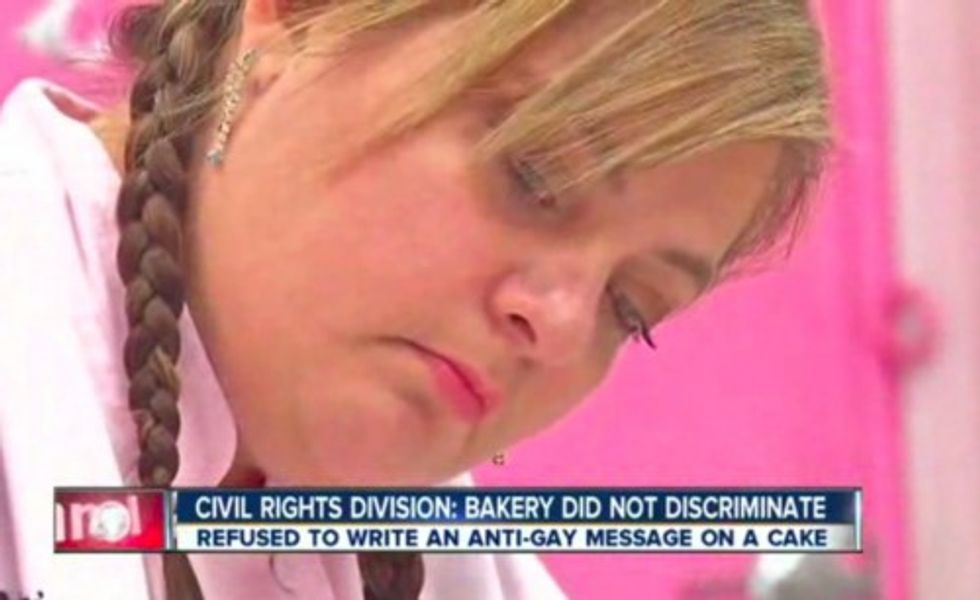 Image source: KMGH-TV
Silva reportedly said the words "God hates gays" were part of Bill Jack's request, but the founder of Worldview Academy, a Christian organization, said that wasn't true.
Rather he asked for two Bible-shaped cakes that included references to Psalm 45:7 and Leviticus 18:22, among other Bible verses.
"I requested two cakes each in the shape of an open Bible. On the first cake I requested on one page, 'God hates sin – Psalm 45:7,' and on the facing page, 'Homosexuality is a detestable sin – Leviticus 18:22′," Jack told the Christian Post. "On the second cake I requested on one page, 'God loves sinners,' and on the facing page, 'While we were yet sinners Christ died for us – Romans 5:8.'" Jack also wanted an image of two men holding hands with something like an "X" through it.
The bakery told Jack they'd make the Bible-shaped cakes without the requested words and images, but Jack said that amounted to unequal treatment and the denial of goods and services based on his religion.
"If he wants to hate people, he can hate them not here in my bakery," Silva told KMGH in January.
More from KMGH:
The agency's decision found that the baker did not discriminate against Jack based on his creed. Instead, officials state the evidence shows Silva refused to make the cakes because the customer's requests included "derogatory language and imagery."

The baker said "in the same manner [she] would not accept [an order from] anyone wanting to make a discriminatory cake against Christians, [she] will not make one that discriminates against gays," according to the decision.

"The evidence demonstrates that [Silva] would deny such requests to any customer, regardless of creed," the civil rights agency's decision stated.
Jack also told the Post that he had requested the cake and filed the subsequent complaint with Colorado's Civil Rights Division in an effort to expose how anti-discrimination laws — which typically place Christian bakers and business providers in the crosshairs for refusing to provide services to same-sex couples — are not equally applied across the board.
—
Follow Dave Urbanski (@DaveVUrbanski) on Twitter