It was written in temporary ink and recorded with a temporary medium — but its impact could be permanent.
The first entry in a list of "reasons why USC wifi blows" has gotten a University of South Carolina student suspended, WLTX-TV reported.
That entry: the racial slur "n****rs."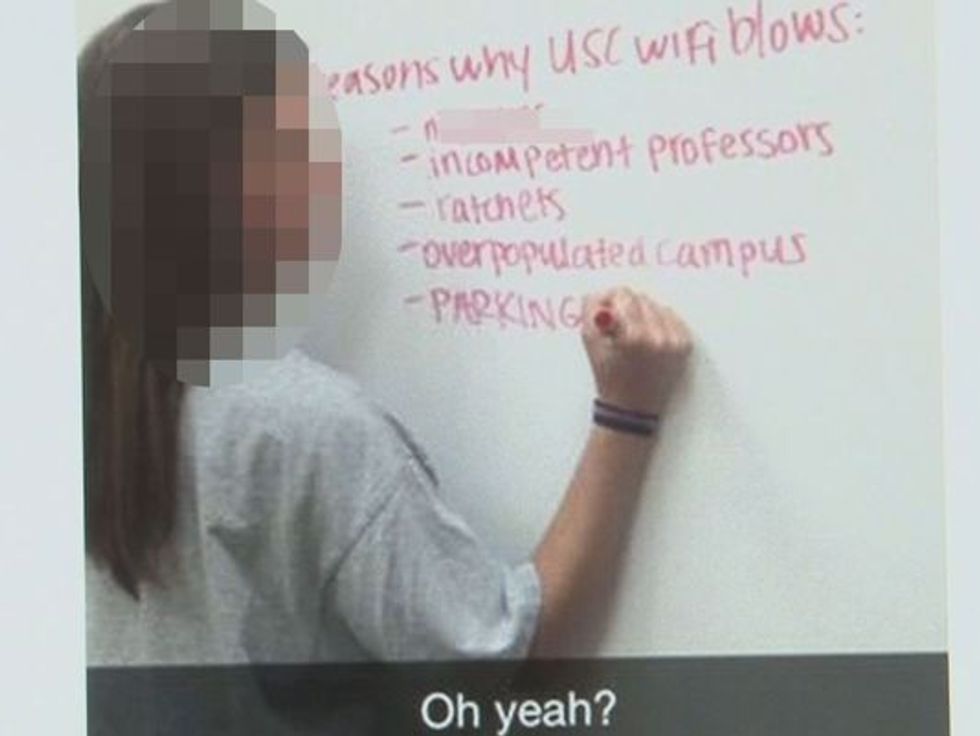 Image via Twitter/Snapchat
The school announced the suspension Friday night, but as WLTX noted, it was unclear whether the suspended student was the woman photographed writing the entries on a white board or someone else who was in the study room when the photograph was taken.
The picture was taken and sent via Snapchat, an app that is designed to send messages that only last a few seconds before automatically being deleted.
However, as others have recently learned, recipients can easily take a screenshot of a Snapchat photo and post it on other social media sites, as happened when the University of South Carolina photo was posted to Twitter.
The University of South Carolina has pledged to continue the investigation of the incident.
Respect for all and the @UofSCCreed are our #UofSC values. Racism and incivility are not tolerated. Situation being investigated.

— U of South Carolina (@UofSC) April 3, 2015
School President Harris Pastides said in a statement:
Today, the unfortunate and disappointing act of a student in a study room has challenged the Carolina community to reflect on our values and tell the world what we believe. Respect for all is at the heart of the Carolinian Creed, the code by which we agree to abide. Racist and uncivil rhetoric have no place at the University of South Carolina.

We have taken appropriate actions to suspend a student and begin code of conduct investigations.
WLTX reported that the woman pictured in the photograph was identified by people online and received multiple threats since the image started circulating. She deleted her Twitter account soon afterwards, WLTX noted.
—
Follow Zach Noble (@thezachnoble) on Twitter