The U.S. Army is investigating an unauthorized diversity training presentation on "white privilege" shown to hundreds of Georgia soldiers, USA Today reported, citing an Army spokeswoman.
The Equal Opportunity training presentation was shown to about 400 soldiers of the 67th Signal Battalion at Fort Gordon on Thursday, according to Captain Lindsay Roman.
The portion of the program involved a slide projected on a screen entitled "The Luxury of Obliviousness," which listed elements of "white privilege."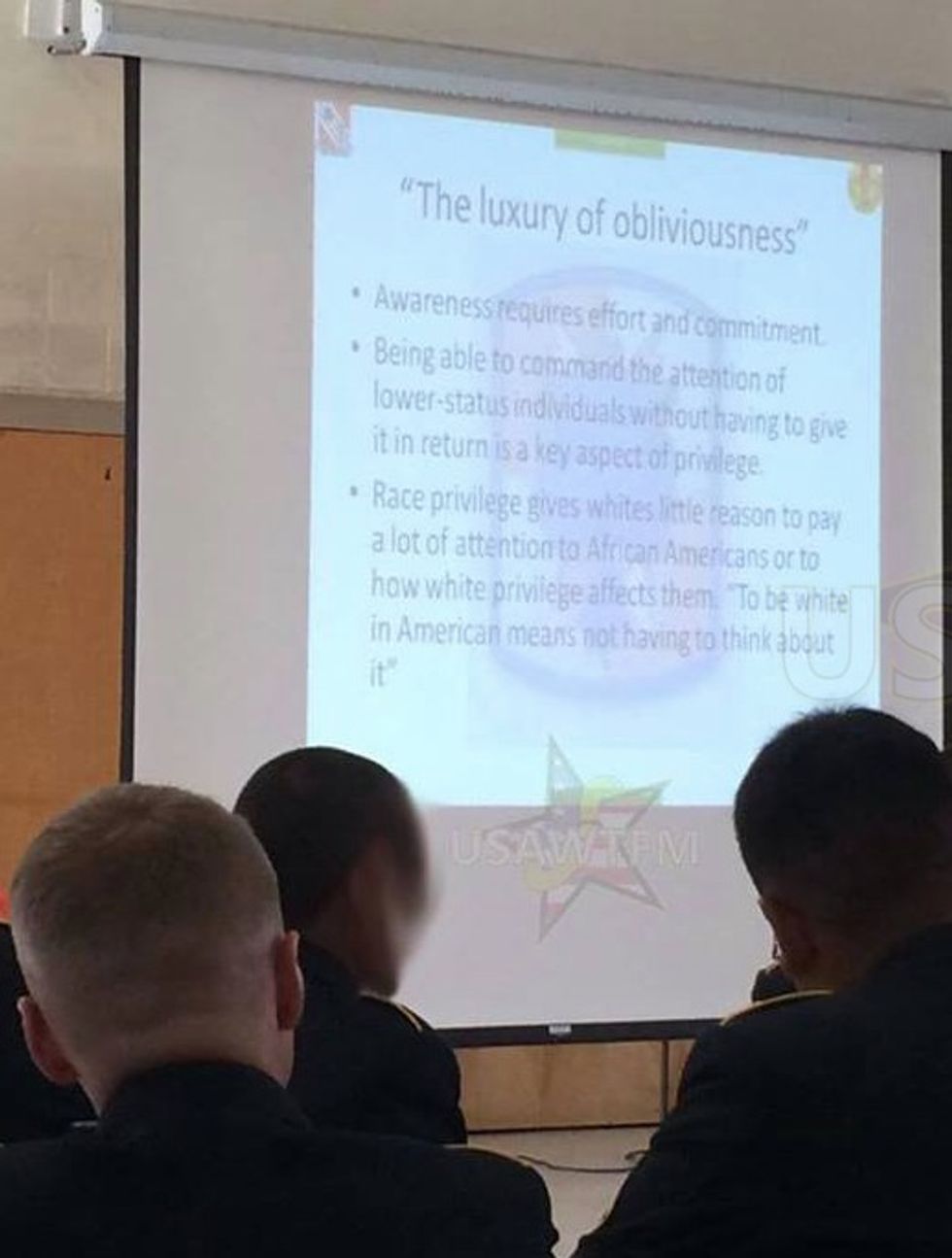 Image source: Facebook
"Race privilege gives whites little reason to pay a lot of attention to African Americans or to how white privilege affects them. 'To be white in American (sic) means not having to think about it,'" one bullet point read.
After an image of the slide was posted to a Facebook page, the reaction was swift and pointed.
"That should be instant UCMJ and Dishonorable Discharge for the instructor who deviated in this manner," George Stevens wrote.
"Pretty sick of hearing about white privilege. Nearly my entire chain of command and NCO support channel have been Hispanic or black since I joined," Tim Wilson Jr. added.
"True story: I went to a forced EEO class and the white female SSG said we white folks were a problem. I looked around the room and everyone of every race were rolling their eyes," Scott Hampton Truelove recalled. "We of all races went fishing, eating out, having BBQs, went to the club, together. We all never had a problem with race. We as a group stood up and walked out. She was cutting into our beer drinking time."
Captain Roman said the instructor was out of line.
"The unit (Equal Opportunity) instructor deviated from the authorized topic and content which was provided," Roman told USA Today. "To prevent further instances, all unit instructors will receive additional training on the importance of following Army EO training requirements."
More from USA Today:
The Army has struggled with diversity in its ranks for decades. It is of particular concern among the service's top leadership. Last year, USA TODAY reported the command of the Army's main combat units had only a few black officers. Less than 10% of the active-duty Army's officers are black compared with 18% of its enlisted soldiers, according to the Army.
(H/T: The Gateway Pundit)
—
Follow Dave Urbanski (@DaveVUrbanski) on Twitter