Tens of thousands of Jewish men descended on Jerusalem's Western Wall Monday to receive the priestly blessing, a ritual that originated in the biblical Book of Numbers.
Men who are believed to be descendants of the original Jewish priests, or Kohanim, covered themselves in prayer shawls and recited the blessing from Numbers 6: "May the Lord bless you and guard you. May the Lord make his face shed light upon you and be gracious unto you. May the Lord lift up his face unto you and give you peace."
Western Wall this morning as thousands of people take part in the Passover "priest blessings". pic.twitter.com/hwiQymQDwh

— Micky Rosenfeld (@MickyRosenfeld) April 6, 2015
Thousands gather at Western Wall for priestly blessing http://t.co/0qZhJNqiUk

— TOI Jewish Times (@TOIJewishTimes) April 6, 2015
According to Jewish tradition, the blessing is given only by men who are genealogical descendants on their father's side of the original priest, Aaron, Moses' brother.
Police estimated that 50,000 worshipers arrived for the service.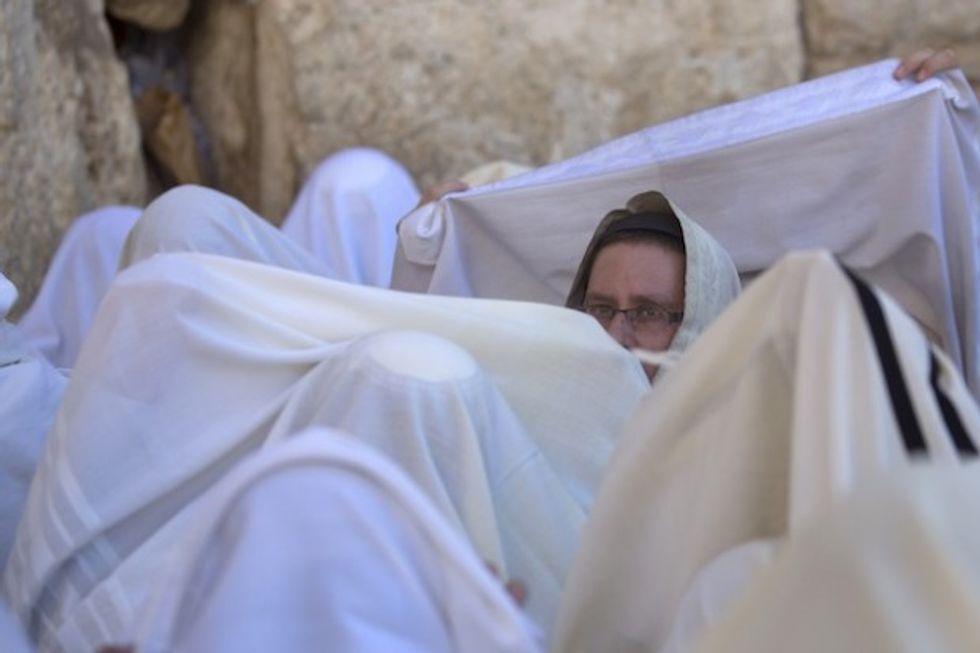 Covered in prayer shawls, Israeli ultra-Orthodox Jewish men of the Kohanim priestly caste participate in a blessing during the Jewish holiday of Passover, in front of the Western Wall, the holiest site where Jews can pray in Jerusalem's Old City, Monday, April 6, 2015. The Kohanim, believed to be descendants of priests who served God in the Jewish Temple before it was destroyed, perform a blessing ceremony of the Jewish people three times a year during the festivals of Passover, Shavuot and Sukkot. (AP Photo/Sebastian Scheiner)
Jews around the world are celebrating the Passover holiday this week. Many of those who came are tourists spending the holiday in Israel.
Watch Live: Thousands at Western Wall for #PriestlyBlessing in Jerusalem #Israelhttp://t.co/8QF7K6DCfapic.twitter.com/aeI9TWZNbZ

— Israel Trending News (@Israelolizer) April 6, 2015
"We have many things that remind us of what once was," blogger Yisrael Medad who covers news and history related to the Temple Mount told TheBlaze. "The Kohanic blessing is seen as recalling the fact that Kohanim were intended to channel God's blessing from on high to the people of Israel at the Temple Mount within the Temple compound."
"If it has an ability to train Jewish worship on what was once the Temple worship I'm all for it," said Medad, who supports public Jewish prayer on the Temple Mount, an act currently prohibited by Israeli authorities.
The Western Wall is a remnant of the Second Temple and sits below the Temple Mount where both the First and Second Temples once stood. It is the holiest site in Judaism and the third-holiest site in Islam.