State Department officials this week were refusing to answer questions about how quickly Iran would let international inspectors visit possible enrichment sites under the tentative nuclear agreement reached last week, or how quickly disputes over these inspection requests would be cleared up under the deal.
Those questions are critical to many in Congress who are trying to assess how effective the agreement will be in giving the International Atomic Energy Agency has access to Iran's facilities. Obama administration officials have said the deal will allow inspections at any time in order to ensure Iran is not exceeding its enrichment limits, but questions are now popping up about just how quickly Iran would have to comply.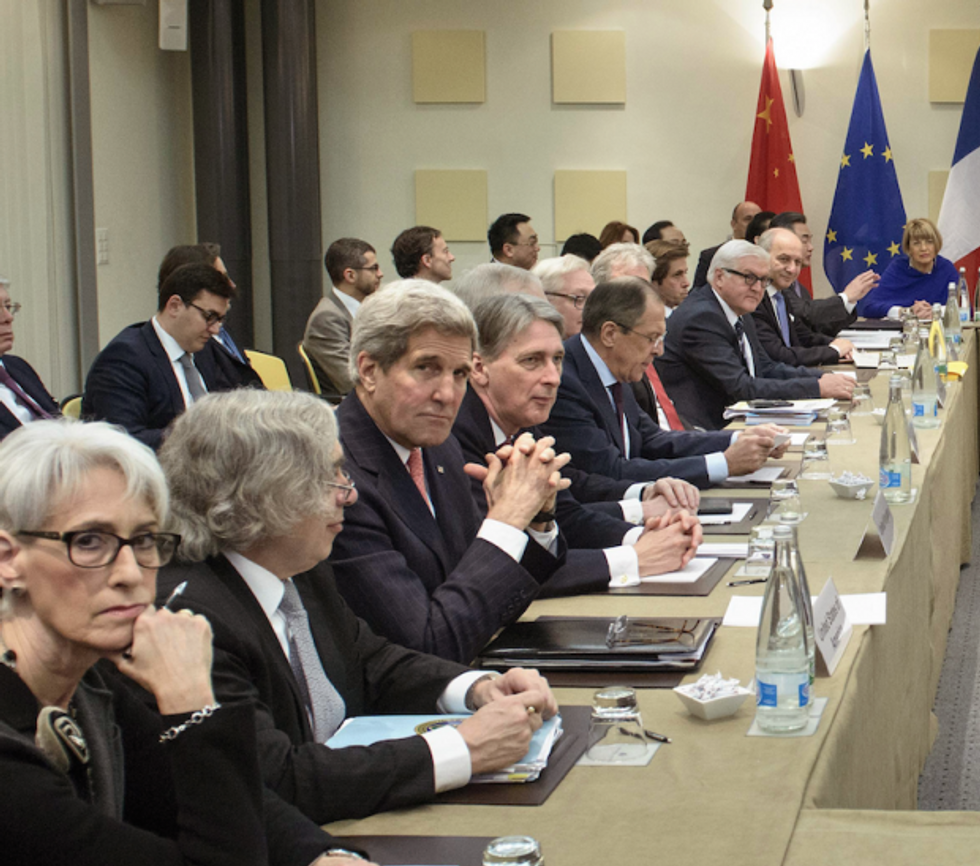 U.S. Under Secretary for Political Affairs Wendy Sherman (far left) and other officials so far won't say how quickly Iran will be required to allow inspections of their nuclear facilities under the framework nuclear agreement. Image: AP
Those questions are especially pertinent given the fear some have that Iran will try to cheat by exceeding the terms of the deal and hiding these activities. But when Wendy Sherman was asked this question on Morning Joe Tuesday, she declined to answer.
"How much notice under this framework … [do] we have to give Iran?" host Joe Scarborough asked. "Do they have a day, week, a month to let inspectors in?"
"I'm not going to go into the specific details of each and every element of this negotiation," she said.
A fact sheet on the deal said the IAEA would have "regular access to all of Iran's nuclear facilities," and will let that group access all suspicious sites in Iran where enrichment activities are suspected." But it doesn't specifically say how quickly Iran must allow this access.
But the agreement also seems to anticipate disputes over these inspections, and it is expected to include a dispute settlement mechanism for settling these fights. But again, officials were unable to say how quickly this could happen.
On Monday, Acting State Department spokeswoman Marie Harf said disputes would be resolved in a "timely manner," but declined to say what that term means. When asked specifically how quickly the process could happen, she said she didn't know, "I can check and see if there are more details to share on that for you," she said.
Both Sherman and Harf stressed that while a framework agreement has been agreed, it's not the final deal, and is just an outline of a deal that still has to be negotiated. Those comments indicate the full details about inspections and disputes over inspections have yet to be worked out.
When asked Monday if there's any possibility that the framework won't lead to a full agreement by the end of June, Harf said "Of course there is."
"[T]here is a lot of work to be done, and we are very committed to seeing if we can get it done," she said. "But we have to have our bottom lines met in that process, and we don't know if we'll be able to. We certainly hope we can."