Police in Texas have launched an investigation after online video surfaced showing a Hunt County Sheriff's officer strike an Air Force veteran who was nine months pregnant last month.
Footage shows two deputies restrain Deanna Robinson during the March 4th incident as they accompanied Child Protective Services to her parents' home to remove the 38-year-old's 18-month-old son Landry over allegations of of abuse.
Robinson can be heard shouting that she is pregnant before a deputy is seen at the end of the video hitting her.
(Content warning: vulgar language is used)
"I'm 38 weeks pregnant, and with my stomach again repeatedly pressed into that counter, and with my 18-month old son watching his mother be assaulted and him screaming in fear," Robinson told WFAA, adding that she was handcuffed at the time. "There's nothing that warrants what they did to me."
She was ultimately charged with resisting arrest and assault on a public servant, WFAA reported, and was in jail for about six days.
Hunt County Sheriff Randy Meeks said in a statement posted to Facebook Monday that he had launched an investigation.
"I have become aware of an internet allegation accusing one of my deputies of improper actions," he said. "I have initiated an administrative investigation to determine if any policy violations occurred."
[sharequote align="center"]"I have initiated an administrative investigation to determine if any policy violations occurred."[/sharequote]
"Public confidence and trust in the Sheriff's Office is a high priority for me and we take all allegations of misconduct seriously," Meeks added. "We will allow the investigation to run its course in a manner which is fair to all concerned and we will make no assumptions or guesses until all facts are determined."
Robinson told WFAA that the accusations of child abuse stem from a March 1st incident when she and he husband got into a shoving match while she held her son. Robinson said she went to stay with her parents afterwards to let things settle down. A teacher at her nine-year-old stepson's school, however, learned of the incident and contacted CPS.
On March 3rd, CPS and law enforcement personnel showed up at her door and knocked, Robinson told WFAA.
"He said, 'We're here to remove your son,'" Robinson said. "I said, 'Nobody is touching my kid without a court order or a warrant.'"
According to the 38-year-old mother, officers failed to show her the documents and forced themselves into her home.
"I'm positioning myself in front of my child as the officers are screaming, 'There's the kid. Grab him,'" she told WFAA.
That's when Robinson said officers handcuffed her and pushed her against the counter. She said that one deputy hit her four to five times in the back. The home surveillance system recorded part of the encounter.
WFAA reported that photos showed bruises on her stomach following the incident.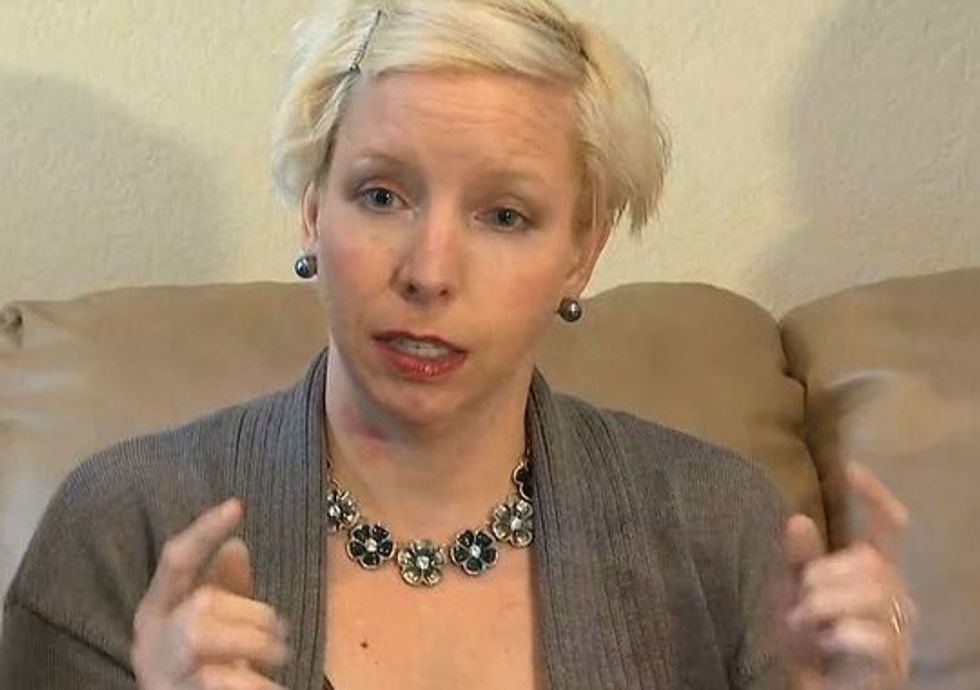 Deanna Robinson. (Image via WFAA)
Luckily, the child Robinson was carrying was born in healthy condition on March 15. The infant is being cared for by her parents, however, and she is only permitted to see the child for two hours a day. Robinson added to WFAA that she has only seen her son Landry three times since he was taken into CPS custody.
"It goes without saying, I miss him so much," she said, reportedly crying. "I want my kids back." 
A CPS spokeswoman only confirmed children were removed from custody, but was unable to provide a comment to WFAA.
Robinson told the outlet that she wants the officer fired.
"They're out of control," he said. "There's no oversight. They went about it the wrong way."
Robinson is an Air Force veteran who won the branch's high honor, the Airman's Medal, for dragging several soldiers out of a burning plane in Iraq.
—
Follow Oliver Darcy (@oliverdarcy) on Twitter