Iraq War veteran Noah Galloway brought many to tears on "Dancing With the Stars" Monday night, performing a dance to Toby Keith's "American Soldier" that received a standing ovation.
.@Noah_Galloway & @SharnaBurgess' performance has @EmmaSlaterDance in tears http://t.co/iqNQIb4ugY #DWTSAllAccess pic.twitter.com/BlQRzlzl5w

— DWTS All Access (@DWTSAllAccess) April 7, 2015
Galloway served in the U.S. Army and lost his arm and leg in an IED attack. He is paired with Sharna Burgess this year on the 20th season of the hit show.
Monday's episode was focused on a dance inspired by the contestant's most memorable year — and Galloway openly talked about the struggles he faced after being wounded in war.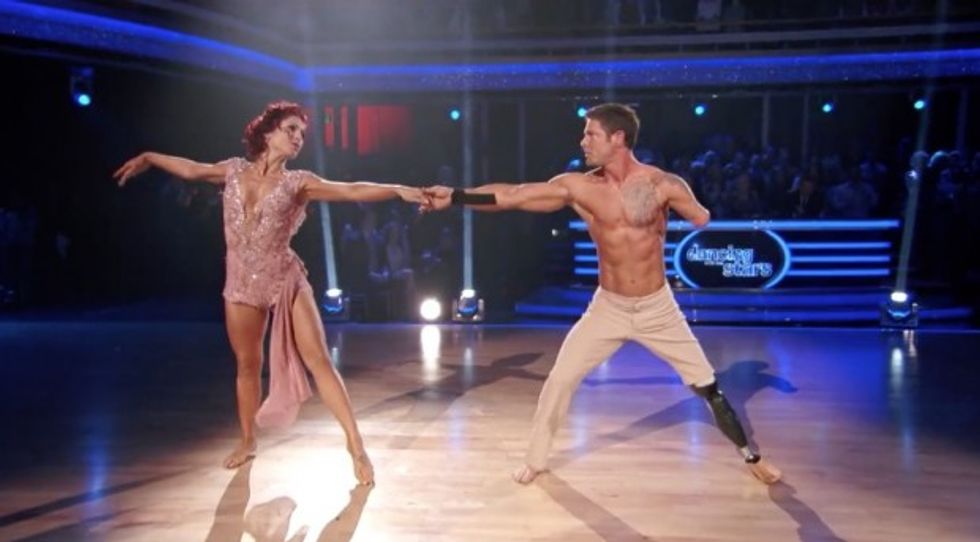 Image source: Screen grab
After his performance, Galloway not only received an immediate standing ovation, but praise from the judges.
"There was something that was free and something that was so beautiful, and we all felt it here tonight. And there was something that we would also like to say thank you for — because when you stand in front of that mirror, we all have things that we look at and don't like about ourselves. But for you to have have something physical and you come out here and do what you do and astonish us every single week —," one judge said before being cut off by the crowd's applause.
[sharequote align="center"]"You want a superhero? There it is."[/sharequote]
"Your experiences are unimaginable, but your spirit soars unbroken my darling. You really are the ultimate role model. You want a superhero? There it is,' said another.
"With very few words, you say something very profound," echoed yet another judge. "And that dance, although maybe some of the movements are smaller, or your vocabulary is less than some of the contestants, it was more profound than most."
The final judge called Galloway an "inspiration" and asked the crowd to once again stand up and applaud him.
The reaction was equally powerful online.
Once again @Noah_Galloway and @SharnaBurgess blew me away. Inspirational. Wow #DWTS

— Christina✨ (@dancegirl3697) April 7, 2015
#mcm @Noah_Galloway who is a true inspiration and American hero. He has strength like no other

— Heather Godek (@HeadurrRae21) April 7, 2015
Toby Keith had even chimed in ahead of the performance and said he was "honored" Galloway chose his song to dance to.
Galloway and Burgess' routine ultimately scored a 32/40 from the judges.
—
Follow Oliver Darcy (@oliverdarcy) on Twitter