Roundly lambasted after her Holy Week essay, "The right's made-up God: How bigots invented a white supremacist Jesus," hit the Internet, a Rutgers University professor doubled down, declaring that if your Christianity is compatible with "white supremacy, homophobia, or patriarchy" then "you get called out."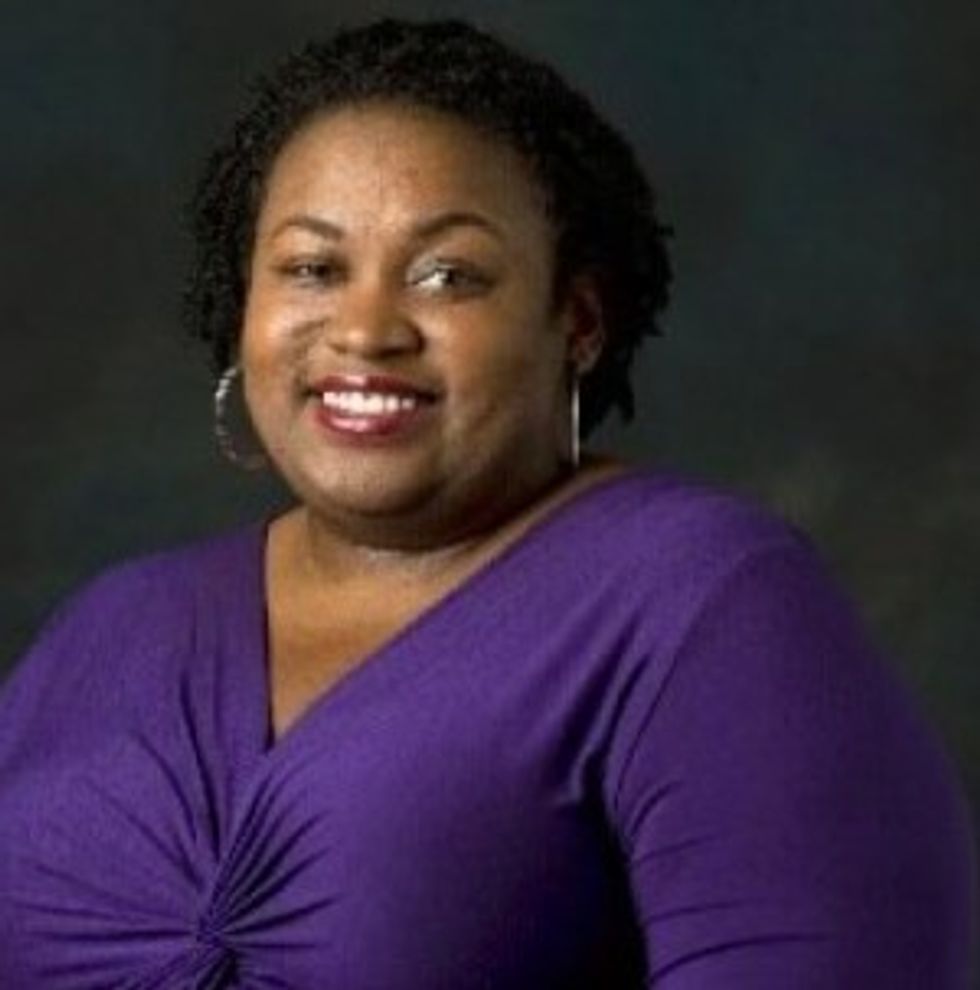 Brittney Cooper (Image source: Twitter)
Brittney Cooper — who teaches women's and gender studies and Africana studies and calls herself a next generation black intellectual — used Indiana's religious freedom law as a springboard, saying that when "right-wing conservatives declare that they are trying to restore or reclaim something, we should all be very afraid."
While the law's critics said it might open the door for discrimination against the gay community, Cooper said that "given our current anti-Black racial climate, there is no reason to trust that these laws won't be eventually used for acts of racially inflected religious discrimination, perhaps against Black Muslims or Muslims of Arab descent ... "
"As a practicing Christian, I am deeply incensed by these calls for restoration and reclamation in the name of religious freedom," she wrote. "This kind of legislation is largely driven by conservative Christian men and women, who hold political views that are antagonistic to every single group of people who are not white, male, Christian, cisgender, straight and middle-class. Jesus, a brown, working-class, Jew, doesn't even meet all the qualifications."
Cooper also wondered if she worships "the same God of white religious conservatives," noting that the "white, blond-haired, blue-eyed, gun-toting, Bible-quoting Jesus of the religious right is a god of their own making. I call this god, the god of white supremacy and patriarchy."
"This God isn't the God that I serve. There is nothing holy, loving, righteous, inclusive, liberatory or theologically sound about him," she added. "He might be 'biblical' but he's also an ass***e."
She didn't stop there: "The Jesus I know, love, talk about and choose to retain was a radical, freedom-loving, justice-seeking, potentially queer (because he was either asexual or a priest married to a prostitute), feminist healer, unimpressed by scripture-quoters and religious law-keepers, seduced neither by power nor evil."
Cooper urged her readers to "reclaim the narrative of Jesus' life and death from the evangelical right" and to "mark this Holy Week by declaring the death to the unholy trinity of white supremacist, capitalist, heteropatriarchy. And once these systems die, may they die once and for all, never to be resurrected."
As you can imagine, Cooper's Twitter feed was filled with some hefty denouncements over her essay:
@AmirDanielKatz @ProfessorCrunk @Salon Affirmative Action professor. Rutgers parents should be ashamed, and mad. These are our best? TFF.

— Stephen M. King (@Smking1A) April 6, 2015
@ProfessorCrunk You are an anti-Christian, racist hater. You will get everything you deserve in the afterlife.

— Joe Smith (@ProuderLoyaler) April 6, 2015
But Cooper only doubled down on her stances:
My Christianity is not compatible w/ white supremacy, homophobia, or patriarchy. And if yours is, you get called out. That is all.

— Brittney Cooper (@ProfessorCrunk) April 6, 2015
Some of these people who think they are Jesus' people wouldn't know him if He came right up to them and introduced himself.

— Brittney Cooper (@ProfessorCrunk) April 6, 2015
Lawd, Easter is tomorrow and my TL is full of Christian conservatives showing out. Father, forgive them cuz they just don't get it.

— Brittney Cooper (@ProfessorCrunk) April 4, 2015
It is very hard (apparently) for conservative Christians to understand 1.) that they don't have a monopoly on biblical interpretation

— Brittney Cooper (@ProfessorCrunk) April 6, 2015
2.) that folks whose views differ from theirs aren't automatically heretics.

— Brittney Cooper (@ProfessorCrunk) April 6, 2015
3.) that their conservative theology is deeply implicated in the projects of white supremacy & patriarchy, & thus shld be questioned.

— Brittney Cooper (@ProfessorCrunk) April 6, 2015
4.) that Black Christians should disagree with the marriage of right wing politics and Christianity since it's fundamentally antiBlack

— Brittney Cooper (@ProfessorCrunk) April 6, 2015
5.) that Jesus wasn't a homophobe or a sexist.

— Brittney Cooper (@ProfessorCrunk) April 6, 2015
And 6.) and that pointing these things out does not make me antiChristian or antiWhite people. That is all.

— Brittney Cooper (@ProfessorCrunk) April 6, 2015
(H/T: Campus Reform)
—
Follow Dave Urbanski (@DaveVUrbanski) on Twitter