When a bobcat in Florida didn't find the sustenance she needed on land, she went fishing, and someone was there to take photographic evidence of what she caught.
John Bailey was walking in Sebastian Inlet State Park in Vero Beach Monday and told WTLV-TV he saw the cat staring into the water. Then, he saw it make its move and within seconds, the bobcat was dragging a shark onto the shore.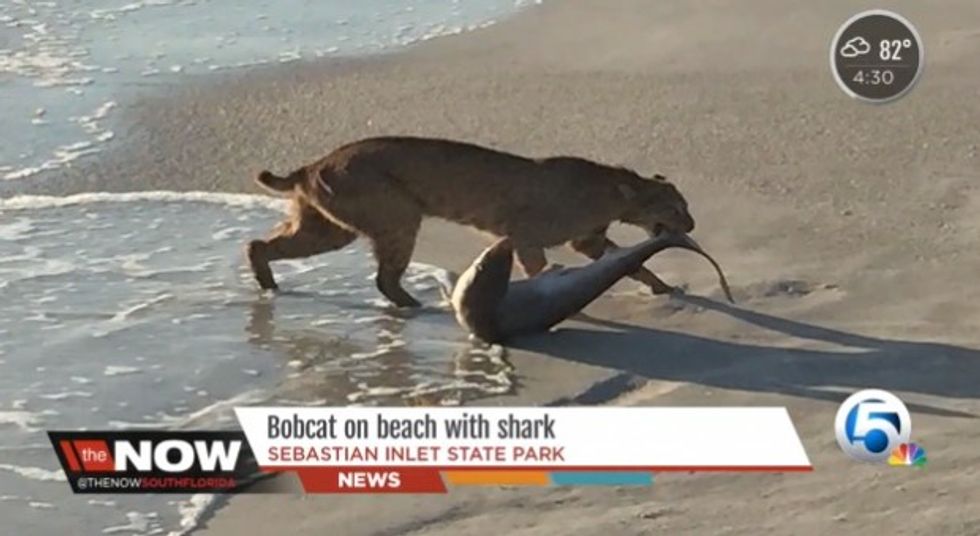 Wildlife experts say that the picture, though surprising, is probably legit. (Image source: John Bailey via WPTV-TV)
Here's WPTV-TV's report on the photo:
Despite the bobcat's successful hunt, Bailey told the news station he didn't get to enjoy his bounty. He said that the cat ran off when he was taking pictures.
"I was so fascinated, I didn't think about being in danger," Bailey told WPLG-TV.
Liz Barraco with the Florida Fish and Wildlife Conservation Commission told the news station she thinks the picture is real.
On its Facebook page, the commission made a "cat-fishing" joke.
"What do you call a wildcat fishing for shark? One mighty brazen bobcat! This is a tale (no insult intended to the bobbed bobcat tail) of prey upon prey upon prey," FWC wrote, adding that its biologists believe it to be an Atlantic Sharpnose Shark, which reach about three feet in length.